Hop in your car and head to the beautiful Lake Erie and Finger Lakes wine country. While life can be stressful, it's nothing that a few days at a bed and breakfast, some wine and delicious food can't fix. And if the thought of planning a winery weekend getaway sounds like a headache, we've got you covered. Here are some great places to visit, so that you don't have to whine about a thing, but simply enjoy wine with everything.
Finger Lakes
The Finger Lakes wine country offers close to 100 wineries, along with plenty of activities for outdoor-lovers. From kayaking to fishing to hiking, there is the Watkins Glen State Park that offers 19 breathtaking waterfalls to get away from it all. There are also wine trails where you can visit over a dozen wineries. However, if a dozen is too many, we've created a simple itinerary for a quick weekend getaway.
Bed and Breakfast
The Victorian bed and breakfast exudes a strong sense of grace and history, especially when it has been standing for over a century long. Its welcoming ambiance still charms its guests today with its owners and hosts, Chef Chuck and Gerry France. Their five bedrooms are furnished with luxury bedding and include a private bathroom accented with marble installations.  Chef Chuck greets his early risers each morning with a menu of gourmet breakfast items. Each entree is skillfully prepared by his professionally-trained French culinary techniques.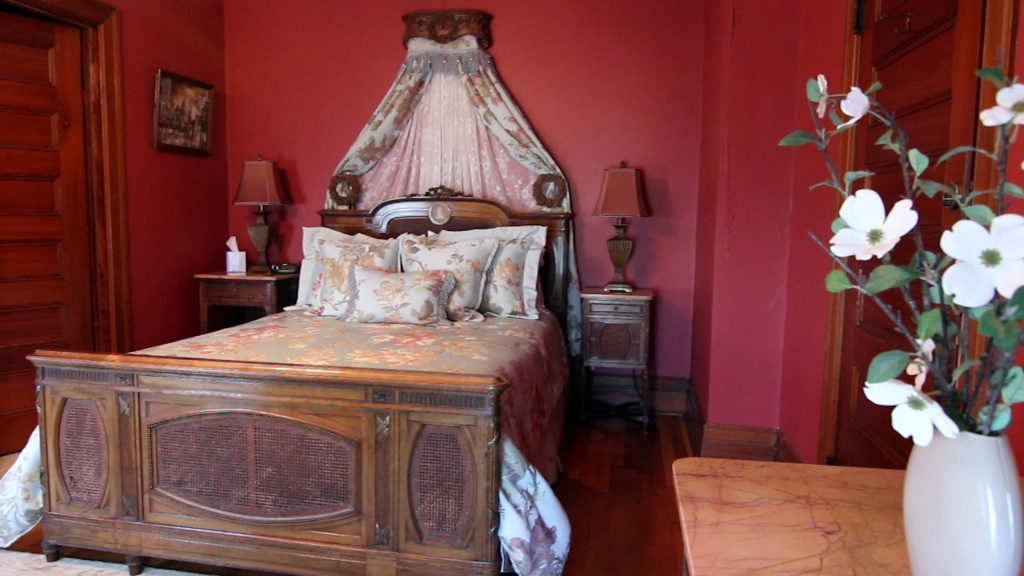 Photo Credit: Beekman House Bed & Breakfast
Winery
Owned by the Stamp family, the early days of the winery began when they planted grapes to make some of the most popular kinds of wine. The family began to expand the varieties grown on their vineyards and eventually branched into producing their own wines by 1988. Today, during your tasting, they offer tours to enjoy learning how the grapes from their 80-acre vineyard goes through the process of becoming a glass of wine. There are different experiences to choose from: a tour with a tasting, just a tasting, or a special cellar tasting experience.
Photo Credit: Lakewood Vineyards
There's a good reason why Hermann J. Wiemer has been recognized as one of the best Riesling producers in America. The winery and vineyards were named after their founder, who came from Germany with stellar viticulture (cultivating grapevines) knowledge in his pocket. His roots were meant to introduce us to some of the best rieslings in the region.
From over 300 years of winemaking from his mother's side and the knowledge of a skilled nurseryman on his father's side, he was able to masterfully graft Mosel Riesling grapes from Germany in the Finger Lakes. Both his winery and his wines have been recognized in Wine and Spirits Magazine and Wine Spectator. The tasting room, which is a converted barn, will welcome you with its warm, rustic and classic ambiance. Their flights range from $6-$12, where the higher end of the price allows for upgrade options.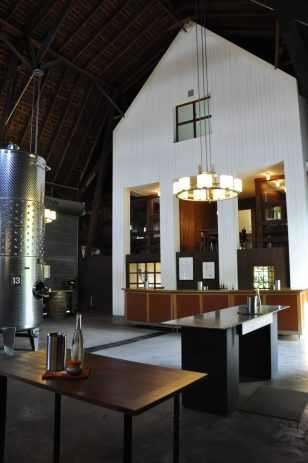 Photo Credit: Hermann J. Wiemer Vineyard
Restaurant
Timmy G's is a low-key family-owned establishment that is a fan favorite for locals. The restaurant is a great place to enjoy an all-American dinner without the frills. Whether it's a hearty bowl of their creamy New England Clam Chowder, their very filling Pot Roast, or the tasty Fish Fry, it's a great spot to enjoy a casual dinner. It tends to get busy on weekends, so a reservation would be helpful, as well.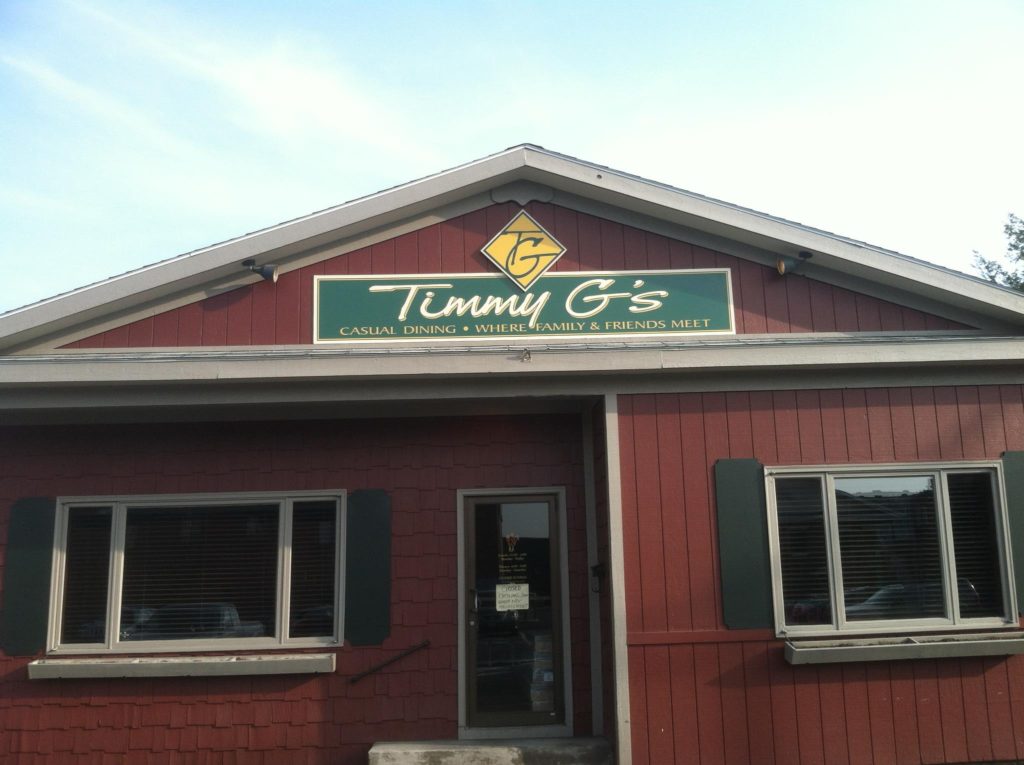 Photo Credit: Timmy G's
For a casual dining experience that offers a seasonally-changing menu, head to Kindred Fare. The rustic, clean yet homey feeling of the restaurant is felt with every bite of their food. The focal point of the menu is that everything is made from scratch in-house. Whether it's butchering the meat or making the bread, pasta or sausage, it's all fresh in a way that will feed your appetite and your soul. The meat and seafood are all locally-sourced, including the grass-fed beef and the organic chicken. You can even enjoy your farm-to-table dinner at the bar and watch the team do their magic in their open kitchen format.
Photo Credit: Kindred Fare
Lake Erie Wine Country

Lake Erie wine country spans from Northeast Pennsylvania to Western New York. The number of wineries falls short in comparison to its Finger Lakes counterpart, but the amount of wine produced makes up for it. The wineries of this region contribute to 65% of New York State's wine production. Those wines impressively come from 23 wineries that are present throughout the region. Here's a plan on how to kick back, relax, and explore the area in a getaway to Lake Erie wine country.  
Bed and Breakfast
The quaint bed and breakfast will leave a mark on your experience as one of the most comfortable, welcoming, and memorable stays in Lake Eerie. Each room includes a private en-suite bathroom with views that range from vineyards, the Barcelona Lighthouse, or Lake Erie. Your stay is elevated with a fresh farm-to-table breakfast at 8:30 AM, which includes freshly made jams, locally sourced eggs, and artisan bread. The hosts are welcoming of all types of diets, so whether you have a gluten-allergy or vegetarian-diet needs, they are happy to accommodate.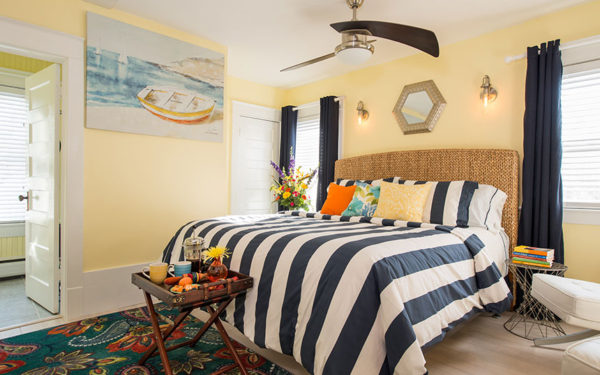 Photo Credit: Barcelona Lakeside Bed and Breakfast
Winery
The renovated tasting room seen today was a former apple cold storage facility. It was built with upcycled wood from an 1860s dairy barn, lending much history to its walls. Their roots began with a fruit farm created by a Canadian man named Frederick Johnson in the early 1900s. 
Today, you can head to the winery to enjoy European-style wines, ciders, and spirits. Their tastings are reasonable at $1 for three samples or $2 for six samples.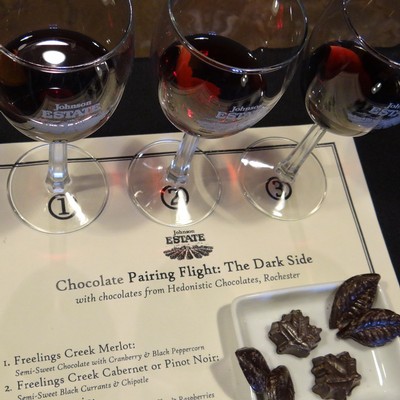 Photo Credit: Johnson Estate Winery
You know you're getting closer to 21 Brix Winery when you start seeing Ella, their life-sized pink elephant mascot. While they offer traditional wines, like Pinot Grigio and Merlot, this winery offers specialties that give a twist to traditional flavors. Some of these flavors include cherry and blueberry. The last Saturday of each month welcomes guests to enjoy music from a live band, which goes great with some of their wine slushies. Their tastings are $2 for six wines, $1 for three, and $1 for ice wine.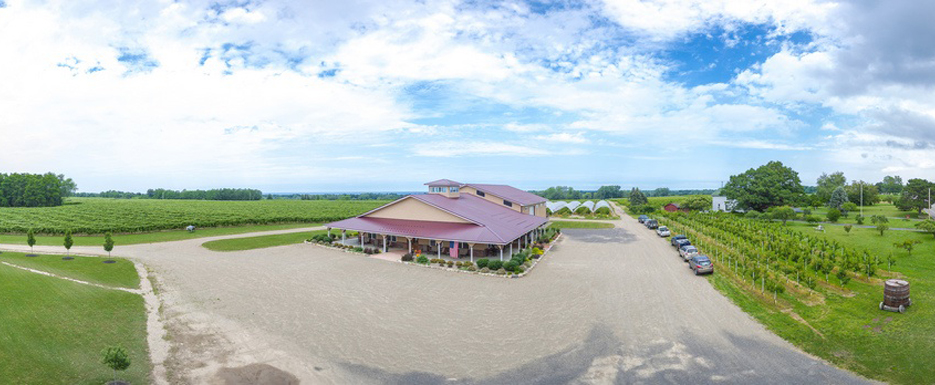 Photo Credit: 21 Brix Winery
Restaurant
If touring wineries has built up an appetite, Manning's will be a perfect place to enjoy a sumptuous dinner. While good French Onion soup is hard to come by, this is one of the stars of the spot. The beef broth is the essential part to develop, and the restaurant does quite a special variety to offer a delicious bowl.
Many of their carefully-prepared meals are served in large portions. The most popular dishes are their Strip Steak, a regular on the menu, and their Fish Fry, which is served weekly on Fridays.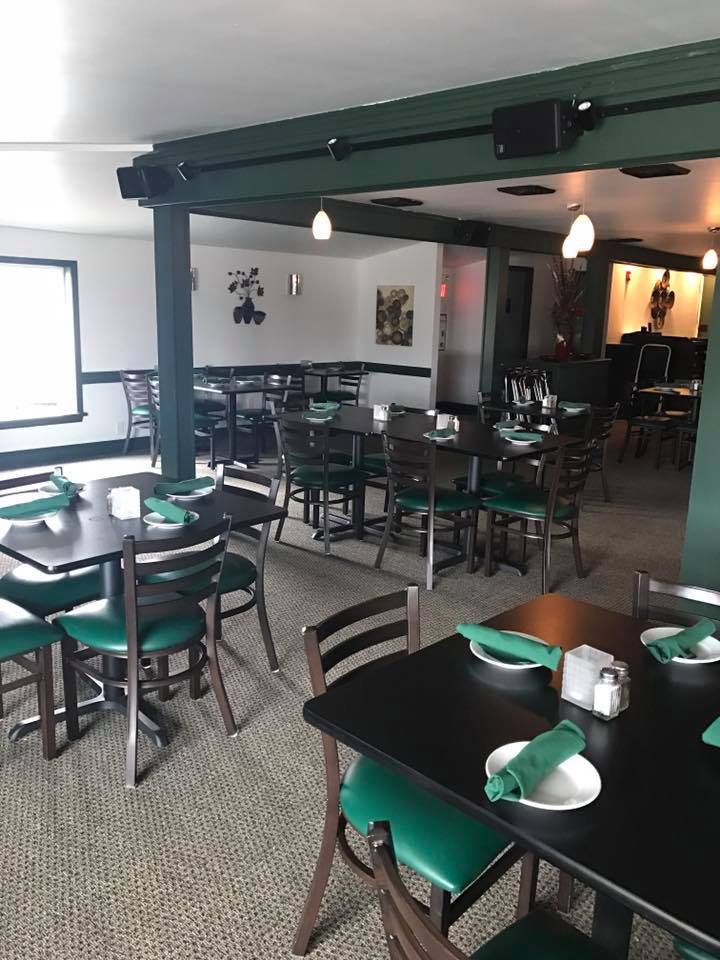 Photo Credit: Manning's Fireside Manor
For something that's just finger-lickin' good without any pretension, head to KISS BBQ. It is exactly what the name says, which reflects their simple good food. You see how it's all done, as soon as you roll up to the spot, you can see the smoker right outside the converted home restaurant. All of the smoking is done right on site, which brings us to some of their decadently tasty offerings. Their tender brisket is served thick with a smokey, crispy crust. Their pulled pork sandwiches come with mouth-dropping portions that are perfectly juicy and marbled.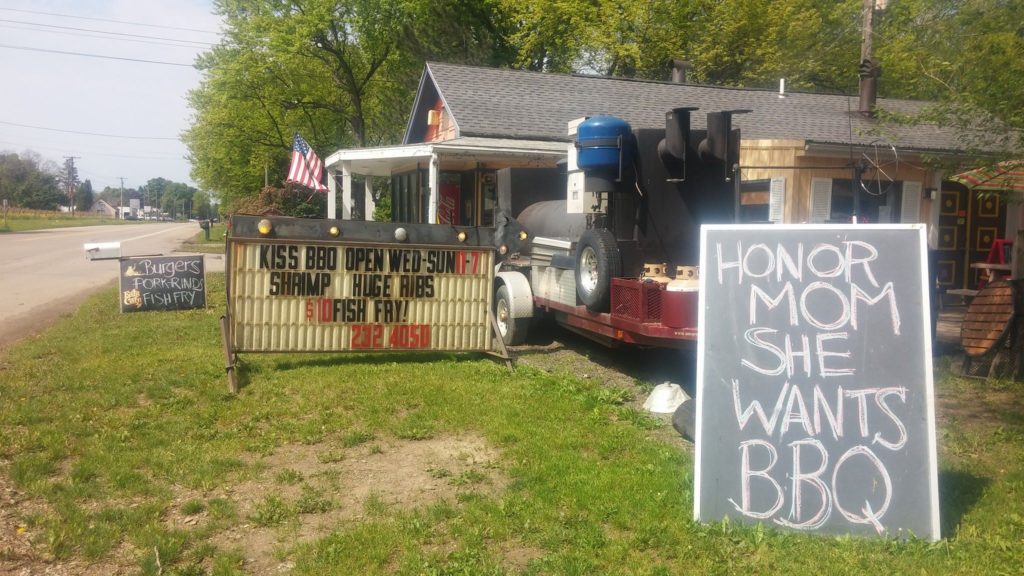 Photo Credit: KISS BBQ