When I was given the opportunity to preview a new book about coconuts,   Coconut Top10,  by Morgan Bishop, I was only too happy to do so.  The book highlights all the valuable uses of coconuts while referencing the scientific research articles to prove it.  Coconuts in various forms are good to eat, put into lotions for your skin, and wash your hair. What an unusual little fruit or nut it is.  
Oh yes, the book even explains which one it is and why. Read and find out. The author has obviously done his homework on the subject of coconut benefits, but he intermingles his offbeat sense of humor throughout the book to elicit a smile on your face or a groan, depending on your own sense of humor.
 A bonus in the book is a series of recipes.  I am always looking for tasty nutrition. So, I looked through the recipes and thought I would try a number of them because they would fit my search for tasty flavor that was also nutritious.  I am one to read the labels and memorize the food pyramid. So, I picked as my first endeavor the Quick Coconut Deviled Eggs.
This recipe called for peanut butter instead of mayonnaise. The person who thought of mixing peanut butter with chocolate is not a genius in my book.  That combination is a no-brainer, but eggs and peanut butter? Well, it was worth a try. I decided to play it safe and make half the recipe as it called for 12 eggs.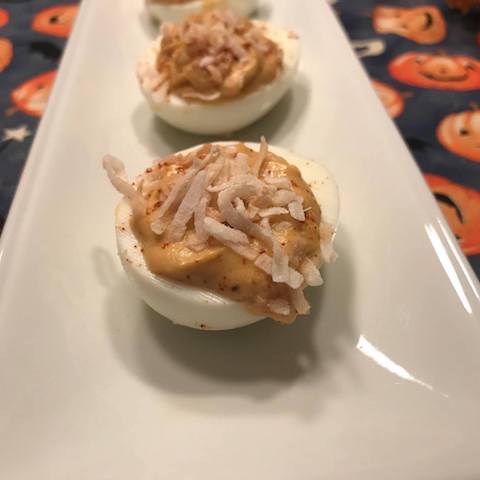 I have to say, I was quite surprised as to how delicious this variation of deviled eggs was. My three grandchildren, ages 12, 9, and 7, loved them!  I was so pleased because even though the book had them under appetizers, I thought here was an after-school treat that was satisfying and nutritious.
If anyone reading this can confirm that 1/4 cup of peanut butter is better for you than ¼ cup mayo, please let me know in the comments. I would hate to have my bubble burst, but the next time I make this, I am doubling the recipe!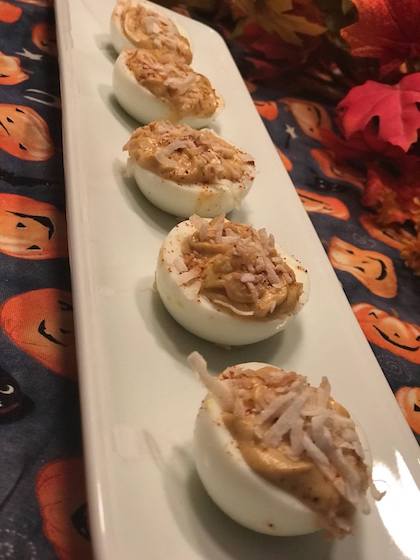 Quick Coconut Deviled Eggs 
Ingredients:
1 dozen eggs, boiled and peeled

2 teaspoons rice vinegar

¼ cup peanut butter

1 tablespoon sugar

¾ teaspoon of salt

½ teaspoon ginger powder

¼ teaspoon paprika

½ teaspoon cayenne pepper

½ teaspoon chili powder

3 – 4 tablespoons coconut milk

Coconut flakes to garnish
Makes 24 servings
Quick Coconut Deviled Eggs 
Direction
s:
Cut the boiled eggs in half.  Scoop the yolks into a bowl and set the whites aside.
Blend the yolks with the vinegar, peanut butter, sugar, salt, and the spices until smooth.

Gradually pour in the coconut milk to get the texture of a mousse.

Fill the eggs whites with this mixture.  You can use a pastry bag for this.

Sprinkle the eggs with coconut flakes and serve at room temperature
To get your copy of Coconut Top Ten with for $1 with a free bonus click here.