Whether you're a Western New York native, an annual visitor, or just happen across this portion of the Great Lake Region, you're in for a real sweet (or dry) treat! Twenty-three unique boutique wineries are spread over a 50-mile area between Harborcreek, PA and Silver Creek, NY, which make up Lake Erie Wine Country, formerly known as the Chautauqua-Lake Erie Wine Trail.
Surprisingly, our little portion of the country is the largest grape growing region east of the Rockies. All of the wineries are open seven days a week and offer tastings and tours almost daily.
I could list facts all day long about our little slice of vino heaven, and if you would like to learn more check out the informative Lake Erie Wine Country website, but I'm here to tell you the tale of the day I went wine tasting.
My Adventures in Lake Erie Wine Country
It was a beautifully sunny, yet oppressively hot summer day in Western New York. My face was glistening as I left work that morning to change for the impending events of the day. On my checklist for the afternoon?
My Garmin
A water bottle (for hydration and anti-hangover purposes)
An equally wine obsessed friend
My ID
$30.00 (my attempt to keep my spending at bay)
As long as I kept the air conditioning on full blast in the car, I could almost envision a perfectly crisp day, you know, something under 90 degrees.
The first stop? Lakeview Wine Cellars in North East, PA. As we entered the tasting room, we were greeted by owners, Sam and Becky Best, who poured our tastings and pleasantly answered our never ending questions: Is the process time-consuming? Wait, this really took three years to ferment? So, how do you choose what wines to make?

The tasting bar, with its wood frame and glass top, displayed sand, stones, and shells from all over the United States. A lengthy swordfish over the room's back door and their signature "Shipwreck" wines completed their beachy theme. The building, designed by the Bests themselves, boasts a new, naturally lit tasting room opening soon.
Fun fact:  Lakeview Wine Cellar wines are available at Freeport Restaurant and Johnny B's Restaurant in North East, PA.
After a quick photo shoot with the grapes, we jumped back in the stuffy car and headed east toward Mazza Vineyards. We pulled up to a gorgeous Mediterranean structure complete with gothic lighting and ivy growing on the side. The interior is so uniquely decorated you feel as though you stepped into an Italian villa; not surprising as the founder of Mazza Vineyards left his Calabria, Italy vineyards to make his home in the United States. Their chilly, dimly lit tasting room set the ambiance for the primarily dry, unoaked wines I tried. For all of my fellow dry palette friends out there I recommend the Pinot Grigio and Cabernet Sauvignon.
A quick drive across state lines brought us to our next stop, Johnson Estate Winery. Established in 1961, it's proudly the oldest estate winery in New York State. Their newly renovated tasting room boasts beautiful wooden bars and the far wall, made up entirely of glass, showcases part of the estate's production process and has a pleasing appearance. Upon arrival, we instantly befriended a decent portion of the staff with our conversations about 80s rock bands and recess lighting.
Friendly staff? Check. We spent entirely too much time chatting, twirling in the vineyards and taking selfies… but this was our free day, so we did what we wanted. Fun Fact:  All of the grapes used to make the wines are grown within 3,000 feet of the winery.
My favorite stop of the day was 21 Brix Winery in Portland, NY. Sandwiched between vineyards and cherry trees, this newly founded winery is one of the largest in the region. Twenty-one Brix was one of the few places we visited with retail. Yes, all of the wineries sell their bottled wines, but this was the first location we came across with actual merchandise. It is a fun and beautiful place!
If you're headed down US-20 be sure to keep your eyes peeled for the life-sized pink elephant (a.k.a Ella) and stop in to taste their Dry Riesling with aromas of citrus, followed by a crisp refreshing finish.
On our way to our last two stops, Liberty Vineyards & Winery and Merritt Estate Winery, we grabbed a quick bite to eat from Tuscany Fresh Meats and Deli in Fredonia, NY. Not related to wine, but still a great place to check out if you're in the area looking for fresh salads and sandwiches. We parked ourselves on a picnic table for a solid twenty minutes before finishing the last leg of our trip.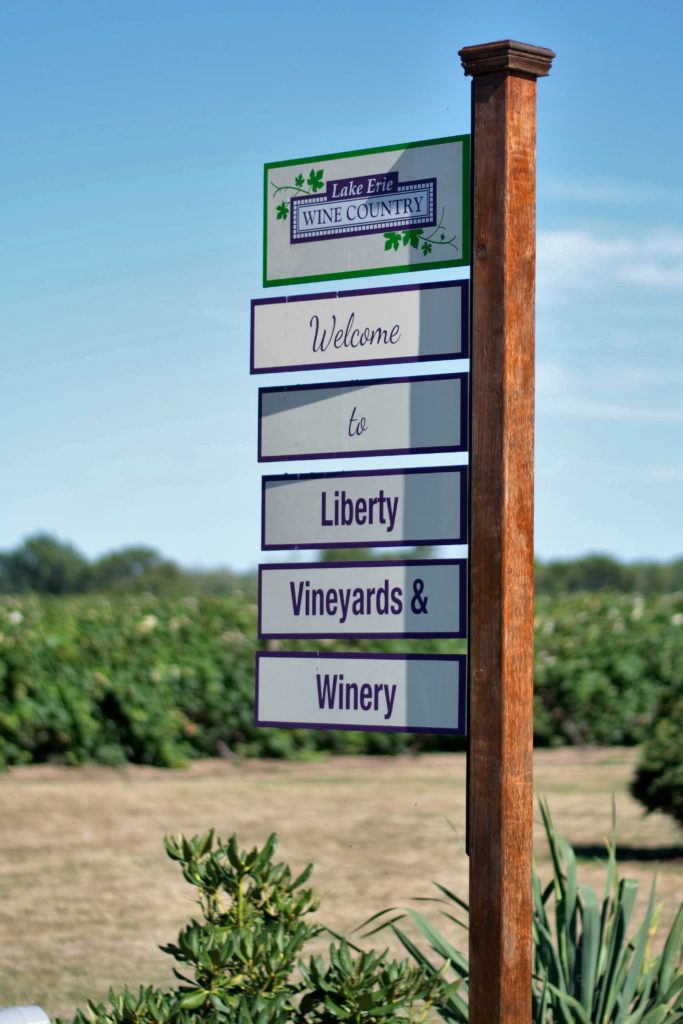 Between Liberty's excellent Chardonnay and promising events (carriage ride through the vineyards anyone?) and Merritt's signature Bella Rosa (a 100% concord grape wine), we ended our day trip with more beautiful scenery, friendly people, and wine than we could've imagined. By the time we found my red Camry gleaming in the sunshine, we were wined out and honestly just wanted a bucket of the complimentary wine crackers to take home with us.
Regardless of our exhaustion (keep in mind I was driving) we had so many laughs and good conversation.  We honestly learned much more about the wine, growing process, production, and vineyards than we anticipated. We are so lucky to live in a location so fruitful of grapes, which turn into the best liquid there is, wine. So the next time you're looking to take an adventure, make sure a few stops along the Chautauqua-Lake Erie Wine Trail are on your list.
Find us on Twitter @JovialJourney, Instagram @the_jovial_journey, Facebook, and Pinterest. And, using the hashtag below, tag us in your memories, pictures, and experiences from Lake Erie Wine Country. #WineTourTuesday