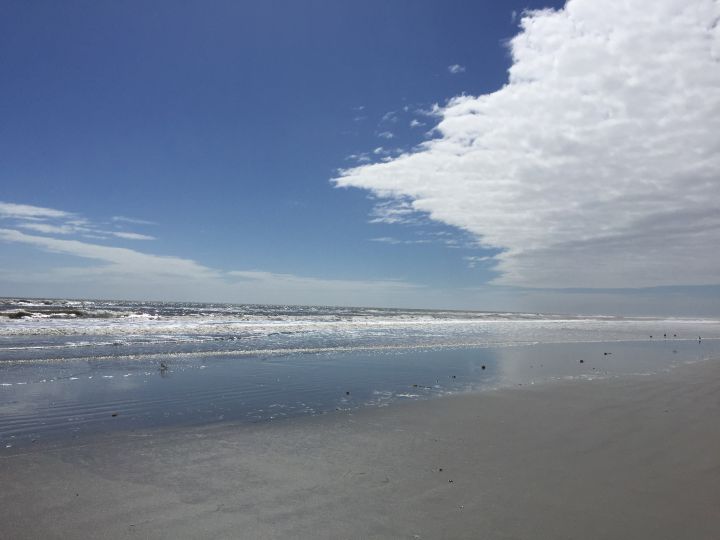 Kiawah Island in South Carolina is our target destination every year. We look forward to a full week of rest and recreation. This year we arrived just before Hurricane Mathew made landfall in the US. The entire southern coast was being evacuated. We stayed inland for a few days, hoping people would find safety during this emergency. We waited for the all clear to enjoy Kiawah Island.
Luckily, the island was not badly hit. Within 4 days of our original arrival date, we were able to get to the Island.
Kiawah Island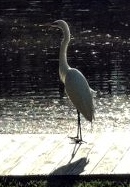 Kiawah is about nature.  The island is a great place for long beach walks, birding, fishing, bike rides, and loafing. We also love the rich southern cuisine, particularly seafood, okay, and coconut cake.
The beach at Kiawah is a vast expanse of classic beige sand. It is pretty empty in late March when we usually visit. It was not very populated in October, as we found on this trip. Everyone on the island is dedicated to preserving nature.
You can get a knock on your door in the evening that reminds you to please turn off the porch lights if you are near the water because the hatchling turtles might get confused. You can watch the mandatory video placed in every rental, which prompts you to check for sea life in a shell found on the shore and would you kindly walk it back to the water?
We usually stay on the river at Inlet Cove, but this time we were in Ocean Woods off of Eugenia Street. It is one of the most beautiful streets on the island. It has a long tunnel of trees running the entire length. It is lined with massive low-country mansions with the requisite high front stairs.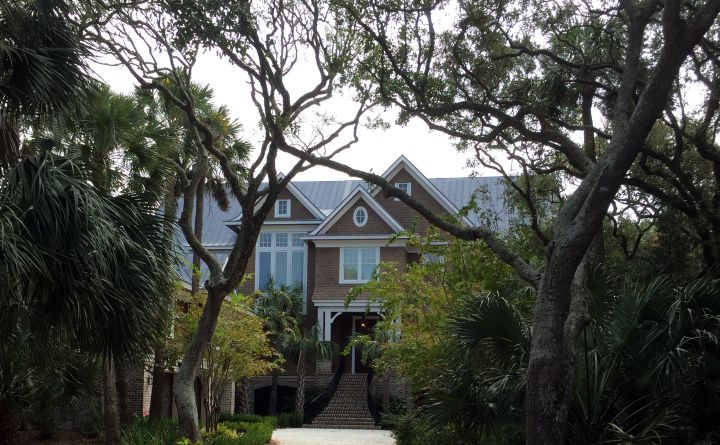 Our own sturdy, cottage on the corner of Fiddler's Reach Court offered woodsy surroundings and lovely porches. We could hear the thunder of the ocean behind the mansion across the street. The beach is less than a five minutes walk.
Our Cottage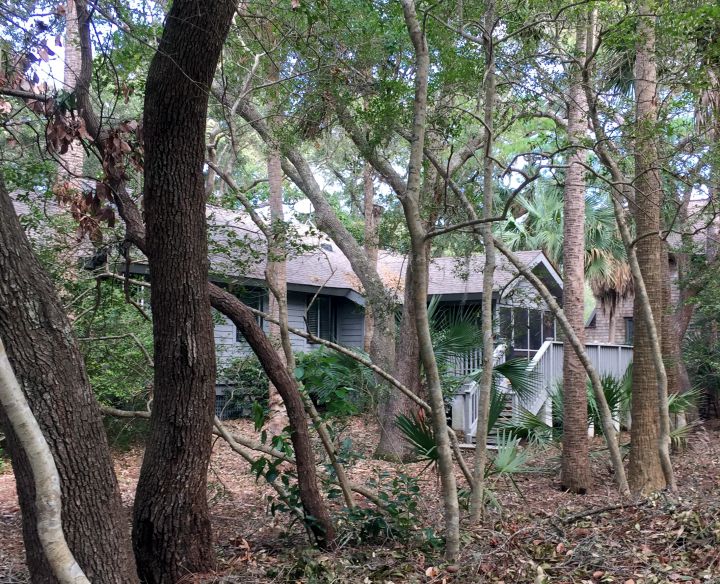 We saw many different animals and birds in the woods and on the beach. In the evening we heard screech owls and barred owls.
Kiawah Island History
The island has a noteworthy history which includes buried treasure and pirates. You can read about it here .
Unique to the region are the Gullah who are the descendants of African slaves. About 125,000 people speak a language that is a combination of English and an African language. Some of the Gullah artisans produce elegant, woven sweet grass baskets and traditional strip quilts which are unique to the region.
Today Kiawah is known as a perfect place to enjoy outdoor activities, particularly golf. In addition to its beauty, the area offers tasty southern cuisine with an emphasis on seafood. The town center at Fresh Fields on John's Island is only a 5 minute drive. We usually check out the Indigo Book store. We like to shop for groceries at the Harris Teeter Market  because it has the feeling of an open-air marketplace. It has wonderful cut flowers, crisp produce, an in-house bakery, and fresh fish.  We often try our hand at cooking the catch of the day with a lot of advice from the staff at the fish counter. There are a variety of indie stores: clothing, gifts, home decor, children's toys shop to name a few. New this year is a wine bar with a huge selection of spirits.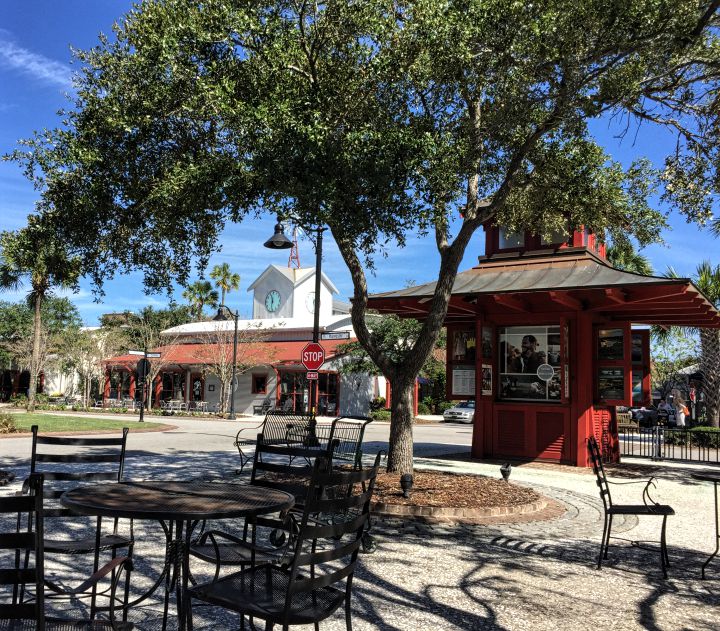 We usually go out for breakfast at the Kiawah Town Center and it is great but this year we tried the Southern Kitchen at the golf course. I indulged in awesome Shrimp and Grits (a traditional southern breakfast). Big yum!
Our splurge dinner is often at Heges, at Fresh Fields. The staff is fun.  I started with a "Goat Cheese, Roasted Beet, and Butternut Squash Napoleon with candied pecans, apple sherry gastrique, micro green salad, cinnamon spiced raisins, brown butter and sage crumble." It was like all the flavors were doing the Macarena on your palette.
For the main course, I had to go with a Chilean Sea Bass in a coconut Thai sauce with crispy plantains. The chilies had some welcome punch. They were off set by the sweetness of the sauce and the Bass was perfect. It was served with sticky rice. When I mentioned Sauvignon Blanc, our waiter recommended Matua from New Zealand. He said it was crisp and had some grapefruit overtones. It was a lovely choice.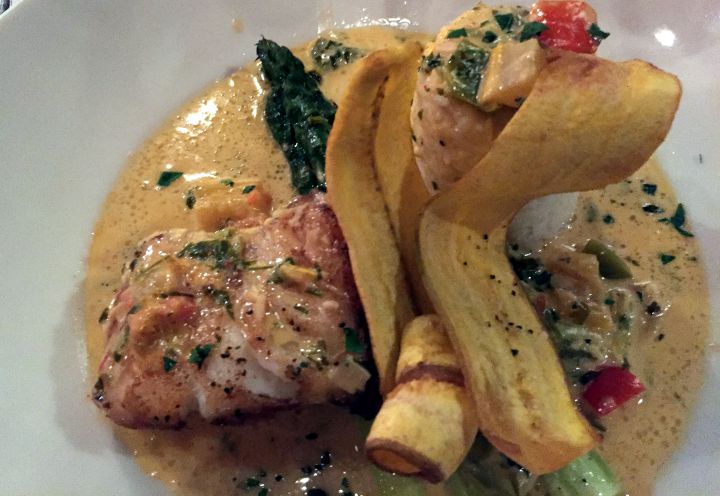 Last Night Bohicket Marina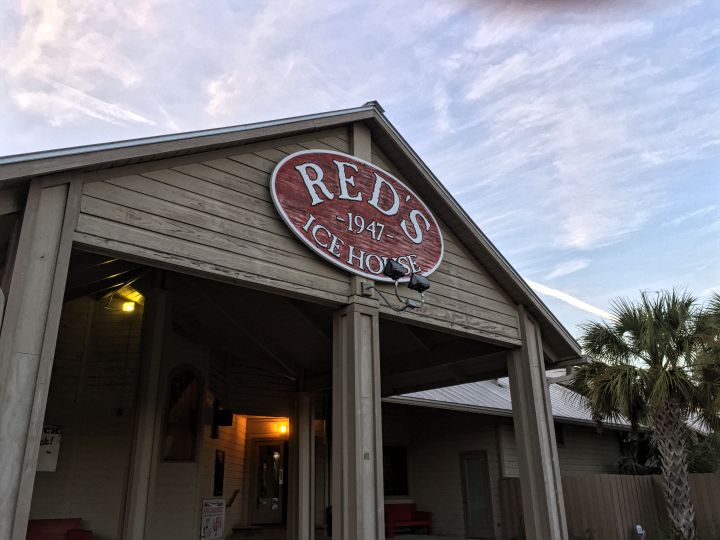 Our last night was a fun outdoor supper on the marina at Bohicket on nearby Seabrook Island. We ate out back on the deck at Red's Ice House. We ordered Crab Cakes and a Fried Oyster Po Boy. Then we took a stroll along the boardwalk to see the sunset.
.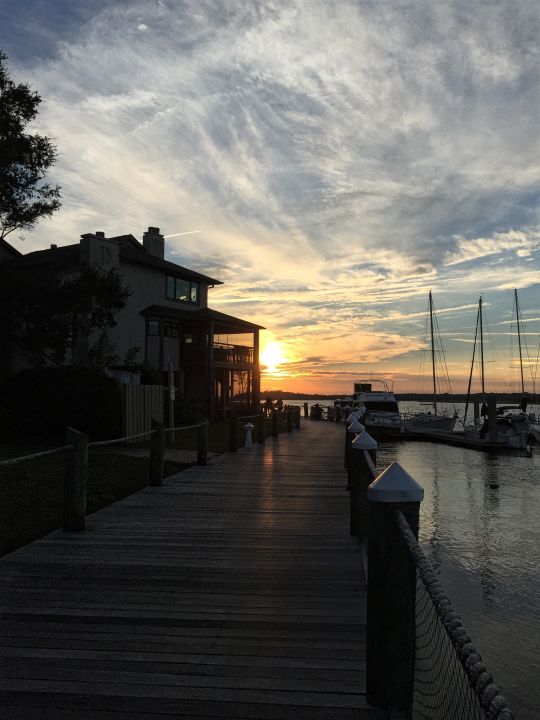 Good Bye Kiawah, See You in March