Before Heading off  to Napa Valley and Sonoma County
The Bay Area makes for a great place for wine lovers to have easy access to numerous wineries in Napa Valley and Sonoma County. The regions are neighbors of each other and within an hour and a half travel away from the Bay Area, making them great weekend getaways near San Francisco.
Napa Valley has over 400 wineries and Sonoma County similarly comes in with over 400 wineries, as well. In our past articles, we've mentioned how California had a head start post-Prohibition, as compared to other wine regions, like Lake Erie, that had to start over. One of the reasons California prospers in their wine industry today is because they were able to still produce wine by utilizing loopholes that allowed wine production for religious-purposes.
While many visit San Francisco to make plans to venture out to both wine regions, the beginning of your wine adventures can actually start right within the Bay Area. There are plenty of wineries in San Francisco. Also, the wonderful thing about San Francisco wineries is that many harvest their grapes right from Napa Valley, Sonoma County, and other major California wine regions. Here are great wineries that will lend its flavors from the wine country, making for great day trips from San Francisco without leaving the city limits.
Right In the San Francisco Bay Area
Located in SOMA or "South of Market," a neighborhood that was formerly known as "South of the Slots." The neighborhood is filled with warehouses, but has evolved into quite a personality. The area is filled with kitschy coffee shops, art museums (like the San Francisco Museum of Modern Art), vibrant nightlife and, of course, wineries. One of those wineries is Bluxome Street Winery which is housed in the similar fashion of a warehouse. The expansive interior has high white wooden beams and the decor mimics all things fermentation. Decor includes an entire wall of oak barrels to tables that are upcycled oak barrels. Their Pinot Noir varietal grapes are organically grown in the Russian River and Green Valley vineyards of Sonoma County, which are used to create over ten wines that they have available. Three kinds of flights are available that can be enjoyed during their tasting hours, which are from Tuesday through Sunday from 1PM through 8PM.
Photo Credit: Bluxome Street Winery
Also located in SOMA, Tank18 combines the love of wine, food, and socializing in one place. The idea of gathering with friends and family in festivities is the overarching theme of their mural facing Dore Street. The mural illustrates the notion of coexistence with others with its bright-colored images, which welcomes its patrons in to do just that: enjoy each other's company.  While the doors opened in 2013, the winery and event space expanded their operation to offer full dinner service this month. The ambiance is fitting for a dining experience for wine lovers: high vaulted wood ceilings, oak barrels lined in the front entrance, and floor-to-ceiling walls of wine bottles on display. If you simply want a flight tasting, theirs includes four wines and a cheese platter for $15. Their tasting hours are Thursdays and Sundays between 5:30-10:30 PM and Fridays and Saturdays from 5:30-11:30 PM.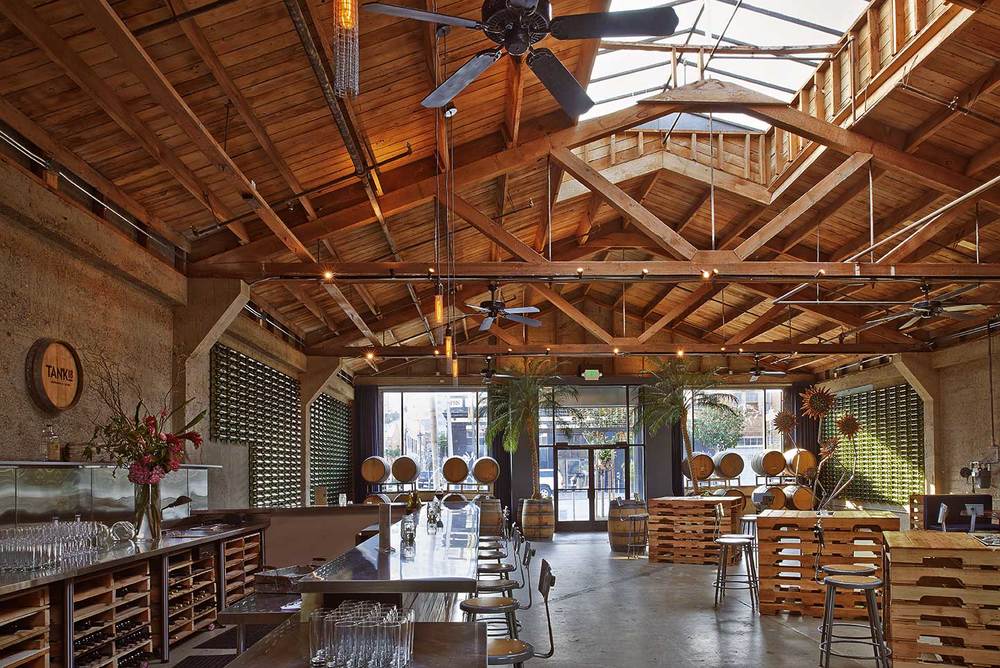 Photo Credit: Tank18
The winery opened its doors in 2006, offering small-production wine. The grapes are crushed by hand in increments of two to five tons. The master vintner, Victor Eristavi, produces the wine in a way that blends the old and the new in his winemaking. It begins with traditional methods of winemaking from the country of Georgia, combined with the use of modern tools and techniques. The result is balanced and complex wines. The most known wine is their Merlot, which is rich in currant flavors with a velvet mouthfeel. The winery offers wine tastings during Friday evenings from 5-9 PM and Saturday afternoons from 1-4 PM.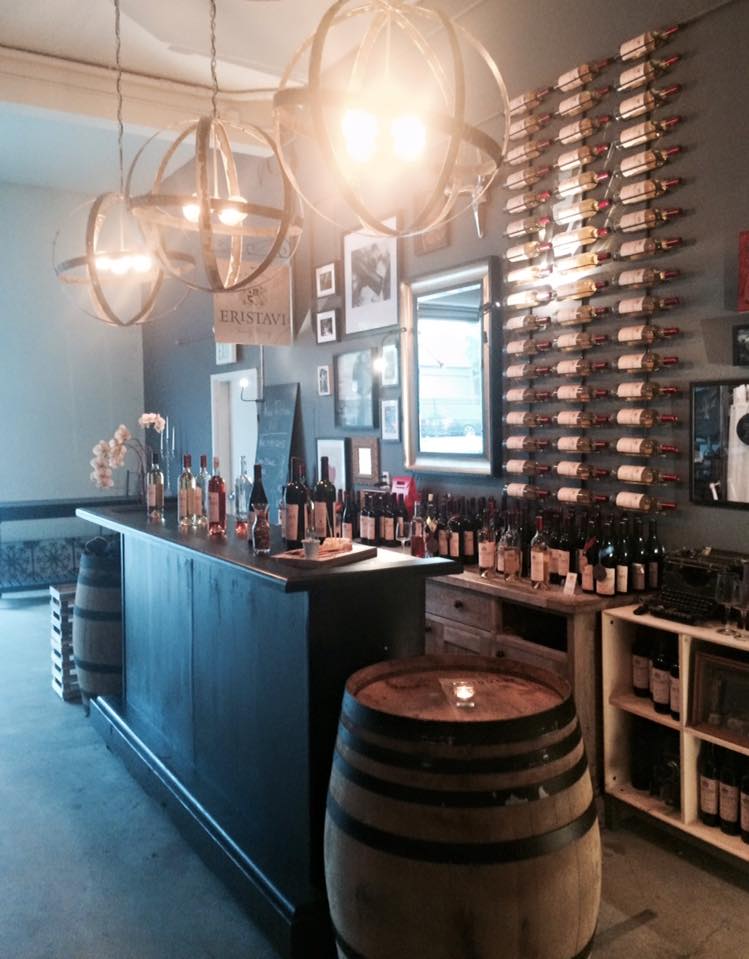 Photo Credit: Eristavi Winery
A ten-minute drive from Eristavi Winery is Dogpatch WineWorks, located right within the Dogpatch neighborhood. Located right in the American Can Company, the building was constructed in 1955. It was originally a large bottling and canning facility that stretches three blocks. Today, one of the residents is Dogpatch WineWorks, a 15,000 square-foot winery and event space.
Since opening its doors in 2011, they've become a hub for local commercial and independent winemakers alike. They offer grapes within the facility for winemaking, all of which are harvested from the major wine regions of California. The rustic chic wine room is fashioned with leather banquette couches, steel furniture, and whitewashed walls, making for a comfortable place for wine tasting and socializing with friends. Tastings are available on Sundays from 12-6PM.

Photo Credit: Dogpatch WineWorks
Off to Treasure Island
Treasure Island awaits your visit which can be located an exit right off of the San Francisco Bay Bridge. Treasure Island is rich with history, serving formerly as a Naval training site and military base from the 1940s to the 1990s. The island began a redevelopment project after 2010 to begin slowly building a community of new residents and businesses. Within this growth included several great wineries. If you happen to come at the end of the month, one of the attractions on the island is TreasureFest. Every last weekend of the month is when this vintage and food truck flea market pops up. The event brings in hundreds of visitors to Treasure Island. It's a perfect place to rent a bike, ride around the island, and enjoy some wine tastings.
Treasure Island Wines opened its doors for operation in 2007. The winery serves as a location to produce artisan wines right onsite, taking advantage of the natural climate of the Bay Area. The climate is both humid and cool, which makes Treasure Island an ideal location for winemaking for Treasure Island Wines. The winery also opens its doors to several other partnering wineries that use their 12,000 square-foot facilities for winemaking. Their tasting room is open Saturday and Sundays from 1-5PM, offering $10 tastings for 6-8 wines (which can be credited towards a purchase of a bottle).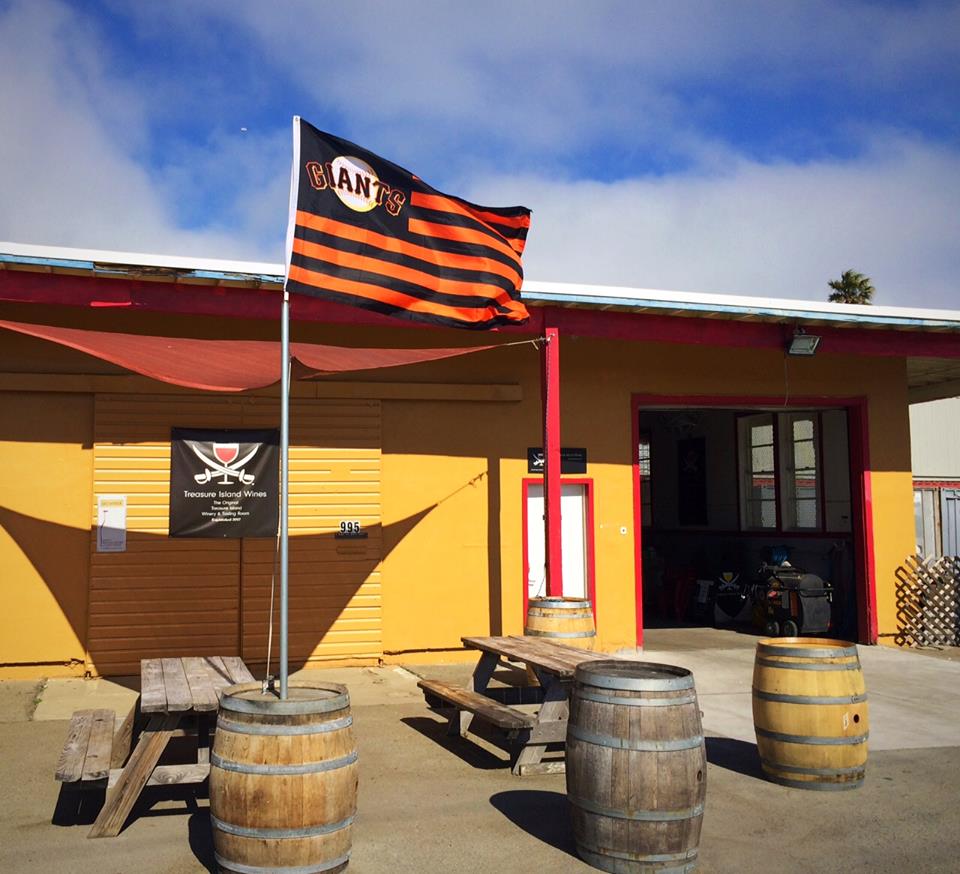 Photo Credit: Treasure Island Wines
The winery is one of the bigger facilities in San Francisco, spanning over 20,000 square-feet. The facility exterior is composed of all steel siding in an industrial manner. The interior matching the same ambiance with wood beams and walls lined with wine-fermenting oak barrels. The spot is a popular venue for industrial-chic weddings. When it's not used for celebrating a union within its winery walls, it's opened for tastings on Saturday and Sunday from 12-5 PM. Visitors can enjoy their wine tastings outdoors beneath their wooden pergola to a backdrop of the San Francisco Bay Bridge.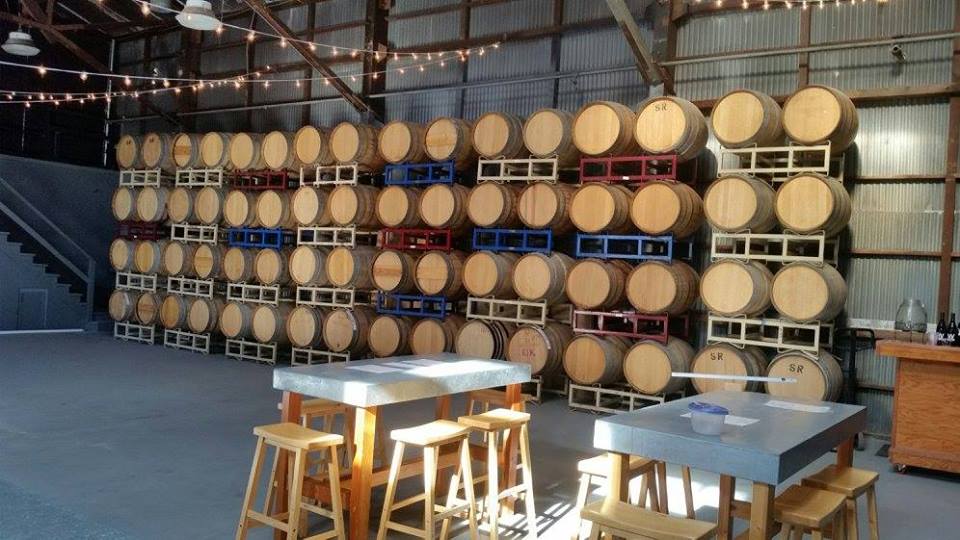 Photo Credit: The Winery SF
French for "red soil," the namesake is a reflection of the soils from which their grapes grow. Their vineyards are located in the Red Hills Appellation, located high above 1800 feet and north of Napa Valley. The elevation and climate creates a rich, red volcanic soil. The soil grows grapes that create the winery's unique taste from over nine grape varietals. Their tastings offer five wines to enjoy within their intimate tasting room on Saturday and Sundays from 12-5 PM. Guests can also bring along a picnic basket to enjoy on their picnic tables, as well as the option of playing a game of bocce right outside their tasting room.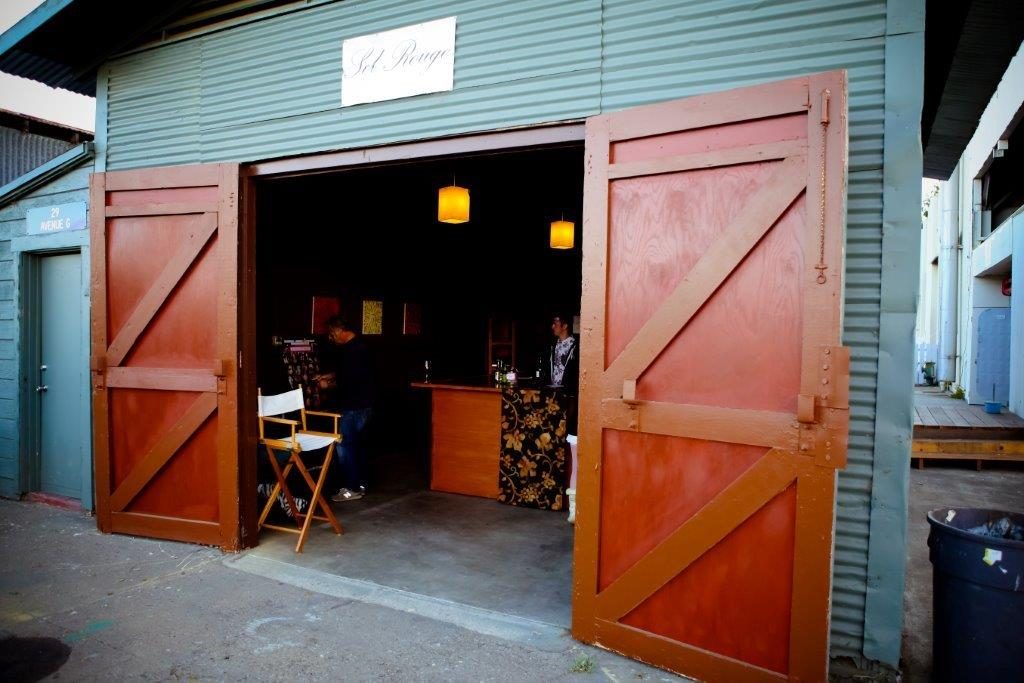 Photo Credit: Sol Rouge Winery
On the other side of the bocce court at Sol Rouge Winery is a fellow winery neighbor, VIE Winery. The small-production winery specializes in Rhone varietals and Zinfandel. Both are produced with traditional winemaking methods best for the certain varietal of the harvested grapes. Their grapes are from over eight different vineyards from all over California's wine regions, including Napa Valley and Sonoma County. The winery has over fifteen different wines to taste during their tasting hours on Saturdays and Sundays from 12-5 PM, as well.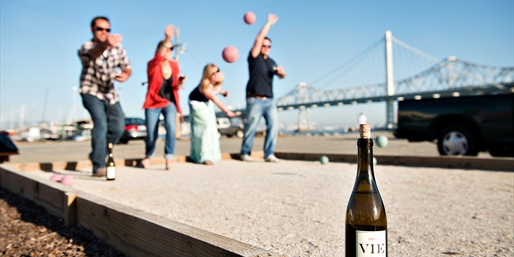 Photo Credit: VIE Winery
Within a five minute drive from Sol Rouge and VIE Winery is Sottomarino Winery. Their winery's winemaker also began helping out the former wineries. The winemaker, David Frazier, worked with the island's museum to unravel a Damage Control Wet Trainer.  The Wet Trainer serves as the site of the winery. Also known as the USS Buttercup, a Wet Trainer is a training simulator. Its purpose was to help US Sailors and Coast Guardsmen test their damage control knowledge during a sinking ship. So, in honor of the location's history, the winery is called Sottomarino Winery, or Italian for "Submarine" Winery.
Fittingly, the expertise of this winery is authentic Italian-varietal wines. What makes this winery unique is that their tasting room is right within the Wet Trainer. This winery visit gives such a memorable ambiance filled with history that surrounds its guests while enjoying a glass of wine. A flight of five wines is available for $15 during their tasting room hours on Saturday from 12-5PM.
Photo Credit: Sottomarino Winery