New England in the fall is a classic excursion, so we planned our long weekend to coincide with the height of the seasonal color. Our target was Burlington because it is a center of culture and the distinctly Vermont experience. This is our third October trip. Because we admire their locally sourced ethos, we love the farm to table tradition and the myriad hand-crafted products. These include: syrups, cheeses, organic meats, Lake Champlain Chocolates, craft beers, Ben and Jerry's Ice cream, and fruits. Also there is the famous Heddy Topper IPA, brewed by The Alchemist, a limited edition that has people waiting outside of their beer distributors. There is so much more to discover and enjoy.
As we made our way north from Binghamton, the foliage was stunning, the skies were impressionist art. Vermont has a lot to offer but nothing overshadows the scenery. We splurged and stayed at the elegant Willard Street Inn.  It was built in 1881 by state Senator, Charles Woodhouse. It is Queen Anne and Colonial-Georgian Revival style and meticulously restored. It overlooks lovely gardens and Lake Champlain.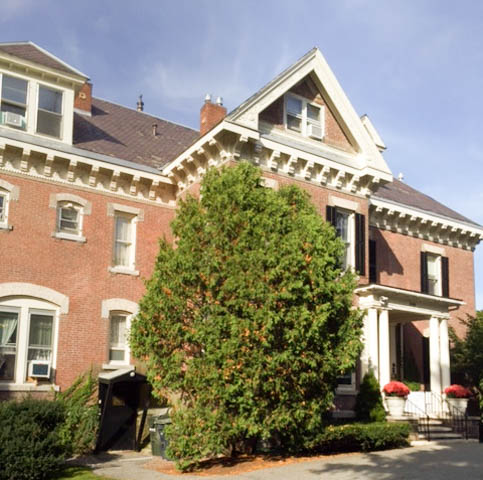 We were walking distance from Champlain's campus whose modern architecture fits in astonishingly well with the substantial old style splendor of the district.  We arrived late on Saturday afternoon. After checking in and refreshing with a cup of coffee and help-yourself-anytime homemade cookies, we wandered downtown to visit the shops before we set out for a simple supper.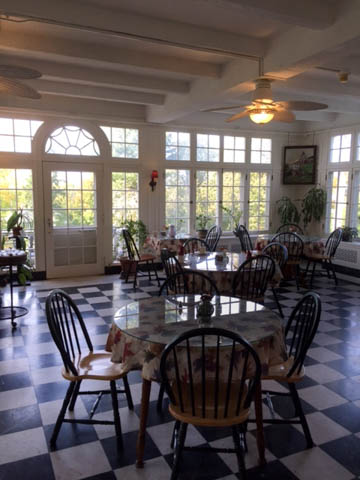 The aromas of kabobs from Istanbul Restaurant mingled with the fairly new Thai Dishes. The city has graciously hosted immigrants from countless nations, many of whom are refugees. Aside from the kind humanitarian gesture, it has enlivened the culinary scene. There are now a slew of fantastic ethnic restaurants and we've been to a few. After some deliberation, we decided: Thai it is. I opted for Massaman Shrimp Curry which was generously portioned and tasty.
Bills Fans in Burlington
On Sunday, we enjoyed a leisurely, lavish breakfast and found a bar that let us watch the Bills game.  You never know what you'll find in Patriot Territory.  Amazingly, we found a barmaid who was actually a Bills fan.
After the game we strolled down Church Street Market Place past Bernie Sanders's campaign headquarters to my favorite shop, Frog Hollow, which presents Vermont-crafted work exclusively. I'm an avid Indie shopping fan and Frog Hollow fits the bill. They gather work state-wide and were the very first Fine Craft Gallery to design a venue  exclusively for their state artists. Prices vary and I always find a treasure and even an early Holiday gift or two.
I can't leave the town without picking up at least 2oz. of Long Jing Tiger Spring Dragonswell tea from Dobra Tea. The luxury of vacation encourages us to take an indulgent coffee break.  Muddy Waters? Or Uncommon ground? Each of these coffee houses have the classic coffee shop vibe, so picking is hard. We end up at Uncommon Ground and picked up whole beans, French roast for home.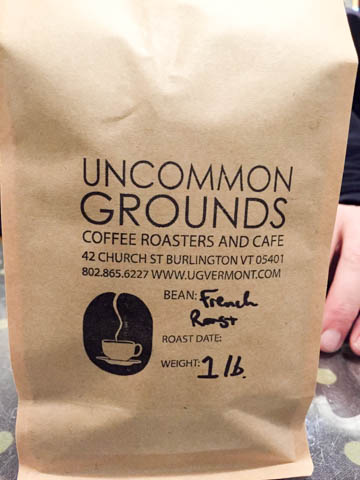 On our last night, we headed to the "not to be missed" Blue Bird Barbeque. The menu is simple, the ambiance clean and natural, but the food is over the top. The pork is organic, and smoked for 15-18 hours. You can taste every layer of preparation.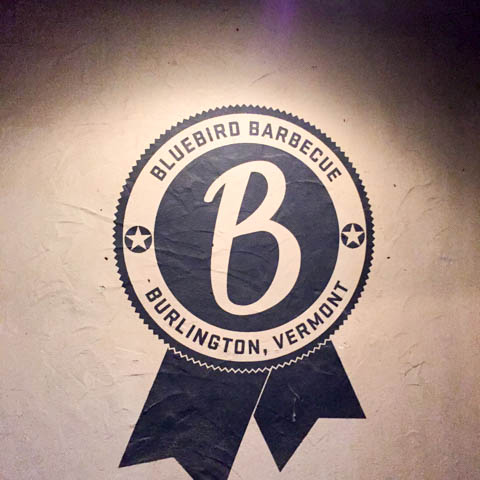 Served on rustic cookie trays lined with parchment paper , I opted for a Brisket Stack Sandwich and the boys take in a Brisket and a Nashville Hot (spicy chicken).  I had to try the locally brewed Citizen Cider. Here is an original brew of hard cider conceptualized by a wine salesman, chemist, and farmer. The result is a clear, crisp liquid that has more punch than one might suspect .  It was a memorable meal.
The next morning, with baskets of local cheeses and syrups and other goodies to bring home to friends and save for the Thanksgiving appetizers, we slowly exit for home. When we return to Western New York, we were rested and happy to have our delicious products from Vermont, better than money in the bank.