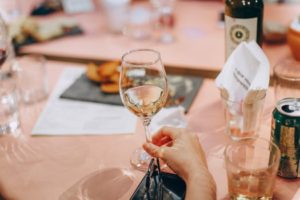 Why You Need to Go Tasting If You Haven't Already
The picturesque Finger Lakes in Upstate New York lie South of Lake Ontario and just 300 miles from New York City. It is simply a collection of eleven deep and narrow glacial lakes. Winemakers here will tell you: the high altitude vineyards are certainly second to none, hence our admiration for Finger Lakes Riesling.
Of the eleven lakes, Canandaigua, Keuka, Seneca, and Cayuga act as viticultural hubs.  Wine growing here was notably touch and go.  Despite growing native vines for decades, they produced low quality wine and were prone to disease. A solution was therefore needed.
Enter Dr. Konstantin Frank, an Ukrainian viticulturist whose story embodies the American dream. He devoted years trying to get winegrowers to switch to Vitis Vinifera (the European vine species). Especially since, he had had successful experiences with it back home.
He strongly believed switching from the native American root-stock to the European species would give wines in the region a chance at survival, therefore improving the wine quality. Finally, someone did listen, French Champagne maker Charles Fournier. Together, they would spark a new beginning for this AVA.  The ripple effect is still being felt many years later.
Terroir: Climate & Soil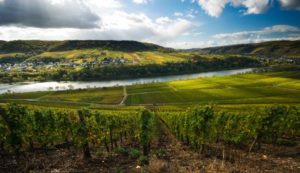 Over the years, glacial waves have given this region its greatest advantage. The glaciers created deep narrow lakes rich with mineral deposits. Micro-climates around the lakes (often providing picturesque views from the vineyards) offer interesting wine growing 'pockets' for the 79+ varietals growing in the region.
Most noteworthy is the close proximity of the vineyards to the lakes. This helps temper severe frigid weather in the winter and warm sunny days of summer. Heat in the water blows into the cold vineyards during winter. In contrast, cold breezes revitalize baking vines in the summer heat. As a result, the high diurnal temperature helps keep the fruit vibrant while it ripens in the sun.
The soils are a wonderland of variety. Well-drained Loam and Shale soils (among other varieties unique to the region) give the Riesling a distinctive minerality. Riesling from the Finger Lakes is best compared to Rhine, Germany where the same varietal thrives in the similarly steep slopes and crisp climate.
Accordingly, winemakers have been able to craft wines that stand up to classical versions such as crisp German to full-bodied Alsatian wines.
Notable Styles
Riesling is an elegant grape unmatched in character by any other Noble variety.  The most notable examples ordinarily have a tense, almost sensual play on acid and sugars.  Due to its delicate floral nose, many mistake it for sweet, when that might not be the case.
Carefully aged wines will develop the peach/pear aromas into tertiary aromas of caramel and candied fruit, not to mention petroleum, the hallmark of a well ageing Riesling.
The Finger Lakes have succeeded in creating beautiful wines of their own. Furthermore, you are sure to score some carefully styled luscious sweet Ice wines or effervescent sparkling wines. There seems to be no shortage of the styles wine makers in this region can create after all.
Wines to Try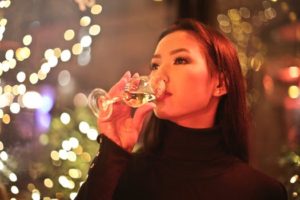 First of all, you do not have to be a connoisseur to find a great bottle!  Tasting rooms and wine shops aplenty, simply asking for a "Dry Riesling" should get you started. Winery and shop attendants are happy to guide you on a Riesling tasting flight. There is much to choose from.
For each winery, there are about two distinct styles of Finger Lakes Riesling, and there are 130 wineries!
Not to worry, here are some of our favorites to help you start.  Notice how much value you get for each bottle?
1. Forge Cellars: Dry Riesling Classique 2016: $17.99
This wine is blend of fruit sourced from both Seneca and Cayuga Lake. Baked apples, pear mingled with ginger and Brioche earned it 91 pts. – Wine Spectator stated: "Rich and focused, with citrus oil, jasmine, yellow apple and Mirabelle plum notes melded together and carrying through the straw-tinged finish.Drink now through 2021"
2. Lamoreaux Landing: Round Rock Vineyard 2016 Riesling: $24
This flavor of this wine comes from including grapes from a five-acre plot on the east side of Seneca Lake. with a bright nose of limestone, green apple, white blossom, and under-ripe peach.  A zesty light-bodied palate, well-balanced stone fruit, and lime flavors earned it 90 points (Wine Enthusiast).
3. Empire Estate:  2016 Dry Riesling: $18
Clear on the nose, with aromas of peach blossom, crushed stone, and lemon-lime gives this wine its unique flavor. The clean palate is crisp with green apple and tart quince and vivacious acidity. It earned 90 points (Wine Enthusiast).
4. Red Newt Cellars: The Knoll Lahoma Vineyards 2014 Riesling: $36
From a particularly well-drained block in the Lahoma Vineyards—on the western shore of Seneca Lake—this is an incredibly pristine dry Riesling with aromas of racy lime, ripe green pear, and crushed stone. The palate offers an intriguing balance between weight and tension, showing ripe tree fruit braced by a vein of lime zest and powdered minerals, ending on an ultra clean, finish. It earned 91 points (Wine Enthusiast).