Winter sure has its downsides. It's cold, dark, and summer is as far away as can be.  Thankfully winter does have an ace in the hole: skiing.  All that cold and snow has to be put to use, and the best use is flying down a hill in one of Western New York's best ski resorts.
Ranging from the largest in Holiday Valley to the largest private ski resort in North America, Western New York's snow scene has something for everyone, from families to solo skiers looking to avoid the crowds.  Here are the three must ski resorts.
Holiday Valley: The big one
Holiday Valley boasts the most trails in western New York with 58.  It can also lay claim to the longest run.  The valley is located an hour away from Buffalo, easily accessible along Route 219.  Holiday Valley literally has everything you could want, from night skiing to skiing through the woods.  There are five terrain parks for the kids, cross country for the veterans, even tubing for those not quite ready for the slopes.  Prices are on the higher side but still affordable: weekends for adults are $72 for 8 hours.
Holiday Valley offers passes, weekend tickets, and two-day tickets for the discount hunters.  One last bonus of Holiday Valley is its convenient location near Ellicottville. For those not familiar with Western New York, Ellicottville is known for its dining, shopping, and late night revelry.
Peek'n Peak: For the Experts
This creatively named ski resort is located an hour and a half from Buffalo in the close-knit small town of Clymer, NY.  The resort has 8 lifts and 26 trails, most of which are not for beginner skiers (although there is a "bunny hill").  Lift prices are slightly cheaper than Holiday Valley's as a weekend 8-hour ticket will run you $59. There is night skiing available as well as tubing and cross country.  Peek'n Peak is ideal for advanced skiers and slightly less qualified, looking to avoid the crowds.
 Holimont for a Change of Pace
The less creatively christened Holimont Ski Area, as touted earlier, is the largest private ski resort in North America.  Before that sentence turns you off, the "135 skiable acres" resort is open to the public during the weekdays.  Ticket prices are comparable to nearby resorts; the Holimont is included on some multi-mountain passes, though not for the weekends.  It provides a good balance between semi-exclusivity and quality ski runs, albeit on a smaller scale.  Holimont is also located near the jovial town of Ellicottville.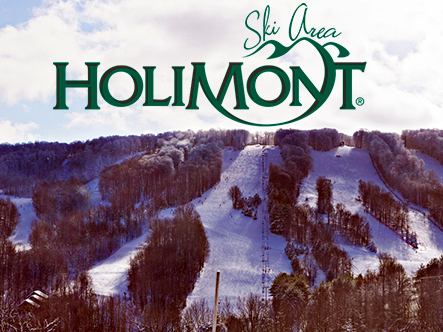 All three of these ski resorts, public or private, have plenty of food and beverage options for the little ones and those taking care of them.  The great white beyond is here, so make sure to look for seasonal passes to save some green and throw up some white!