New York City has one of the most diverse neighborhoods in the world, with the 7 train being a grand ride through the ethnic mosaic called the borough of Queens. The train also so happens to bring you just footsteps away to some of Queens' best restaurants, with each stop letting you off at a different country in the train line's international tasting tour. Here are seven amazing restaurants to visit along the 7 train.
Flushing is Queens' own Chinatown, where the Chinese population is deeply immersed in the blocks surrounding the 7 train stop. Food here can often be so inexpensive to the point where one can joke that $10 can feed you three meals a day here. While not too far from the truth, one of the spots that does satisfy a hungry appetite for under $10 is White Bear. The hole-in-the-wall is a no-frills spot, where you order your styrofoam box of dumplings, eat quickly and head out.
Photo Credit: Winston Wonders
The specialty here is the #6 dumplings, which are served in a hot oil sauce that is frequently used in Sichuan cuisine. For a dozen dumplings at $6, the taste of each bite will impress. The meaty bites are enhanced with the enjoyable smoky oil that coats each dumpling. They've mastered the perfect balance of dumpling, oil, and subtle spice to make you want another dozen.
While almost everyone is familiar with the concept of enjoying tacos (going so far as to coin a day of the week for "Taco Tuesdays"), many overlook one of the key ingredients of a delicious taco: the tortilla. Authentic and freshly made, Tortilleria Nixtamal specializes in using real corn to hand-make their tortillas. What draws flocks of people to this spot is that the idea of eating fresh permeates throughout their menu. The ingredients are purchased from local vendors, like Franco's Restaurant and Butcher Shop of Queens and Blue Ribbon Fish Co. of the Fulton Fish Market. The idea of fresh is not for a kitschy reason, but it is simply how tacos are enjoyed in Mexico.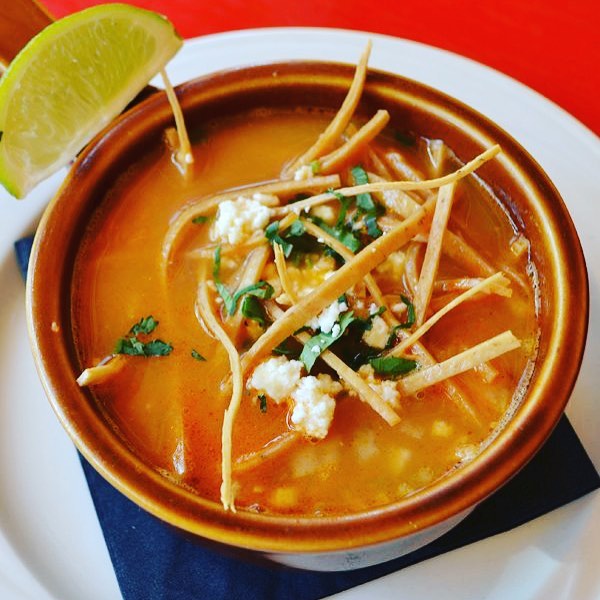 Photo Credit: @tortillerianixtamal
When visiting here for a hearty traditional meal, as with many Mexican places, the guacamole and chips are a must. However, don't be fearful to order something else, like adding the tortilla soup to your starters. Tamales are a major staple of Mexican street fare, so don't miss out on a bite of the Chipotle Tamale. Their Entraña Taco (steak) and Barbacoa Taco (lamb) are perfectly seasoned. If you want something saucy, the Enchiladas Verdes will give the perfect flavor profile for some amazing verde sauce. Also, if you like the concept of eggnog or the Puerto Rican-version of eggnog, called coquito, you will enjoy the creamy sweet beverage called Horchata. Although buzz-free, the drink gives a creamy blend of vanilla and cinnamon.
Corona is home to a multitude of residents from Central and South America. Often times that means many have bought a piece of their home here, frequently in the form of traditional recipes. One of those restaurants happens to be Chiflez. The cuisine here is particularly familiar to the Ecuadorian and Peruvian tongue but will please almost anyone who enjoys a meal here.
For starters, the Canastas de Camarón will be both impressive to the taste buds and the eyes. The dish comes with edible fried cups made of plantains, topped with guacamole and succulent shrimp. One can't go wrong with any of the entrees on their menu, but if you like Peruvian-style steak, Lomo De Res Saltado gives a heaping portion of stir-fried steak with a side of rice, maduros (fried sweet plantains) and fries. For a lighter protein, the Corvina Frita offers slightly crunchy but savory bites of fish, alongside with rice and salad. With this meal, you're offered some sauces. The green sauce they provide is a must to your dish (and goes great with savory fried plantains), and the pink sauce is the dressing for your salad.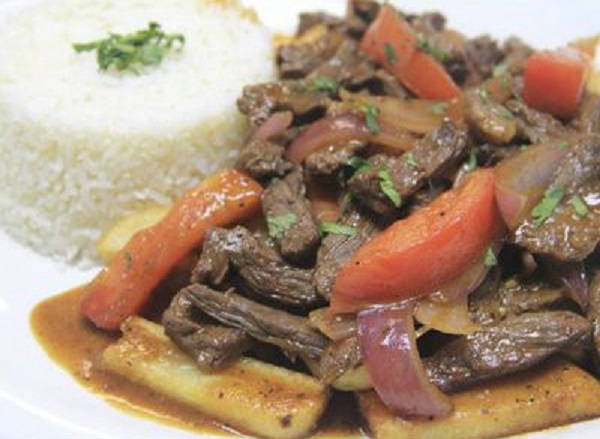 Photo Credit: @Chiflez
Jackson Heights is particularly famous for being the home of "Little India." Between Roosevelt Ave and 37th Ave on 74th street are a myriad of storefronts that reflect the rich culture of Southeastern countries, particularly India. Past the storefronts of vibrant colored saris and brilliant gold jewelry are a plethora of restaurants offering samosas, tikka masala, and other traditional Indian menu items. However, we're headed a bit further around the corner of 37th Avenue to a well-known neighborhood restaurant, Samudra Vegetarian Restaurant.
Before judging the book by its vegetarian cover, there is a reason why Indian cuisine is often vegetarian-friendly. As a nation, it has the highest number of people who have a vegetarian diet. This is particularly due to the number of people that practice Jainism, Hinduism (not required to be vegetarian, but they hold a belief in not hurting animals) and Buddhism. So, it is only natural that one of the most famous restaurants, Samudra Vegetarian Restaurant, happens to be appetizingly vegetarian too.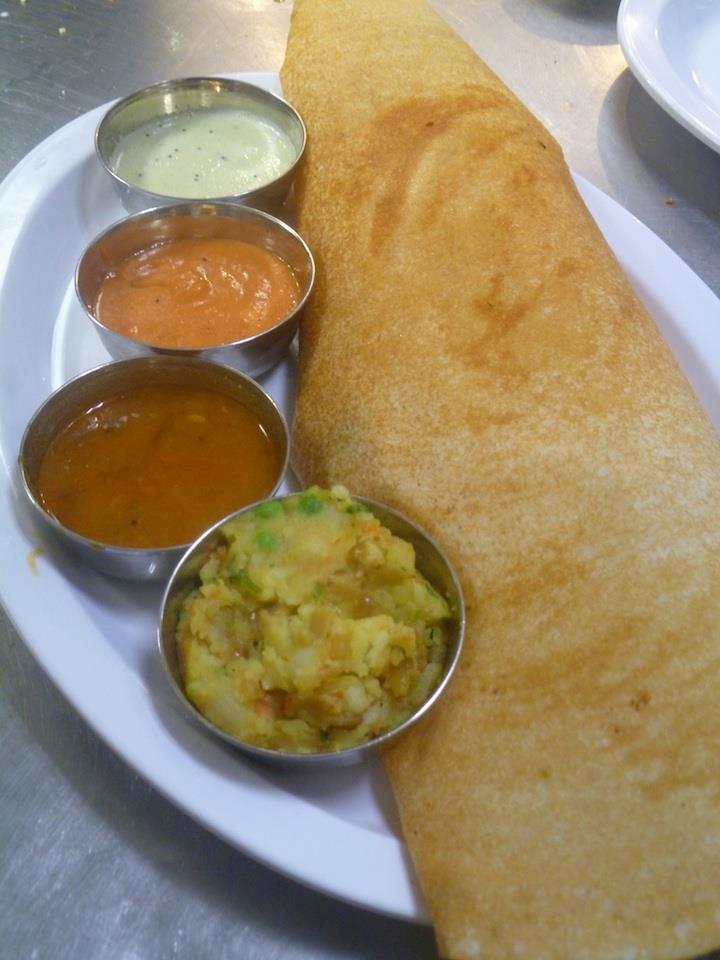 Photo Credit: Samudra Restaurant
This South Indian restaurant offers delicious traditional dishes. Great starters are the Pani Puri and the Samosa Chaat. The Pani Puri is a popular street snack of crispy dough filled with chickpeas, onions, and chutney. For the entrees, Paneer Makhani and Masala Dosa will satisfy you with the balanced spices and flavors. To satisfy the end of your meal, finish off with the Rasmalai, a rich, sweet, and creamy sauce that covers small flattened pieces of Indian cheese.
Queens has become home to a large number of Filipinos, as well, and many particularly reside in the neighborhood of Woodside. As it happens naturally, the one block range of 69th street, right along Roosevelt Avenue, was born and coined as "Little Manila." The familiar flavors of fish sauce, vinegar, and shrimp paste are prevalent within the Filipino cuisine. One of the places that offer such traditional plates with these flavors is Papa's Kitchen.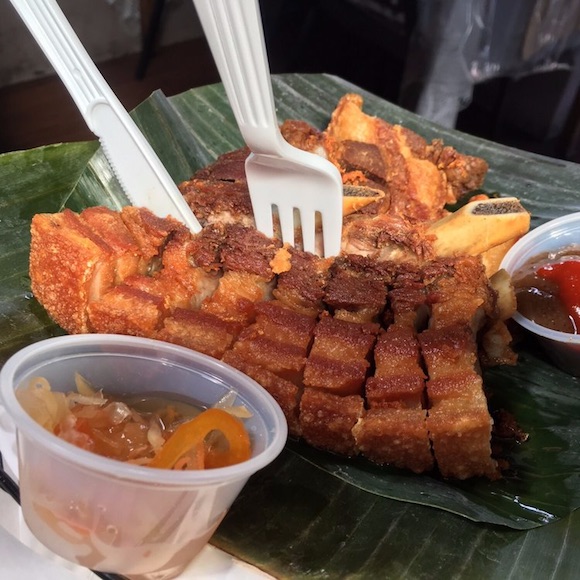 Photo Credit: Papa's Kitchen
Papa's Kitchen integrates the important pillars of a home restaurant in the Philippines: an intimate family-style dining space and karaoke. Yes, that's right, karaoke is a norm in Filipino-fashion dining. Do not be surprised if someone is singing some classics from Elvis Presley or Barry Manilow. For starters, the well-known appetizer in every Filipino home is lumpia, and Papa's offers the Lumpia Shanghai, a crispy and flavorful spring roll of pork and vegetables. To fill in your appetite for main courses, order the Bicol Express, a coconut milk-based stew of pork loin and bok choy, and the star dish of the restaurant, the Crispy Pata. The Crispy Pata is a whole pork leg that has been boiled and then deep-fried to give a crispy, juicy and delicious texture in every bite.
Many, many moons ago (about the time of the fond 90s), Sripraphai use to be a hole-in-the-wall known to many Thai locals. The small mom-and-pop shop had pink tables, seafoam green walls, and a deli-style refrigerator of Thai sweets. At the time, it took up only one spot on the obscure Woodside street. Fast forward two decades through their prospering journey of expansion. Now it has grown into two storefronts and renovated into a chic and modern ambiance. Of course, they've progressed this far for one reason: amazing Thai food that has become the talk of the town as some of the best Thai food NYC has to offer.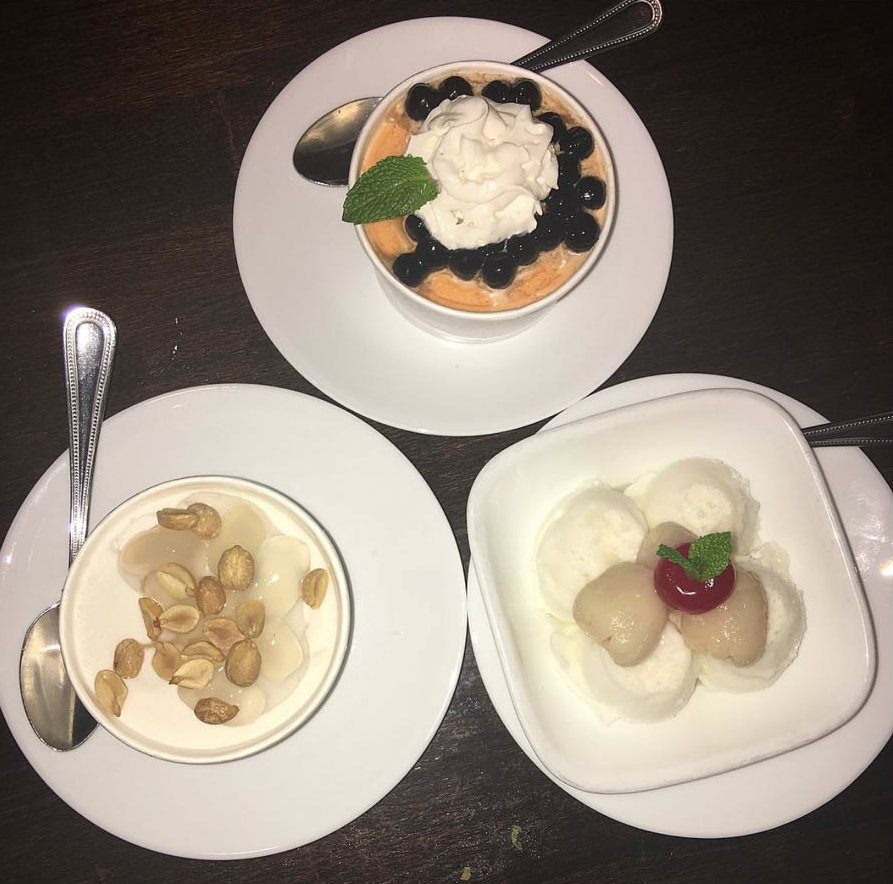 Photo Credit: @mydearestbee
For starters, the Crispy Watercress Salad is flavorful, balancing sour with savory bites of shrimp, chicken, and squid. The added texture pleasantly comes from the fried watercress and cashews. For the main dishes, try venturing out of the comfort zone of Pad Thai. If you like noodle soup, try the Khao Soy. It is a curry soup of crispy egg noodles and your choice of protein. If you like BBQ, the Gai Yang offers traditional BBQ chicken with papaya salad and sticky rice. And of course, their curries never go wrong. For dessert, they have a refrigerator full of sweets. The options range from fruit-shaped mung bean treats to coconut milk-based sweets, like tapioca and black bean in coconut milk. Should you want a chillier option, try the coconut ice cream, which comes in an actual young coconut.
Italian: Sotto Le Stelle at 46th St
Staten Island and Brooklyn frequently come to the top of the list for Italian food, and not so much Sunnyside. However, there is one new neighborhood gem that brings delicious Italian cuisine to the neighborhood by way of pizzas. For starters, the Pacherri Carbonera is amazing. It consists of freshly made pasta topped with a heavenly cream sauce and perfect crispy bits of bacon. The Burrata is rich and served on top of a salad with a light mustard dressing. Their classic Margherita hits a homerun for something expected, but for something more unexpected, try the Manjin Bu. For any fans of anime, the name of the pizza might ring a bell. The playful namesake happens to also be playfully pleasing to the palate. The white pizza comes topped with potato croquettes for a savory subtle texture. Also, served as a topping are complimenting slices of ham.

Photo Credit: C. Delgado