Being a Student of the Flavors:
6 Cooking Classes NYC Has to Offer and More for Lovers of Eating and Drinking
New York City has so many great options to indulge in amazing foods and drinks. Our list is elevating this enjoyable experience of wining and dining to the next level. Rather than just being a witness to the wonders of flavorful meals, we're bringing you the best of cooking classes NYC can offer, along with demonstrations and food pairings for wine, beer and spirit lovers. Whether you enjoy whiskey or wine, beer or baking, cooking or cupcakes, these classes have never made being a student so appetizing.
Crafting Your Home Brewing Knowledge: Bitters & Esters
Bitters & Esters have been in the Brooklyn neighborhood since 2011, when craft brewing was beginning to gain traction in popularity. With the love for high-quality beer that can be found in places like Brooklyn Brewery comes with the yearning curiosity to learn how balance and flavor can be brewed so perfectly. Bitters & Esters aimed to become an integral part of the homebrewing community that began to grow within NYC. Their store and classroom made education in brewing accessible, no matter the level or skill set. Whether you've just crafted a new interest in learning to homebrew or you've already finished your 500th batch of homebrewed beer, they have all levels of classes to support your quest of becoming a better homebrewer.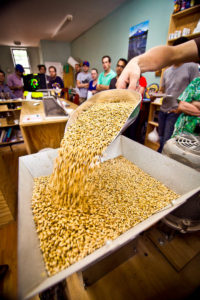 With my mind on my millin' and my millin' on my mind.
Photo Credit: Carla Coria
Impress Your Guests for Dinner With Your Dinner: Sur La Table
Don't hold back singing "Be Our Guest" from Beauty and the Beast when inviting your friends over after taking one of the best cooking class NYC has to offer at Sur La Table. Sur La Table's stores are a haven for those that appreciate kitchen tools from around the world. They extend the passion behind the craft of cooking by teaching how to master meals in the kitchen, as well. The class makes it easy for students to delve right in, where all your ingredients, bowls and cooking tools laid out and ready to use. The class focuses on the techniques for everything between prepping to eating your meals. You also get great discounts and coupons on the tools that you've used within the class, should you want to take your newly found morning talk show cooking skills back home to replicate the effort.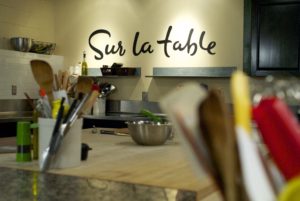 Three course meals that will incite "ohh's" and "ahh's" from your guests.

Photo Credit: Sur La Table

Cupcake Makes it Easier to Smile: Magnolia Bakery
Life isn't complete unless there's dessert to enjoy! That's why we're mentioning Magnolia Bakery as one of the baking classes NYC offers an opportunity to learn all about upping your cupcake game. Their classes focus on cupcake icing, which can range from piping techniques and designs, creating flowers, writing inscriptions and more. Once you're all done, you can tote your creations back home and show off either your cake or half a dozen cupcakes as proof of your newly mastered skills.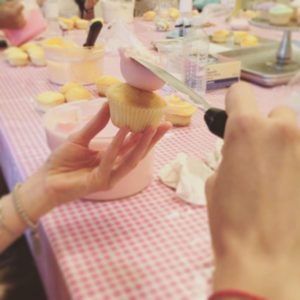 Fabulous fondant flowers for fanciful affairs.
Photo Credit: Magnolia Bakery
Be All Gouda with Brie, Mozz-self and I: Murray's Cheese
For those who have a deep love for all things cheese, Murray's Cheese wants to embrace your cheesy passion. You can attend pairings that offer all types of booze or learn how to make marvelous mozzarella from scratch. You can also take a class on how to serve your guests with an impressive cheese board. Whatever your heart desires, they can help satisfy it with, of course, more cheese!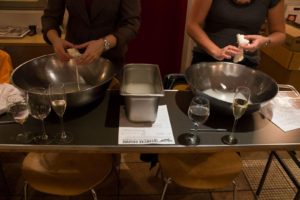 Nutty, creamy, sweet, and dreamy, Murray's Cheese can show you all the flavors on the cheese wheel.
Photo Credit: Murray's Cheese
Life is Always Fine with Red, Red Wine: Astor Center
The event space that belongs under the same hands as the well-known Astor Wine & Spirits store also makes use of their free space for classes. The classes welcome the love for wines and spirits of all kinds, and everything in between. Lessons include how to make a perfect cocktail, mix a good sangria or find the right wine and food pairings. After taking a class here, you'll be comfortable picking a wine to pair with your decadent dinner at one of the best restaurants in NYC. The spaces within Astor Center are elegant with a romantic yet rustic ambiance throughout the historical landmark space.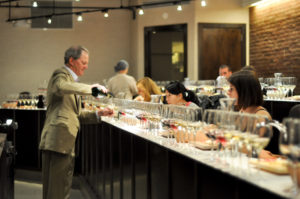 Each class gets a starter champagne or dessert wine to denote that class is in session.
Photo Credit: Astor Center
Immerse in Italian Flavors in the Kitchen: Eataly
Eataly, in and of itself is quite an amazing experience. Known as the world's largest Italian marketplace, the various smells from all the different restaurants and vendors seduce you. Their aisles are almost endless collections of wares, food products and beverages imported from Italy. Another lovely attraction here is their Nutella Bar, which serves up the heavenly hazelnut spread in many delicious ways. But enough about the marketplace, the perks we're here to focus on are their classes and demonstrations. Whether you want to take away lessons to prepare a multi-course Italian dinner, make fresh mozzarella, or stun a date with home-made artisanal Baci truffles, they have it all. You can even have a more relaxed experience and enroll in a wine pairing or chef's table dining experience.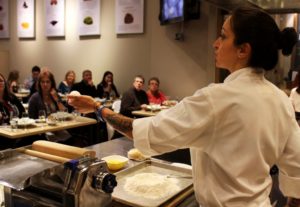 Their classes teach you all the things leading up to the "buon appetito" moment.
Photo Credit: Eataly