Soups are a quintessential go-to meal when searching to revive the soul from sniffles and sneezes or the chill of a winter day. Many countries have their own remedies that can bring about such tranquil and warming experiences at the dinner table. While your default option for soup may be Hale and Hearty, let's introduce you to how the world enjoys their bowls of delicious soups in NYC.
Southeast Asia: A Steamy and Beefy Bowl of Pho from Vietnam at Hanoi House
A key ingredient in almost every Asian kitchen is rice. For Vietnam, it is only natural that rice can also be enjoyed in the form of noodles. Let's dabble in one of the most famous Vietnamese dishes that use rice noodles: a hearty bowl of pho. The base of pho (pronounced "fuh") consists of beef broth that delivers a rich flavor from simmering beef bones for several hours. It is served with very healthy portions of rice noodles and often topped with slices of beef. Often times, you also get other beef-relevant ingredients, such as tendon, brisket and tripe. Although it occasionally appears raw, just add your condiments of hot sauce and hoisin sauce and flip the noodles over the beef to let it finish cooking in the hot broth.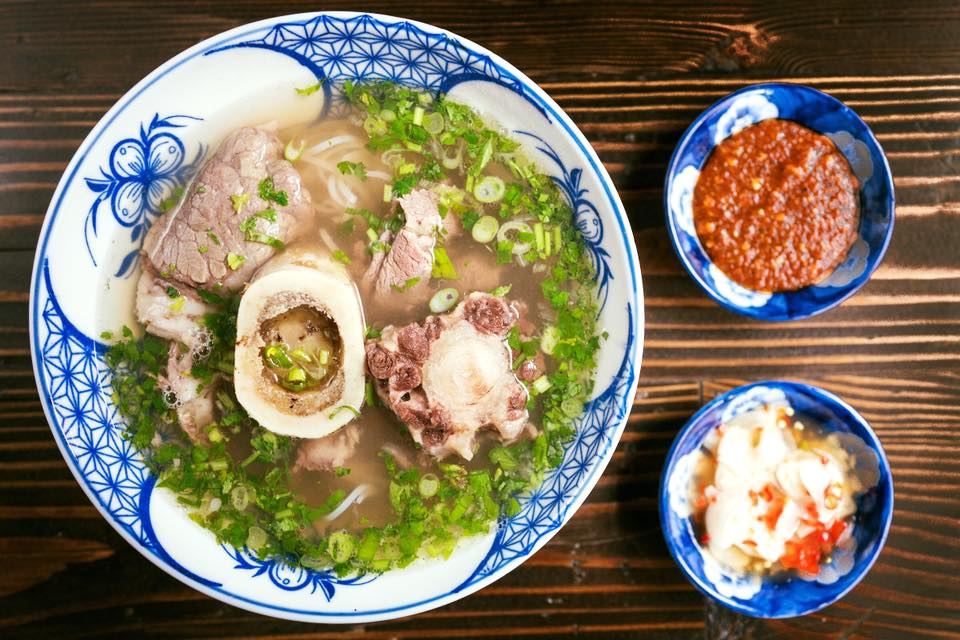 Photo Credit: Hanoi House
For a decadent take on the traditional pho dish, you can head to Hanoi House, where the pho is served with melt-in-your-mouth Black Angus filet mignon. Here, the extra premium meat just further accentuates the broth's authentic flavors.
Much of Peru is a coast along South America, which makes it only natural to make a seafood soup as part of their cuisine. This dish uses a firm cut of white fish, like cod or sea bass, with a tomato base that has a kick of spice to give a satisfyingly robust flavor. Since this is a popular dish among fishing communities, you can also often find other seafood ingredients added to the soup, such as mussels, octopuses and clams. 
Photo Credit: Riko Peruvian Restaurant
While Peruvian restaurants, like Riko Peruvian Restaurant, are distinctively well-known for their barbeque rotisserie chicken, we recommend ordering a bowl of tasty parihuela to complete a truly satisfying warmth to your evening.
Africa:  Rich and Flavorful Egusi Stew and Fufu from Nigeria and Ghana at Accra Restaurant
Although not well-known in the Western world, one of the popular ingredients used in West African specialties is egusi (melon seeds). While it's exterior may make you mistake it for a watermelon, the inside looks like all of the red pulp has disappeared and has left you with a bitter flesh and a lot of seeds. However, the flavor is in the high-protein seeds, which are commonly used in many dishes, including a decadent dish called egusi stew. Found in many West African countries like Nigeria and Ghana, this stew comes in different variations, such as fish based or beef. The flavor is herbaceous, rich, slightly nutty and very satisfying. Often times, this stew is also eaten with fufu, which is a dough made from cassava or plantain, and is used to sop up the stew.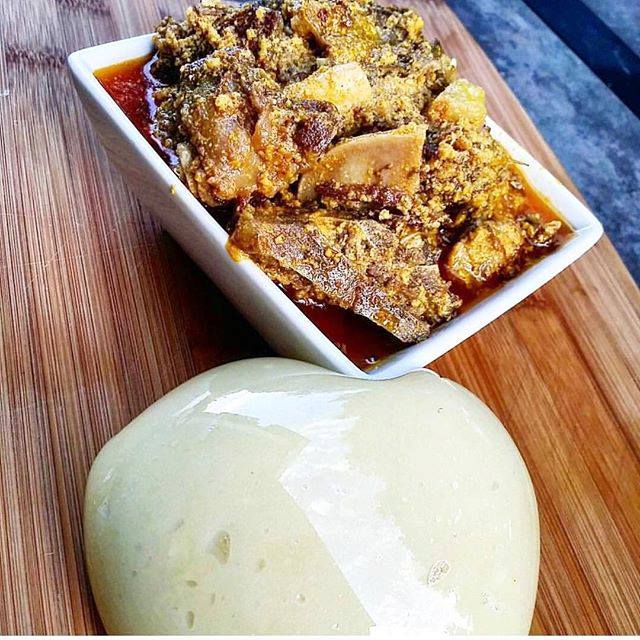 Photo Credit: Accra Restaurant
Paying homage to the capital of Ghana, Accra Restaurant offers authentic flavors that would please anyone from the home country.
Europe/Asia: A Hearty Bowl of Borsch from Russia and Ukraine at Mari Vanna
While the original base ingredient of borsch was wild cow parsnip, it is now most frequently made with a beet base. This soup is common across Eastern European countries, such as Russia, Ukraine and Poland. The soup is versatile and caters to the needs of both hot and cold seasons within these countries by being served either hot or cold. The soups are often made with cabbage, root vegetables and a meat, ranging from pork, beef or ham. It blends a bit of sour and sweetness into a soup that has so many variations based on region, differing by thickness, ingredients and accompaniments. 
Photo Credit: Mari Vanna
Mari Vanna gives a charming spot to experience Russian fare. The restaurant exudes a welcoming ambiance of your favorite grandmother inviting you over for dinner. While you're enjoying a homely spread of traditional accompaniments with your borsch, you can also order a side of some of their home made vodkas to warm your insides through and through.
North America: Headin' Down South for Some Gumbo from Louisiana at Infirmary NYC
There is reason why thousands show up in New Orleans for their annual New Orleans Jazz & Heritage Foundation's Creole Gumbo Festival, as this thick and tasty soup is one of the most prominent menu items to enjoy down South. While the French Creole population gives a heavy influence on the popularity of gumbo in Louisiana, the origins can be traced as far back as West Africa. Here, they call okra, which is a popular base for gumbo, ki ngombo. Gumbo is often made in two different ways. One uses an okra base, while another uses filé powder (grounded sassafras leaves). Gumbo is most popularly served with seafood or chicken and sausage, and always with rice. What comes of these ingredients is a rich stew that satisfies your appetite.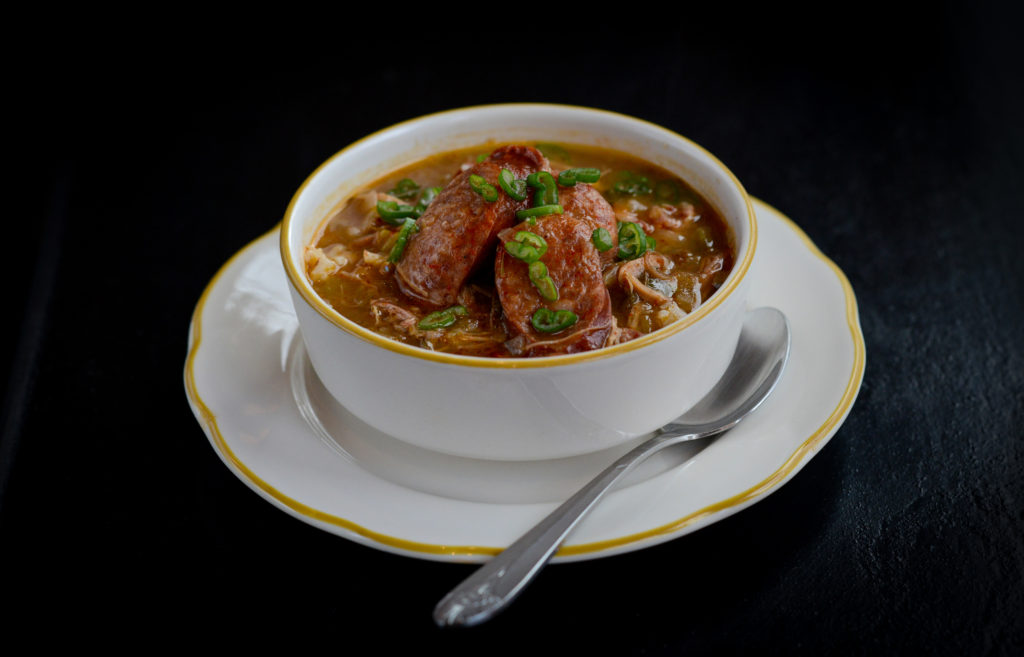 Photo Credit: Infirmary NYC
For a taste of this Southern treat, head to Infirmary NYC to tantalize your tongue with Cajun flavors. Not only is their fried chicken seasoned and fried to perfection, but they also can shake up a good cocktail with one of over thirty absinthes from behind the bar. The gumbo here is served with a spicy kick in their andouille sausage, but nothing so spicy that it will leave you disappointed.
Eastern Europe: The Traditional Jewish Soup that Heals the Soul at Katz's Deli
Often referred to as the "Jewish penicillin," we can consider this the Jewish version of American chicken noodle soup, but with a bit of symbolic meaning behind the recipe. . This comfort food  resembles the unleavened bread that the Jews were forced to consume when fleeing from Egypt. Since there was no time to prepare food, the only food was an unleavened mixture of flour and water that was baked flat under the sun. The famous matzoh ball soup can be commonly found in many kosher diners and delis around NYC. What makes this bowl of healing powers so popular is the savory chicken flavors from both the matzoh ball and chicken broth.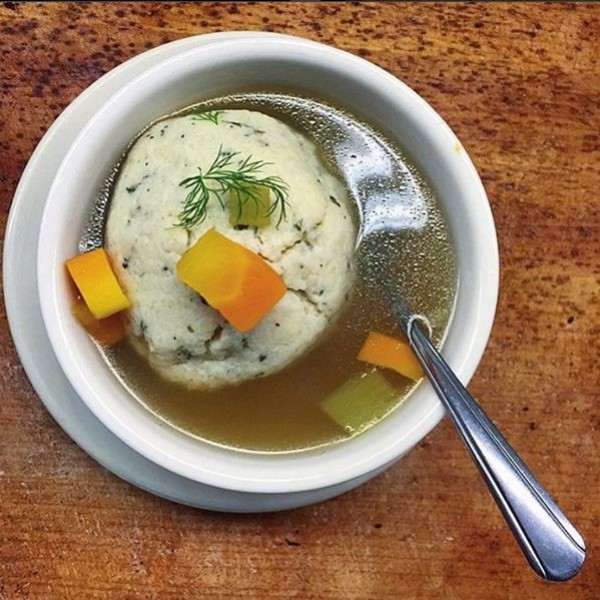 Photo Credit: Katz's Deli
To try a delightful bowl of matzoh ball soup, head to the famous Katz's Deli. We recommend splitting the colossal portions with someone for a truly enjoyable NYC lunch.