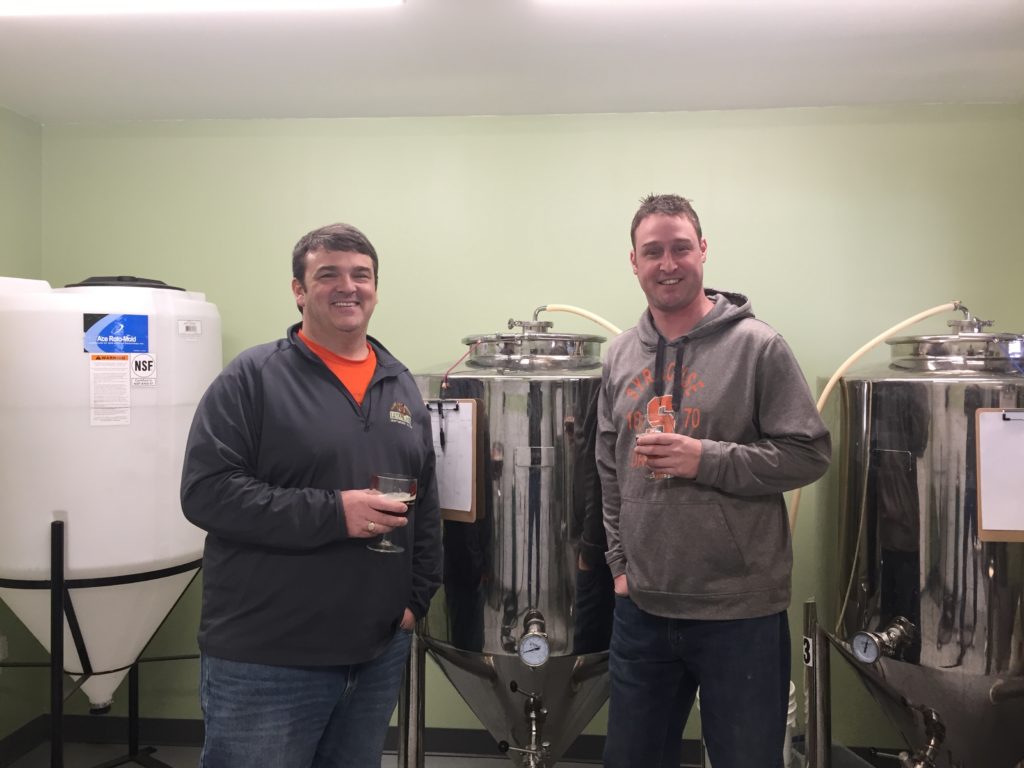 Full Boar is Making Some Serious Waves in the New York State Craft Brew Scene
When Eric Petranchuk and Dave Marchant first started hauling pony kegs of their home-brew along for the ride to Central New York barbecue competitions, they had no expectations beyond enjoyment. Smoking the barbecue was their real hobby, with home brewing taking up some time on the weekends during the winter off season. As it turns out, their friends and fellow competitors were just as interested in what was in the small kegs of beer that Petranchuck and Marchant were toting along as they were with meats coming out of their favorite hickory smoker. That interest piqued in February 2015, when Petranchuck floated an idea to his fellow pit-master about starting a local brewpub. Cut to two years of hard work later, North Syracuse is going hog wild for Full Boar Brewery and Taproom.
The Beginning of an Amazing Craft Brewery in Syracuse, NY
"When (Eric) first brought up the idea I thought it was crazy," says Marchant. "You know, what do we know about running a brewery?"
While both Marchant and Petranchuck had pursued careers in banking and finance respectively, they had also both been home brewing before 2000. This was in addition to their barbecue partnership. After taking a look at the regional and nationwide progress of the craft beer boom, they decided that there was an ideal market in North Syracuse for a comfortable neighborhood brewery.
"Our goal is to not lose that neighborhood bar type feeling," says Petranchuck, who handles most of the day-to-day brewing operations at Full Boar.
"We opened in July, when we opened we were just a microbrewery. But we decided maybe a month or two in that we wanted to become a farm brewery," Petranchuck added.
After first getting settled into their taproom at 628 South Main Street, Marchant and Petranchuck earned their farm brewery designation, which means that 20 percent of their ingredients come from New York State. In addition to their desire to open a local taproom, Petranchuck and Marchand also wanted to carve their own path in the beer making world and introduce their patrons to some of the lesser-known styles of beer that they love.
"I think as a brewery owner you need to have things that people will buy," says Petranchuck. "But we also want to experiment with things that maybe you haven't seen in Syracuse." For the owners of Full Boar, that has meant a brewing focus that is not IPA-centric. The North Syracuse pub gives patrons a rotating menu of proprietary offerings that includes sours, ambers and brown ales in addition to eight guest taps from around New York State.
"Knowing what we were setting up, we were not going to be doing lagers and pilsners any time soon," Marchand says.    
"The guest taps from other NY state farm breweries allows us to carry a lager, a pilsner, to appeal to people who aren't hopheads or, they don't like stouts."
Above everything else, Petranchuck and Marchant simply wanted to produce the kind of beer that they liked to drink, a goal which comes through with affirmation in every glass of Full Boar brew. The entire hop flavor that beer lovers have come to expect from the IPA boom is tempered by Petranchuk's use of caramel malt, which gives Full Boar beverages a smoothness and drinkability seldom seen in many craft beers. Speaking of his love for brown ales and ambers, Petranchuk noted that, "To us, those are real beers. The IPAs, a lot of those are just like hop juice. We want to make real beer, with some balance." And make real beer they surely have. Since opening, Full Boar's only real challenge has been keeping their most popular brews on tap.
Tasting Notes:
Full Boar Amber:   A personal favorite of Petranchuck, this golden amber pours a beautiful color. It features some hallmarks of Full Boar–drinkability. A flavor profile that emphasizes balanced caramel maltiness, hints of citrus brightness on the nose and the creaminess of pale empire malt.
Nutmeg Brown Ale: Petranchuck and Marchant continue to riff on their crowd-pleasing brown ale, with this offering mixing in the subtle spice of a tea containing vanilla, cinnamon, and nutmeg. This brew maintains all the malty goodness of Full Boar Brown ale and brings in a fall/winter spice profile without losing base note character.
Chocolate Chili Stout: As they continue to experiment with new styles and flavors, Full Boar has come up with this dry Irish stout that mixes in real chocolate and habanero chilies. In another nod to their barbecue past, Petranchuck and Marchant have taken inspiration from their dry rubs and Mexican mole sauce to craft a warming stout that does not push the envelope with chili heat.
Grandma's Pajamas 2XL IPA: While Petranchuck and Marchant are steering their own path separate from the craft IPA boom, their double IPA offering has been a hit with patrons. Grandma's Pajamas incorporate Amarillo and Cascade hops into an 8.5% offering that is not alcohol forward, maintains the balance of all full Boar brews while still catering to hop heads.
.