More Than a NYC Beer Bar: 5 Spots for the Craft Beer Connoisseur
For those that sniff their beers to smell the undertones of the flavors, converse over the profiles of the concoction at hand and truly enjoy the art of the brewing, we've got the places that will fulfill your fiery passion for craft beer. Here are some great recommendations for spots to visit on your trek to find craft beers that strive for greatness.
One of the Last Manhattan Breweries Standing: Paulaner NYC
Although many lovers of craft beer wander onto the outskirts of Manhattan to visit the rapid growth of craft breweries in Queens and Brooklyn, there is one still standing among the dying breed of Manhattan breweries. Enter scene: Paulaner, a brewery that hangs tight to its German roots of Munich.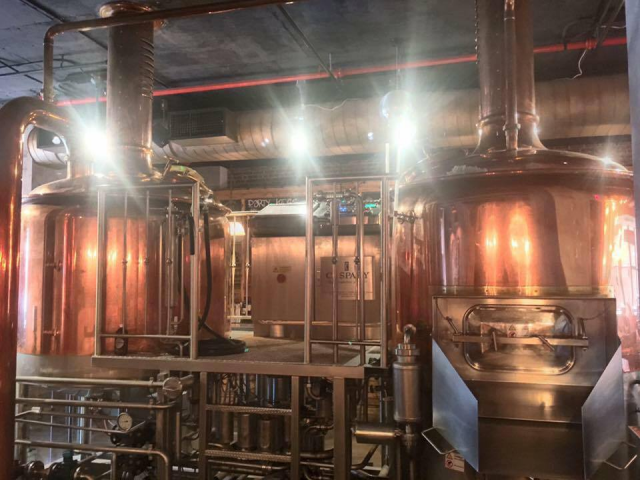 Photo Credit: Justin Meyers, Paulaner NYC Brewmaster
Behold the mystical shiny copper kettles that protect the brewing goodness!
Although you may see Paulaner beer being served around the city, the Paulaner Restaurant, located on E. Houston St and Bowery, doesn't import any of its beer from the motherland. All of the beer is made fresh and right on site. You're guaranteed the beer you take a sip from was brewed within the last month.
The recipes are also originals of the brewmaster behind the brew kettle, while all still keeping their loyalty to the signature characteristics of Paulaner beers. We recommend beer lovers that truly enjoy dissecting the profiles of high-quality beers, head on over there, order a boot of beer and heartily cheer a "Prost"!
Don't just settle for just any craft beer bar in NYC, but head to the one where you can literally have it all. Imagine that you're in a popular yogurt chain, like Red Mango or Pinkberry, where you have the option to add as many flavors of yogurt that your heart desires to your cup. Now substitute the yogurt with craft beer. Much better, isn't it? And so was Paloma Rocket born to give you this experience.
Photo Credit: Paloma Rocket
Why must we limit the number of good things we have in life?
The unassuming glass storefront hides the vintage movie poster clad walls where craft beer lovers can congregate to taste up to 30 beers on tap. Each beer tap along the wall also has a touch screen where you can learn fun facts to discuss over the artful notes of your beer with your fellow hopheads. Take charge of your life as the bartender of your own flavors!
Graduating to a PhD-Level from the 7-Eleven Beer Selection: Top Hops
Once you've become schooled in what a delicious, high-quality beer tastes like, you'll probably find yourself rethinking where to shop. You might find yourself standing in front of the 7-Eleven beer selection, thinking "you can do so much better than this." Let us introduce you the beer selection that goes far beyond your wildest, hoppiest dreams. Top Hops is a bottle shop that specializes in fridges and fridges of beer. So if you come here expecting to sing "99 Bottles of Beer on the Wall," we challenge you to stretch that number further. They offer a whopping selection of over 600 choices of bottled and canned domestic and international beers.

Photo Credit: Top Hops
600 Bottles of Beer on the Wall, 600 Bottles of Beer!
Top Hops is truly a haven for beer lovers to come together and appreciate the complexities of all types of beer. There are also over a dozen beers on tap if you'd like to sit down over a fresh glass of beer. Top Hops elevates their standing beyond the typical NYC craft beer bar scene by offering classes. This allows drinkers to truly embrace the flavors and learn more about what they're drinking. Their classes include food pairing demonstrations, discussions on different beer types, the history of brewing and more.
The Selection is a Science: The Jeffrey
Wait, let's not offer just any beer now! The Jeffrey takes into careful consideration to not just add any easy-to-find beers to their line-up. Their carefully curated menu was chosen to impress New Yorkers with unique brews from around the country.  Their selection rotates on a seasonal basis.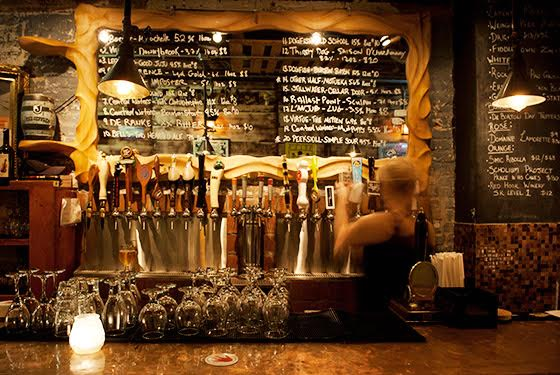 Photo Credit: The Jeffrey
From Brooklyn, NY to Boulder, CO, you can taste the flavors of America's craft beer culture here.
The location also offers a menu that was specifically created to pair well with their beers. The bites include picks from local popular spots, such as Murray's Cheese. They also include traditional bar snacks with unique twists of flavors, such as sriracha peas and truffle oil popcorn.
The Jeffrey aims to be more than be one of the best beer bars in NYC.  They have developed into a distinct beer bar that attracts the type of audience that wants to wet their artisanal whistles. The ambiance goes hand-in-hand with their love of beer. The bar includes re-purposed keg pallets and plumbing parts in their furniture to complete the ultimate cozy and rustic decor.
Aye, Do You Know Jimmy? Everyone Knows Jimmy: Jimmy's No. 43
Jimmy's No. 43 is one of the beer bars that makes it a point to include local New York City breweries on their tap lines. You'll see taps with beers from Other Half, Strong Bow and Rockaway Brewery, just to name a few. Now, let's take a moment to talk about who this Jimmy is and why he knows his stuff when it comes to curating an impressive beer menu of over 50 domestic and international beers (including beers from Spain, Denmark, Japan and more).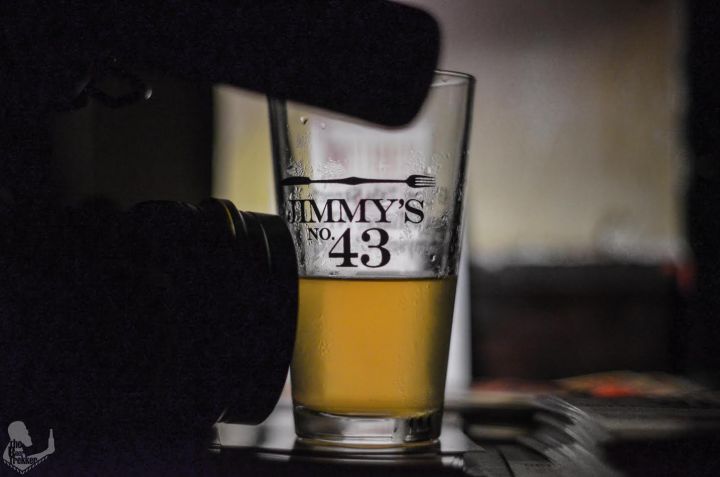 Photo Credit: Miguel Rigas
A place where you do more than just taste beer, but you experience beer.
The owner, Jimmy Carbone, opened his doors in 2005. Since then, they've become an East Village staple for delicious beer and food pairings way before craft breweries became a trend. Recently, the spot hosted a "Battle of the Belgians," where almost two dozen beers from Belgium and beyond entered into the competition. Well-qualified experts gave their thoughts on the line-up. Judges included a Cicerone Certified expert and an editor of a beer news outlet. These events are not uncommon and they make a point of hosting such fun beer-related events several times a year.
Another fun fact: Jimmy also runs a weekly podcast about beer and brewing. His podcast is called Beer Sessions Radio and can be found on Heritage Radio Network. Here, you can hear interviews and discussions with local brewers and people involved in the brewing community.