Searching for a Budget White for the Holidays? Try Corbett Canyon Chardonnay.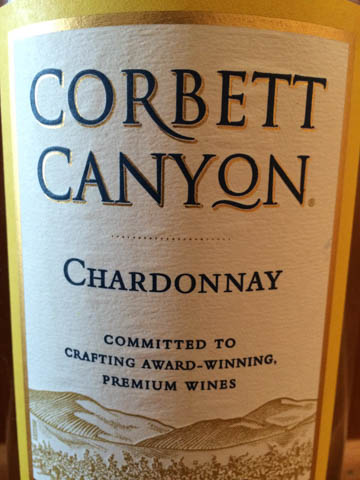 When it comes to the holidays we all want to make sure our family and friends have a fantastic time, but in the process expenses can pile up. If searching for a white wine to serve with Turkey there are many budget options. However, you can get lost in the jungle of cheap white wines because there are endless choices. But what can you buy that will be palatable and economical? Something must be said for Corbett Canyon Chardonnay, which can be as good for the cook as it is for cooking.
As a general rule I drink red wine, with few exceptions. I know what you're thinking, "you're a guy who is writing about wine on the internet, you must drink all the time. You'd probably be satisfied with anything short of paint thinner."  Contrary to popular belief, the truth is that I only go to whites in a pinch. In my mind white wine is usually an afterthought, something that should be reserved for cooking, shellfish, and guests.
After purchasing a magnum of Corbett Canyon Chardonnay from my local liquor store, with the intention of drinking some with a lady friend and using the balance for cooking, we opened it immediately. I anticipated only having a few swallows, but before I knew what I was doing, I was putting more wine in my glass.
Cobett Canyon Chardonnay Tasting Notes
There are hints of oak in this medium-bodied wine. I detected some flavor of fresh Fuji Apples and perhaps some notes of Bosc Pears, a pleasant surprise. It was smooth and paired well with various cheese dishes and a plate of veggie pasta.  I cannot deny that there was no aftertaste. I kept drinking one swallow after the next to be absolutely certain, waiting for an uncomfortable bitterness: Nothing.  I couldn't believe that it was smooth because I recalled the dreck consumed while growing up in a house where only the cheapest of wines were served. And spending time at many off-campus enclaves where a box of Franzia in the fridge was a familiar sight, often consumed by the funnel or red plastic cup. I have a certain stigma of what bulk white wine tastes like. My time with Corbett Canyon was one of the golden moments that challenged my prejudice.
The wine would probably go well with turkey, and it may be the perfect Thanksgiving wine to serve to your cheap uncle, without him knowing that he's being slighted. Then you can save the leftover wine for the Christmas party at work. All in all, it pays to give it a try. If nothing else, you could use it to deglaze a pan or make soup and not feel that you've blown your holiday budget.
Loren Mayshark is the award-winning author of Death: An Exploration and Academic Betrayal. For more, you can visit his website lorenmayshark.com and you can keep up with him on Twitter at @LorenMayshark. Sign up for his newsletter and receive regular updates and a free gift.