How Chinese Wines are Gearing Up to Go International
You might already be familiar with the sensational facelift China has given itself over the course of the past two decades. Coming from somewhat obscurity, China is now an economy that the world is taking note of. What about Chinese wine? Is there any at all? After all, the first thing that pops up in relation to alcohol and China is Baijiu, a traditional wine made from fermented grains.
You are forgiven to think that China made no wine of her own. It is probable that many people are still unaware of the development of Chinese wine.  First of all, in the early 2010s, all you heard was how popular Bordeaux brands and red wines were in China. The popularity is mostly due to the fact that both the color red and Old World French wines are a sign of opulence and well being.
Above all, not-so-recent discoveries reveal that China has indeed had a love affair with wine for over 9000 years! Isn't that something?
In this article, we set out to comprehensively showcase wine growing regions in China. Furthermore, we explore which of them are making an irrefutable mark on the world wine industry.
Wine History in China
China's indigenous vine species have been cultivated and used to make wine for centuries. Claims that vines were introduced into the region by western influence have been refuted as archaeological evidence keeps piling up.
A story is told of the Xia Dynasty's last Emperor Jie. So besotted with his favorite concubine, he built a lake of wine for her so big, it could be navigated by boat!
Most noteworthy is China's 48 million person-market. The popularity of European wines in the country has inspired locals to make or mimic their style and elusive quality. However, there have been pitfalls such as counterfeiting and winemakers who lean on the French style at the expense of Chinese terroir.
China Could Produce World-Class Wine
Nonetheless, there is potential in China to produce world-class wine, even in the face of what can only be termed as disdain in international markets. Big brands like LVMH (Louis Vuitton Moët Hennessy) have seen the potential and are investing big in Chinese wine regions.
As with all new wine producing countries; Australia, Argentina, South Africa, and Chile; China too will have to prove its worth to convince international consumers. There is certainly no doubt that China is headed for the world stage.
Here are a few wine regions you should keep an eye out for:
Wine regions in China
Xinjiang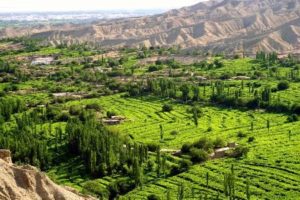 Marco Polo famously mentioned Carachoco (now Turpan) as an area producing fine wine. Presently, Bordeaux varietals like Cabernet Sauvignon can be found in these vineyards with wines made in the traditional French style.
Ningxia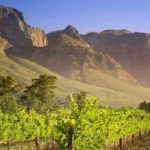 Ningxia is a semi-arid region in Central-Northern China, the gold mine that previously mentioned LVMH has chosen to develop. In addition, it has also earned itself a bad-boy reputation as a disruptor. In December of 2011, following a controversial win in the same year by the 2009 Jiabeilan, a Cabernet Sauvignon blend by the Helan Qingxue winery won at the Decanter World Wine Awards in the Red Bordeaux Varietal Category.
The Helan Mountain appellation sits pretty on the edge of the Yellow River. High altitude vineyards thrive in the dry climate. The Yellow river gives relief on hot days with a quenching breeze and a warm wind in cold nights.
This surprising win was quite controversial. A blind taste tabled by experts from both China and Bordeaux followed. They sampled five wines from each region and country. Nonetheless, China left the world in awe as four of the top five were from China, chiefly Ningxia.
Shandong
The Bohai Sea is in close proximity to this sunny expanse, giving winemakers more room to breathe. They can increase plantings and not worry about having to cover the vines with earth during the winter dormancy.
Shangdong's stars are apple growing Penglai and Yantai. The most valuable vines are planted on South-facing hillsides that provide adequate drainage and sun exposure. Hence the excellent winemaking potential.
Dongbei Region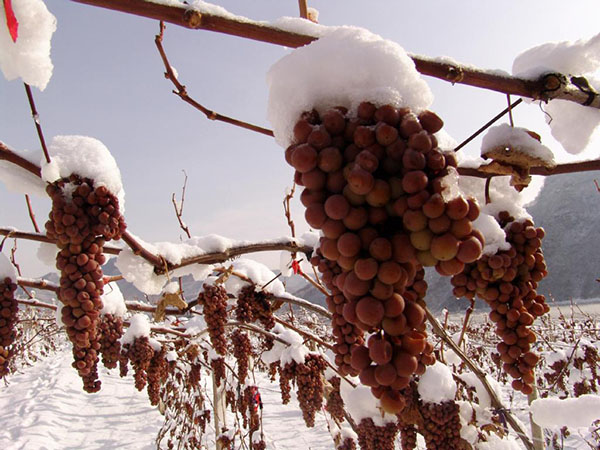 This zone actually acts as a mother-ship to three other provinces: Heilongjiang, Jilin, and Liaoning in the North-Eastern corner of China. Bordering Russia, it experiences incredibly cold winters that go below minus 30 degrees Celsius. Consequently the winters prove to be quite the challenge for winemakers during that time. The temperatures may cause vines to shatter because of expansion among others.
To counteract the extreme cold, vines are buried which is all done by hand. The cost of labor and risk associated as a result of harsh conditions is quite high.
Not without its rewards, the region is currently producing Icewine, earning the nickname "Golden Ice wine Valley".  The Icewines are made from luscious, sweet wines made from hardy Vitis vinifera varieties and native grapes.
Currently, China is the world's largest red wine market. Demand for wine in China, come the year 2020, will reach an estimated US $21 billion. Correspondingly, Chinese wine will probably see its market share grow. It is therefore effortless to envision Chinese wine becoming a formidable player, not only in local markets but internationally given the many strides towards wine production and its reputation for efficiency.