The Roots of a Bourbon Battle Royal
My grandmother was born in Louisville, Kentucky and drank bourbon weekly nearly up until her death at the age of 99. Bourbon drinking is a big part of my family, and I remember the taste of bourbon in bourbon balls from the time I was quite young. My father, an avid bourbon drinker, has always impressed upon me the importance of a good bourbon and as a result, I have had the good fortune to experience many of Kentucky's finest corn mash creations.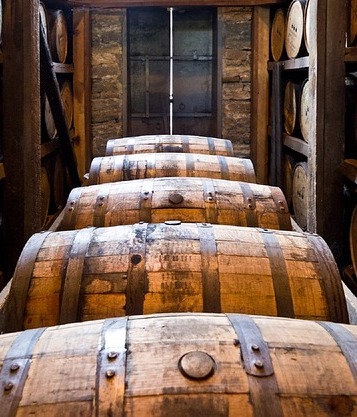 After a few sips of Angel's Envy, I began to think about the mystique that surrounds bourbon and the age-old process of distilling and aging the American classic spirit. This got me thinking more about the celestial relationship between Angel's Envy and The Devil's Cut.
In the distillation of bourbon, there is an evaporation while mellowing in a charred oak barrel. The bourbon that is lost in this process is affectionately referred to as the "Angel's Share." (see full story).
Jim Beam Breaks New Ground with The Devil's Cut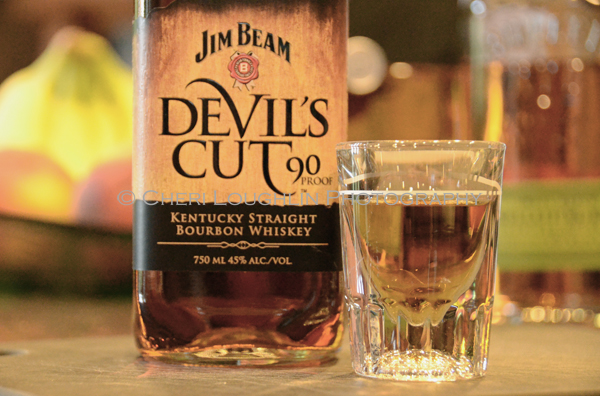 Jim Beam makes a bold bourbon, pressed from the barrel itself. This bourbon has been aptly named The Devil's Cut. Admittedly, Beam is a giant producer of bourbon and for that reason, some people are wary about their product. The most ubiquitous bourbon they produce is the Jim Beam White Label. This mellow 80 proof offering is a bit thin and does not have the depth of flavor that many other higher octane bourbons that Jim Beam produces. So, one can't feel bad about mixing with club soda or ginger ale at your vodka-drinking cousin's wedding.
But Beam is not in the business of producing only pansy bourbons. They also make Bookers which is a true heavyweight with a sinuous and complex flavor and 127.6 proof of serious bourbon.
In 2011, Jim Beam unveiled the 90 proof Devil's Cut bourbon. As Rob Mason, director of US bourbons for Jim Beam, stated upon its release, the bourbon was created to bring the drinker  "even closer to the bourbon making process," and ultimately to give people the "opportunity to experience the charred oak barrel, which has always played a crucial part in making Bourbon." 
On that score, I would have to rate this experiment by Beam as a success.The bourbon is far heavier than the White Label Beam, and you can taste more of the charred oak barrel than most bourbons. The Devil's Cut is just rough enough to give a gruff rub of some drinker's beard on your face with a nutty, smoky flavor, pairing well with a spicier dish than the usual cigar like a Partagas.
Angel's Envy Breaks is a Novel Twist on a Classic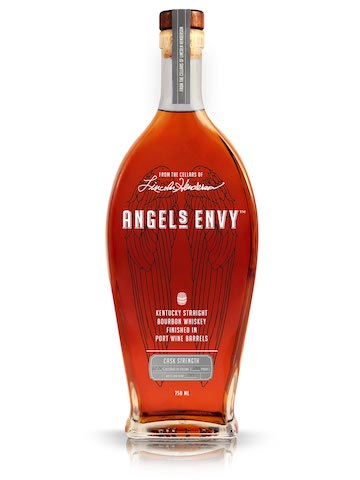 The Angel's envy is a product of a family tradition that spans generations. The essence of what makes this bourbon so special is that it is aged in Port Wine barrels. This idea has been used to create world-class scotches for many years. However, it was groundbreaking in the bourbon world.
The idea was a passion project of Lincoln Henderson (1938-2013), a legend in the bourbon world who is rightfully immortalized in the Kentucky Bourbon Hall of Fame. After creating noteworthy bourbons including Woodford Reserve, he wanted to work on a passion project with his son Wes.
The fledgling brand eventually piqued the interest of Wes's son Kyle and three generations collaborated to boost Angel's Envy on the bourbon map.  Angel's envy has been sweeping through liquor stores and swanky bars from San Francisco to Brooklyn. Like the Devil's Cut, it was released in 2011.
As the pamphlet that comes with the bottle states: "Lincoln Henderson created a singular bourbon crafted unlike any other. Named Angel's Envy and finished in port wine barrels, his new blend developed a truly uncommon taste. Now it's time for you to discover distilled dissent."
The bourbon is a mix of 72 percent corn with rye and malted barley making up the rest. It is smooth and slightly sweet, silky and has the smoothness of Old Grand Dad but with more depth and complexity, delivering a pleasing vanilla and toffee notes for a heavenly experience that calls to mind Old Grand Dad's 100 and recalls the sweet sophistication of Blanton's.
The Results                                                    
And the winner is… Angel's Envy. It is the perfect after dinner bourbon. It is a delicious creation, but carries a price tag of about $48 for a fifth. But at about $27 per bottle, the Devil's Cut is the better deal dollar for dollar and may be preferable to bourbon drinkers who prefer a rougher bourbon.
Loren Mayshark is the award-winning author of Death: An Exploration and Academic Betrayal. For more, you can visit his website lorenmayshark.com and you can keep up with him on Twitter at @LorenMayshark. Sign up for his newsletter and receive regular updates and a free gift.