While the most famous kind of bubbly is champagne, it doesn't mean that it's the only choice for winding down or celebrating a special occasion. While we've covered wine pairings for the holidays, we're going to delve into a type of pairing that will entice anyone's sweet tooth: sparkling wine and dessert pairings.
Moscato
Moscato is familiar in mainstream popularity when it comes to sweet wines. Interestingly enough, this happens to be a wine made from some of the oldest known wine grapes, the Muscat wine grape.  Muscat grapes are grown around the world, and many countries offer their own variation of Moscato. The name originated in Italy and is the literal translation for "muscat". The carbonation varies from still to sparkling. The familiar notes are that it has high residual sugar from the Muscat grapes. Oftentimes, moscato also has notable bursts of fruity flavors, such as peach, berries or honey. While it can be enjoyed as an aperitif, we've got a great bottle that will complement a delicious dessert.
From Langhe in the Piedmont region, Saracco Moscato d'Asti 2016 will give an enjoyably, bubbly sip of creamy peaches and honey. A Creme Brulee Cheesecake offers a similarly creamy texture, but will please your palate with enough room to allow the fruits from your wine to shine in this crème de la crème dessert pairing.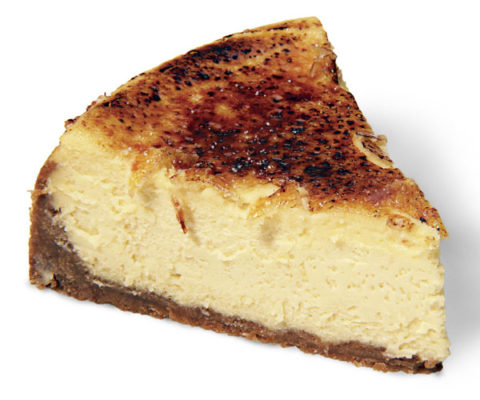 Photo Credit: Thomas Allen
Sparkling Rosé
Sparkling rosé has grown in popularity with the wine community; since 2015, sparkling rosé consisted of over 12% of champagne sales. Flavors can be as unique as dry to sweet and carbonations ranging from semi-sparkling to sparkling. The variety of colors can range from a peachy orange to pink, which come from the unique method of wine-making specific to rosé. The most common method is through skin contact, where the skin of the wine grapes is left when crushed and then removed during fermentation. The other method is called bleeding, where the winemaker reduces initial liquid from the grape-crushing stage to create rose. As a byproduct, it also creates more tannins in the remaining red wine. The least popular method is blending white and red wine together. Flavors found can include red berries, citrus, and floral notes.
Another Piedmont region pick is the Banfi Rosa Regale Brachetto D'acqui, which has notes of cranberries and raspberries with a sharp acidity that goes well with dark chocolate. That's why this Chocolate Raspberry Tart will be it's best friend for this wine dessert pairing, bringing out the best of both flavors.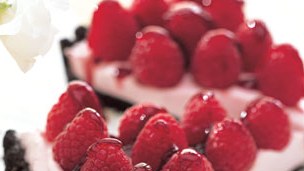 Photo Credit: Mark Thomas
Crémant
The crémant sparkling wine is made in the same laborious fashion as champagne, using the méthode traditionnelle, but sold with a more affordable price tag. Similar rules apply to making crémant sparkling wine as they apply to champagne. One rule is not exceeding a maximum amount of wine extracted in a given amount of whole grape bunches. Another is aging for at least nine months. For anyone familiar with crémant, it is typically followed by the region in which the sparkling wine originates from one of nine regions. Eight regions are within France and one region is in Luxembourg. Today, we're going to focus on crémant de loire blanc, which is from the Loire Valley.
Our pairing recommendation is the sparkling Château de Brézé Crémant de Loire Blanc, which is a crisp wine that has notes of melon and apples. A great dessert pairing is a Honeycrisp Apple Tart, which will give the right bite that goes well with this sparkling wine dessert pairing.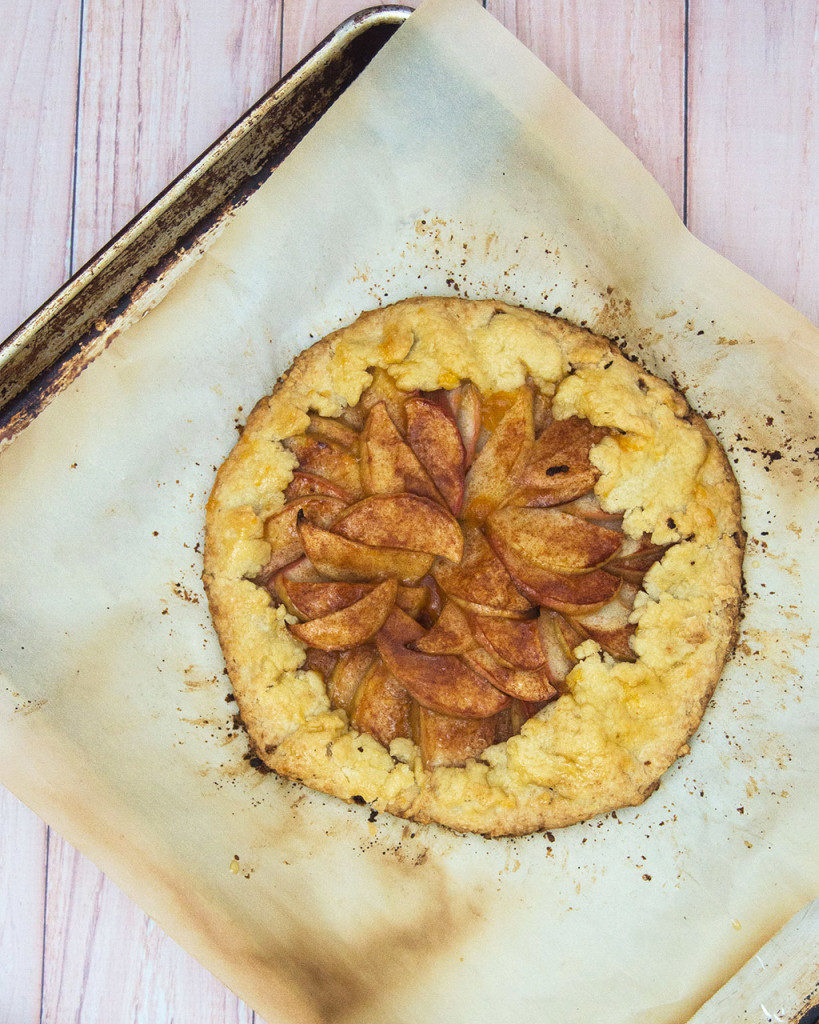 Photo Credit: The Red Head Baker
Cava
Once we head over to Spain, the champagne-version within this country is called cava. Made the same way as champagne (and the aforementioned crémant wine), cava is also made using the méthode traditionnelle. It is also another budget-friendly choice for those that love the flavor and texture of champagne. The most famous cava-creating region in Spain is Catalonia, with a handful of other wineries located in several other small villages, such as Aragon and La Rioja. The flavors of cava are typically similar of champagne, floral, fruity with a dry finish. While there are sweeter kinds of cava, such as semi-seco and dolce, many cavas are generally brut or brut nature (in which the latter is even less sweet than brut).
The Cristalino Cava Brut – NV is a simple cava that has mineral notes of apples and citrus. The dryness and medium acidity goes  well with deep-fried traditional French Quarter Beignets, allowing for some of the oil to be cut with the acidity.
Photo Credit: KitchMe
Prosecco
Famously known as the choice mixer of Bellinis for brunches, this most budget-friendly sparkler comes from Italy. While a majority of prosecco is made with glera grapes (formerly called prosecco grapes), some may contain up to 15% of other grape varieties. The wine-making regions in Italy where prosecco can be found are Veneto and Friuli Venezia Giulia. Contrary to the champagne, crémant and cava counterparts, prosecco is produced by ways of the Charmat method. Rather than carbonating the sparkling wine in their individual bottles, this method creates the carbonation in a second fermentation tank. No matter the way prosecco is created, it still makes for a tasty choice for a bubbly drink.   
For a bottle that is reminiscent to a trip to Italy, Cavit Lunetta Prosecco – NV will bring a smile and do the trick. The clean flavors have hints of apple and peach, which make it a perfect dessert pair to go with a Skillet Peach Cobbler.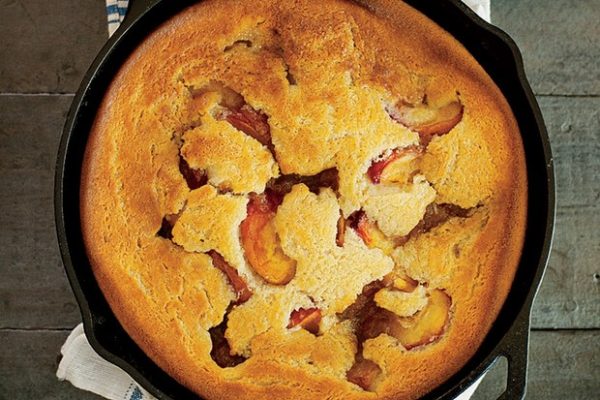 Photo Credit: Ditte Isager
Sparkling Cider
While cider falls closer to the beer spectrum than wine, we're adding this pairing to our list as a bonus. In America, hard cider was a staple part of our culture since the Mayflower days. Fermenting the apples allowed for colonists in early America to maintain their health, since drinking water was not as sanitary as it is today. Cider is made of apples specifically meant for cider or a mixture of apples for eating and for cider. The apples are pressed and then fermented to add alcohol content. Before the fermentation is completed, the liquid portion is siphoned into a vat. Without exposure to air, fermentation completes and carbonation is created. Sometimes additional sugar gets combined into the final product in bottling for some extra bubbles.
A great choice for enjoying apple cider is Farnum Hill Semi-dry Sparkling Apple Cider, a dry and slightly sweet cider that offers subtle tropical fruit notes. For an American classic beverage, the perfect duo to accompany this drink is Classic Monkey Bread. The apples will blend well with the cinnamon flavors of this traditional dessert.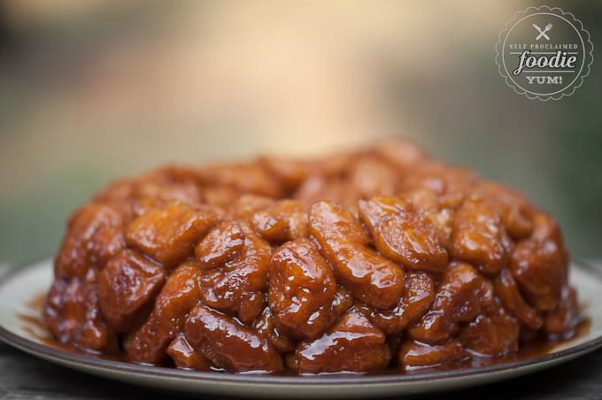 Photo Credit: Self-Proclaimed Foodie