The world of wine offers more than just the common restaurant house menu of pinot grigio, merlot and cabernet sauvignon. We've curated a list to help you start scratching the surface of the thousands of types of wine that are ready to be explored. And of course, wine can serve as the key to a door to further enhance something that is already delicious.
Pairings compliment similar flavor profiles in the dish and the wine, so as to further intensify the tastes. With the love of food and wine comes our list of 10 holiday wine pairings to make your meals memorable.
The Classic Holiday Fixings: Turkey and Pinot Noir
The main dish of turkey is not only a star during Thanksgiving, but also a delight to enjoy over the Christmas holidays. Another notable winter ingredient is maple syrup, so why not enjoy a Maple Syrup-Glazed Turkey recipe to bring out Martha Stewart in your kitchen? While this decadent turkey is sure to be a showstopper at the dinner table, a great pairing is sure to wow your guests with every bite. The ideal Christmas wine pairing is a pinot noir, which has a fruity depth that compliments turkey in the manner that cranberry sauce does. A domestic recommendation from the California coast is Bench Sonoma Coast Pinot Noir 2015.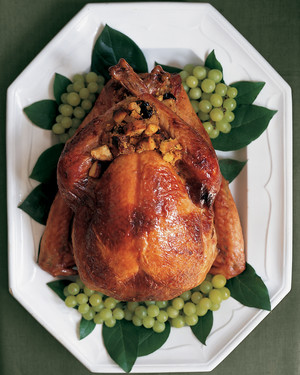 Sometimes the Small Bird is the Word: Chicken and Gamay
One formula that makes for an amazing roast chicken is a dish that is juicy, herbaceous and perfectly crispy. This Perfect Roast Chicken recipe from the Food Network makes even the novice cook look like a professional, making a beautiful and succulent dish for your family and friends to enjoy. The match made in heaven for this dish is a light and fruity Gamay wine, such as the Côte du Forez "Volcanique," Verdier-Logel 2016. The wine has notes of delicious cherries with refreshing acidity that doesn't heavily weigh on the tongue. This makes it a juicy combination to enjoy with a roasted chicken. A fun fact about this wine: the name of the winemaker derives from the volcanic soil within the region.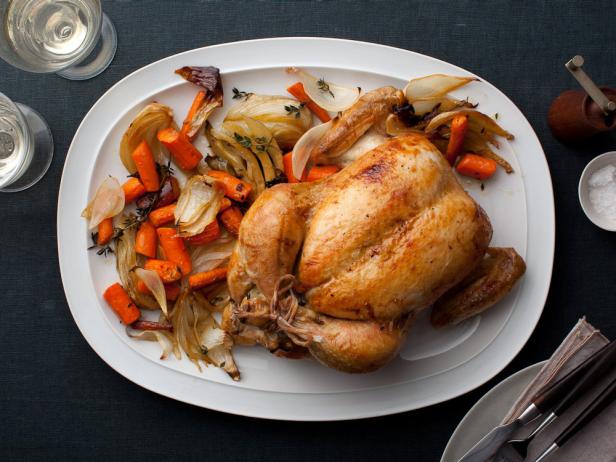 Photo Credit: Food Network
All-American Holiday Meats: BBQ Brisket or Baby Back Ribs and Zinfandel
For some mouthwatering barbeque dishes to bring in the Christmas cheer, Food & Wine magazine has 10 savory baby back rib recipes that you can choose to your heart's desire. Just because it's cold outside doesn't mean the grill can't be fired up for a hearty dinner. Whether charred, sweet, or spicy, there's a recipe here for you to share the love for barbeque at the table. The Christmas pairing here plays on the thought that like begets like. Should you enjoy a spicy rack of ribs or a dry-rubbed spiced brisket, there's a perfect wine for such flavors. The electrifying flavors go well with a zinfandel with spicy notes, such as the Poco a Poco Zinfandel, Russian River 2014. The wine is also aged for a little over half a year in neutral oak barrels to help mellow the flavors while still enjoying the hints of blackberries and raspberries.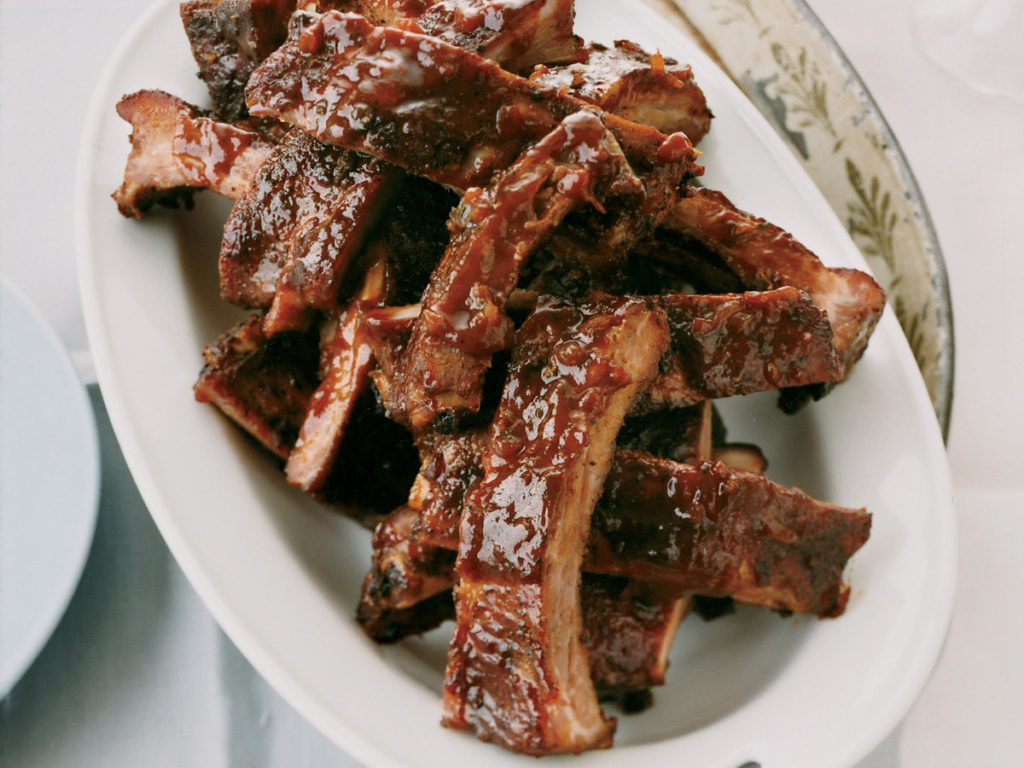 Photo Credit: Food & Wine
Pleasantly Presentable for the Party: Rack of Lamb and Aragonez
An elegant addition to the spread is a medium rare steak or a rack of lamb. The rich flavors from these meats make for a hearty meal to fill the hungriest of appetites. For an impressive presentation, even for those that question whether lamb can be enjoyable, the recipe for a Roast Rack of Lamb with Garlic and Herb Butter will bring a unanimous decision that the dish is a winner. For something with a bit more gamey undertones, a Portuguese Aragonez wine has a complimenting robust flavor with black fruity notes. The Quinta do Montalto "Cepa Pura" Aragonez 2015 brings the perfect bite in its flavor to go along with gamey meats or even a marbled medium-rare steak.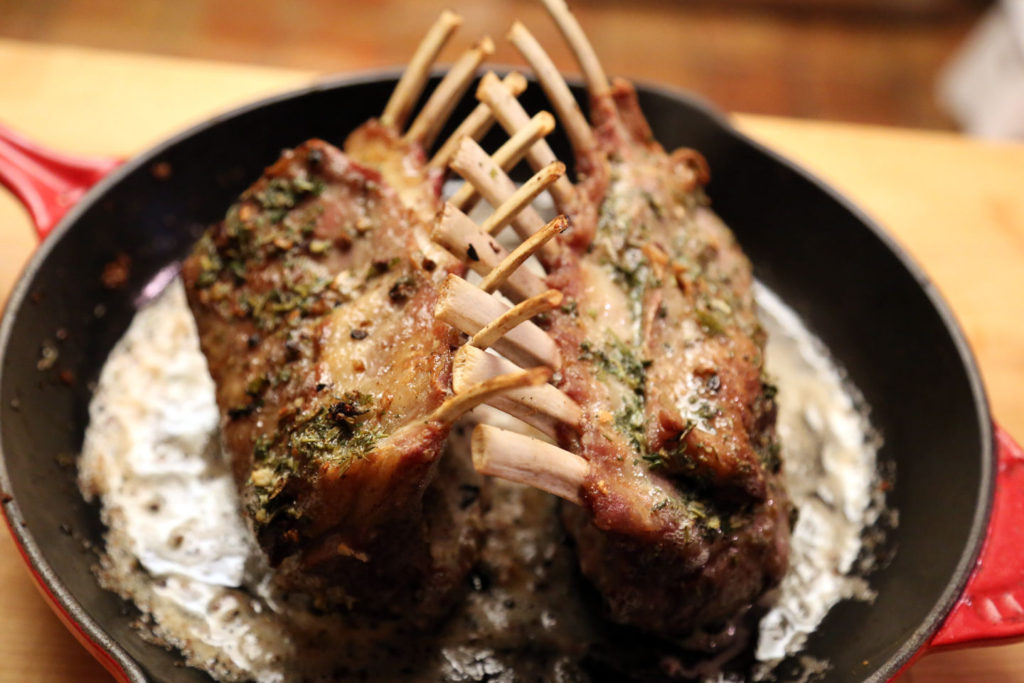 Photo Credit: KQED
If you want to be adventurous with the origin of the wine, give your guests a special treat with a higher-end imported Grace Vineyard Chairman's Reserve Bordeaux Blend 2010 from China. While above the budget, it can bring a unique experience from a region not quite known for their winemaking. The country has just begun leaving a mark within the world of wine, so one of the great introductory Chinese wines is this red wine that offers spicy and earthy notes to go well with lamb.
Dining Like A Christmas Story: Roast Duck and Mencía
Should you want to enjoy a Christmas dinner in the same fashion as the movie, A Christmas Story, a simple yet tasty recipe for Roast Duck can be found here. The scored appearance makes the duck look fit for a special occasion. In practicality, it also assures that the skin gets crispy without all of the fattiness. While Gamay and Pinot Noir pair well with duck, a similar flavor profile to these wines is the Mencía wine. The Cobertizo Expresión Tinto, Bierzo 2011 has notes reminiscent of many dark fruits, such as black plum and blackberry. The Spanish wine has a tart acidity that goes hand-in-hand with an umami-rich duck dish.
Photo Credit: Julia's Album
Sweet and Savory in One Bite: Pork Chops and Castelfeder
Apples and pork chops are quite an appetizing combination. With all the hustle and bustle that goes behind preparing for a holiday dinner, sometimes something easy can unexpectedly create something so delicious. The recipe for Cinnamon-Apple Pork Chops will have your guests raving about it without realizing how simple it was to make. And of course, a wine with apple and citrus notes goes well with this dish, such as the Kerner, Castelfeder 2016. While it will surprise you with hints of mango, the flavors work with the sweet profile of the pork chops.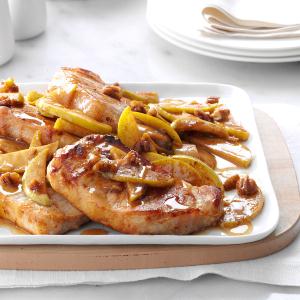 Photo Credit: Taste of Home
Tasting the Sea for the Holidays: Shellfish and Albariño
Sometimes something unorthodox fits the bill, such as having an ocean-themed cuisine that may include oysters or charred octopus. Of course, it is only natural to follow where the ocean takes you. In this case, the perfect experts for this pairing are the winemakers of Albariño wine. These grapes are found in the Galicia region of northwest Spain, which is an oceanside city. Albariño, Palacio de Fefiñanes 2016 has mineral notes with delicate flavors of peach and pear and brings a pleasant taste to the palate that go well with shellfish or seafood.
Photo Credit: Serious Eats
Getting the Dinner Party Started: A Charcuterie and Cheese Platter with Valpolicella
A charcuterie or cheese platter is a perfect introduction to the evening. It gives some extra time for the host to add the finishing touches to the meal. The added bonus is it gives an opportunity for your company to socialize. A platter meant for entertaining has a good variety of cheeses. This includes firm, soft, aged, and blue cheeses, as well as, varied cured meats and some crackers or pickled vegetables. A great primer on creating an enjoyable platter for your guests is available here.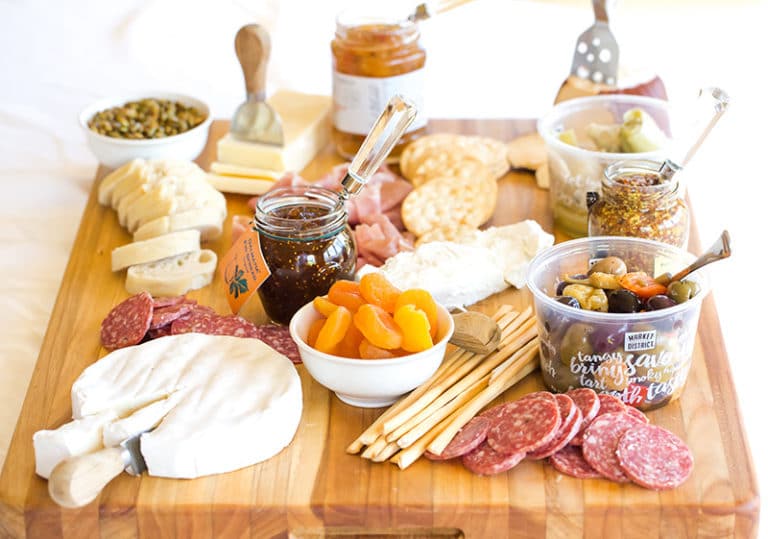 Photo Credit: Brown Eyed Baker
Of course, a good cheese platter comes with a great holiday wine pairing. One of the great wine options to go well with your platter is a Valpolicella. The Valpolicella "Il Buono," Le Albare 2016 is comprised of three different types of grapes.  The aromatic red fruit wine makes for endless glasses before dinner even begins.
Ending the Dinner: Figgy Puddin' Good with Sparkling Wine
A descendant of a classic British holiday favorite, figgy pudding, often makes its appearance during the Christmas season. While figgy pudding can often be made in a whole pan, the Warm Sticky Figgy Pudding recipe here makes one-serving portions by the dozen to be enjoyed individually. The final result is a charming individual dish topped with whipped cream for each guest to enjoy. With a fruity dessert comes a fruity wine, and it so happens that a match for figgy pudding is Cristalino Cava Brut – NV. The sparkling wine has notes of apple and figs. It can be enjoyed alone or as a cocktail additive to juice to go along with your figgy pudding.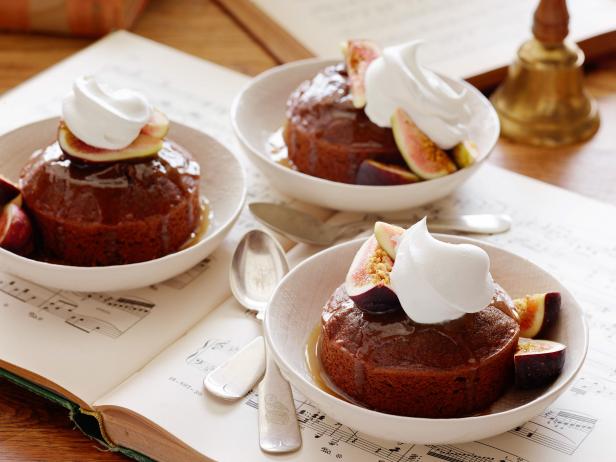 Photo Credit: Food Network
Sweet Endings to the Night: A Chocolate Tart and Brachetto
Chocolate can do just the trick to end an enjoyable evening on a sweet note. This versatile recipe for a rich and silky Chocolate Tart can be finished off with a fruit topping or fresh whipped cream. While the typical sweet wine is popularly Moscato, those who do enjoy this type of wine can also find themselves enjoying a bottle of Brachetto d'Acqui "Sogno Rosso," Paolo Pizzorni 2016 from Italy. The sparkling Brachetto is a sweet red sparkling wine that has notes of rose petals and sweet red berries. It makes for a luscious pairing to enjoy over a chocolate treat, or even with cookies and pastries.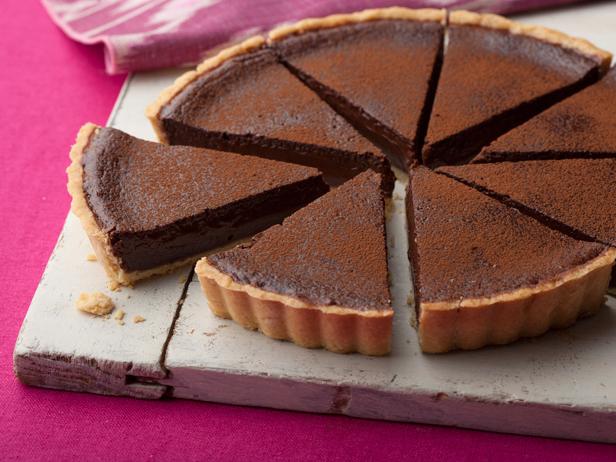 Photo Credit: Food Network