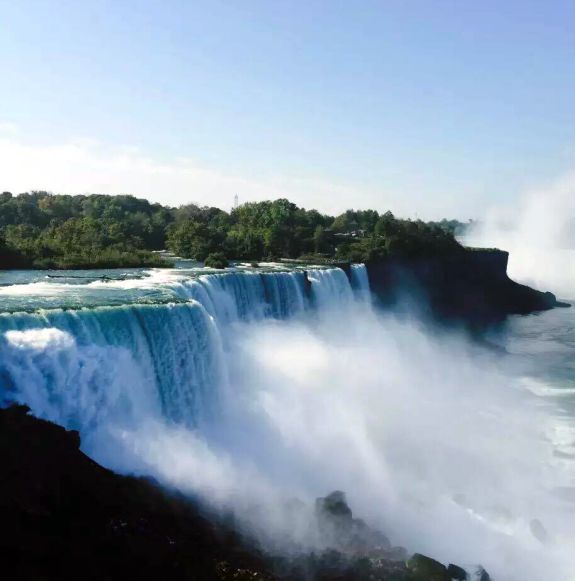 Have you ever been to a more delightful and picturesque place than Niagara Falls? We'll break it down for you: you haven't!
Niagara Falls has long been a compelling travel destination for many international tourists. This is particularly true of those who are tired of seeing the mundane concrete walls of contemporaneity.
Before the advent of the ubiquitous Internet, Niagara Falls was not so popular among international tourists as it is now. Nowadays, Europeans and Asians pay as much as is required to set foot on American and Canadian soil in order to catch a glimpse of this magnificent wonder of nature.
However, you don't need to pay too much. There are plenty of things to do in Niagara Falls without burning a hole in your pocket, and you'll have just as much fun! Below you can find the top 10 things to do in Niagara Falls on a budget.
Here are the top ten things to do in Niagara Falls on a budget:
Visit the Niagara Glen
If you're a wanderer by nature, you'll simply love taking a stroll through the spectacular California-type forest, abundant in flora and fauna, topped off with delightful birds chirping at every turn. In the past few years, this natural location has become a very popular destination for "bouldering" amateurs all across the globe. This makes Niagara Falls an even more interesting one-stop touristic attraction to recharge one's batteries.
Consisting of 99 acres of beautifully-spread gardens, this park encompasses a permanent collection of perennials, flowering trees and shrubs.  Thousands of trees, wildflowers, grasses, including dogwood, strawberry vines and meadow sweet have been cultivated. It is ideal for those who wish to visually feast on a wide array of floral wonders, all gathered in a single spot, as opposed to the usual widely dispersed specimens in the forest.
3. Drink Some Wine
It goes without saying that the area around Niagara Falls is reputed for its internationally-recognized and award-winning ice wines, the vineyards have produced wines of unprecedented quality. Connoisseurs know it well. There are multiple ways to go about paying these wineries a visit, but in our case, the cheapest ones are scheduled bus tours.
See the Falls from a Vantage Point
Admiring the Falls on the ground is good. However, one of the best ways to appreciate the real magnitude and beauty of the Falls is to go up high. The cheapest way you can go about doing it is to go for a spin on the Niagara Sky-wheel Ferris wheel, which offers a bird's eye view from 175 feet in the air. If you want to go higher, the Konica Minolta Tower Centre will offer an even more breathtaking view of the Falls at 525 feet in the air!
Double Your Money!
As with any other place on Earth, wherever there are people, there will also be casinos where people can play. The charm of the casinos found at Niagara Falls is that they give the city a Las Vegas-like feel. If you're feeling lucky, the cheapest thing to do in Niagara Falls is to walk into one such casino. Note that it is free to walk into them, but not to play, so be careful not to overextend if you can't afford to lose!
Lie Down at the Queen's Royal Park
Walking around the Niagara Falls surely seems like a great (and free) activity, but some people might simply want to lay out a picnic and take in the sun instead. For these people, the Queen's Royal Park is the perfect spot in all of Niagara Falls. Stretch out on the grass and reflect upon the meaning of life. The best part about it is that it's just seconds away from the downtown core, so you don't risk getting lost.
Eat Fruits and Vegetables!
Normally, this wouldn't really be a fun thing to do, but there is just something special about Niagara Falls being the epicenter of good food and wine in Ontario, and rightfully so. At Niagara Falls Farmers Market, open on Saturdays from 6:00am-12:00pm, year round, you can find the best artisan food producers, all concentrated in a single compact spot.
Take the Ginseng Farm Tour
You'll be fascinated to know that Southern Ontario is the largest producer of Native Ginseng in Canada. The industry actually began in Ontario and nowhere else. The company in charge of maintaining this industry called Great Mountain Ginseng Co, offers free tours specifically to show you how ginseng is grown as well as its history and health benefits (there are many).
See the Niagara Whirlpool
This is a term that not many are accustomed to, but locals know it well. The Niagara Whirlpool is approximately five miles down from the brink of the Falls and is caused by the Niagara River making a right turn. It is a natural whirlpool due to the fact that the water rushes when it turns to the right, causing the water to rotate. The result is a 120-foot deep and 1000-foot across whirlpool. Not a good spot to fall into but fascinating to watch.
See Niagara Falls!
You know what you've come here for and want to see. Although the three waterfalls (Horseshoe, American and Bridal Falls) are not yet among the seven natural wonders of the world, they attract some 12 million tourists to their majestic beauty each year. However much you have explored the world, you just cannot say you've visited too many attractions without first seeing Niagara Falls in person.