New York City can be an enjoyable place when it comes to food, museums, shows and other attractions. There is even a touch of the outdoors found in Central Park. However, sometimes there's an urge to escape the hustle and bustle and to embrace some outdoor activities NYC can't offer. If you have the desire to hike, kayak, zipline or more, we've got the perfect list of  adventurous things to do outside NYC for you. And whether you have a car or not, we've got the public transportation tips included.
Fun from the Sky
Only two hours away via car or bus, Hunter Mountain is an amazing place to visit for skiing and snowboarding during the winter. When the warm weather approaches, it is even more breathtaking when seen from a sweeping panoramic view. A perfect trip to take in the lush green mountains is by ziplining through the mountains. New York Skyline Canopy Tours have tours that zipline over 4 miles long of rope and can reach up to 50 mph. There are also tour options that include suspension bridges, rappelling and challenging rope courses.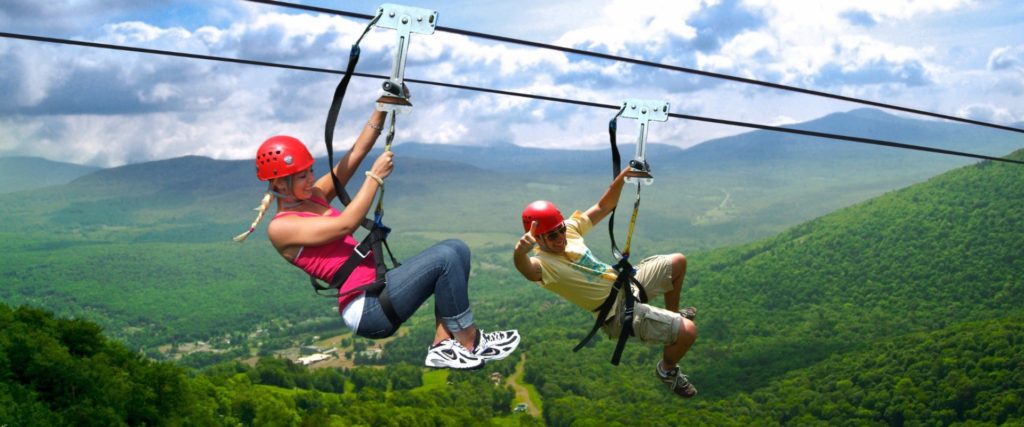 Photo Credit: New York Skyline Canopy Tours
For a bit more challenge behind ziplining, the Adventure Park is a great family-friendly place. It offers fun through an aerial forest ropes park. The park offers ten trails of varying difficulty. Each trail is ranked in similar fashion as a ski slope: yellow, green, blue, black or double black difficulty. The yellow trails are great fun for kids as young as seven years old. The black and double black can be challenging in strategic ways. These levels involve a combination of using agility, arm strength, balance and coordination to complete. The rope courses include elements of ziplining, rappelling, wood beams, bridges and ropes. The park is an approximately 50 minute LIRR train ride, where a taxi or Uber can be used to complete the remaining 5 mile trip to the park.

Photo Credit: Long Island Adventure Park
Fun from the Ground
Public transportation can be a major issue when it comes to getting in touch with nature. Discover Outdoors is a company that will offer transportation from Manhattan, or offer you the option to drive and meet at the location if you do have a car. For adventures, if you're one to have wanderlust in finding waterfalls, waterfall rappelling will give a whole new experience with such beauty in nature. The waterfall rappelling trip includes a hike, canyoneering lessons, then rappelling down about two miles of waterfalls. The transportation meeting location meets by the North Face store in Upper West Side.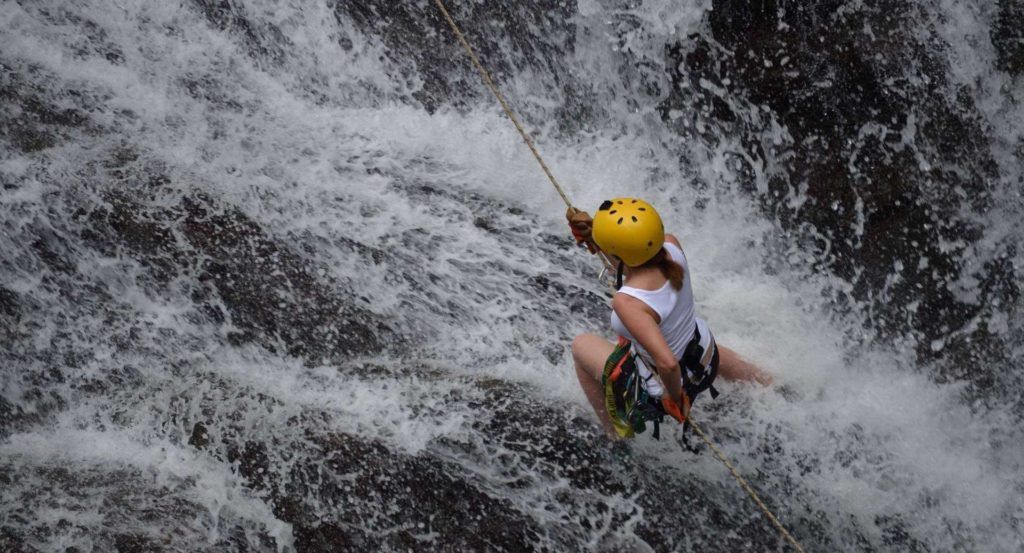 Photo Credit: Discover Outdoors
If you're looking for a challenging hike that can be shared with your pooch (if you're willing to hoist them a few areas), Breakneck Ridge is worth a try. The loop is just about 4 miles, with some steep parts that involve rock scrambling. The views are spectacular, with mesmerizing views from some cliffs along the route. The first half of the hike will feel like an accomplishment in its own, but the second half will breeze right by comfortably without the need to carry your furry friend in your arms. The trip is about 1 hour and 40 minutes from Grand Central using the Metro North train.

Photo Credit: Mike Todd
Fun from the Sea
Bannerman Castle is a beautiful place to visit. The area hosts tours throughout the day to understand the history behind Pollepel Island (the island in which Bannerman Castle stands upon), which was a former military surplus warehouse. However, a different way to appreciate the historical preserved ruins is from the water. Storm King Adventures hosts 3-hour kayak tours throughout the summer weather. There is also a 4-hour kayak and walking tour so that you can immerse yourself on land, as well. The tour will also pass the aforementioned Breakneck Ridge. The trip takes 90 minutes on the Metro North to the Salisbury Mills/Cornwall station, then a taxi or Uber to the remaining six miles from the location.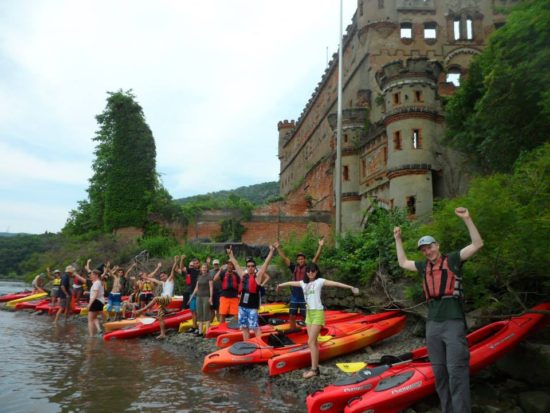 Photo Credit: Storm Mountain Adventure Tours
Another great company that tackles transportation is Sourced Adventures. The company understands the obstacles that come without having a car, and offer some great adventures where they facilitate the transportation for you right from Manhattan. One of the amazing trips that they offer is whitewater rafting on the Lehigh River in Pennsylvania. The river goes down 9 miles and you get to enjoy class III rapids. The trip includes three hours of rafting with a lunch break at the second hour.

Photo Credit: Sourced Adventures
Bonus: Two Fun Activities Right on City Turf
If trekking outside of city limits sounds daunting, there is still plenty to do within the city that still falls under outdoor activities. SUP or stand-up paddling, and has become a popular activity in more warmer-climate weather regions, such as the Caribbean and Puerto Rico. Manhattan Kayak offers kayaking, as well. However, for a more strenuous workout that activates the core and upper body, stand-up paddling is a great activity to enjoy the scenic city views. For those that want to get in touch with their inner zen, there is even a SUP Yoga session to perform the calming poses on a paddle board. Simply take the 7 train to the last stop at 34th St-Hudson Yard and just walk a few avenues over.
Photo Credit: Manhattan Kayak
Ever wanted to conquer the seas from the wheel of a boat? Well, here's your chance to learn from Hudson Sailing. Trek the Hudson River from Chelsea or Inwood (the uppermost tip of Manhattan) and enjoy a 2-hour or 3-hour course on sailing, as well as a chance to handle the wheel alongside a US Sailing certified instructor. If you have a spare weekend, you can take a full-course on how to operate a sailboat, which includes how to rig and derig, sail using the wind and tie several kinds of sailor's knots. Just take the C, E or 1 to 23rd St. for the Chelsea location or the A or 1 to Dyckman Street for the Inwood location.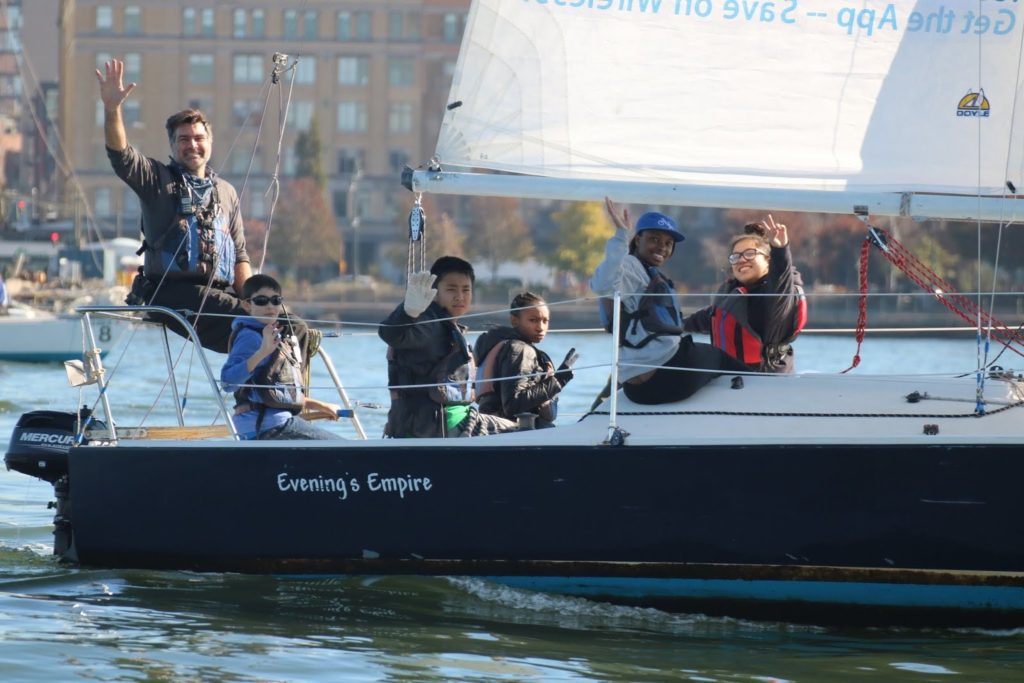 Photo Credit: Hudson River Community Sailing