Audubon History
Have you ever visited the Audubon? Few of the younger generation are aware of just how long the study of ecology and the movement for the preservation of the environment has been going on.  One of its most important forefathers was James Audubon.
Born in 1785, Audubon was a renowned painter of America's birds and wildlife.  Eventually, he realized his true calling was not only in depicting America's beautiful feathered creatures but more importantly, in promoting the conservation of avian fauna as well as the environment.

Today there are more than 500 Audubon organizations all across America promoting the same ideals Mr. Audubon started over 200 years ago.  There may be one near you!  Each organization is independently run and operates with its own mission statement and goals.  Almost all are geared toward conservation of the environment and the animals that inhabited it.  Just as many Audubon organizations are specifically geared toward bird conservation. That is true of the one in Jamestown, New York.
Despite the autonomy that each club enjoys, the Audubon is a national movement that connects bird enthusiasts all over the country. Bird aficionados are a passionate group who vie to identify, locate or rediscover birds whose numbers have declined or are endangered.
The Audubon Society holds a Christmas Bird Count. Thousands of people sign up and record bird sightings all over the country, which help countless professionals in all fields track the current and long-term health of bird populations.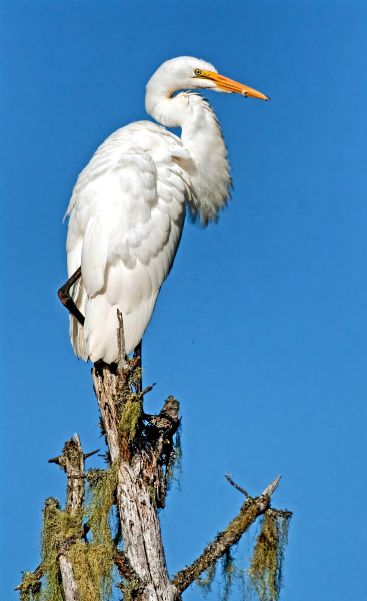 The prestigious Audubon Society also produces a national magazine filled with thought-provoking articles concerning conservation.  In this year's Winter Edition they detailed a forensic expert's efforts to save birds using his particular set of skills.  There is also a piece on how black-op helicopters and cannibalism could be involved in the mysterious disappearance of thousands of birds on the Seahorse Key in Florida.
The magazine is a bimonthly publication, which was founded in 1899.  Despite some difficulties over its long existence, the magazine still produces incredible articles.  It is a must-have subscription for anyone interested in the fight to save the environment.
In keeping with the origins of James Audubon's passion, the Society also has a yearly photography competition that publishes breathtaking images from bird watchers all over the world.  This year's Grand Prize winner, Bonnie Block, captured a stunning picture of a Bald Eagle landing near Blue Herons. This amazing picture can be seen by clicking this link. 
If you are ever near Jamestown, New York the Audubon Nature Center is well worth a visit whether you care for birds or not.  Located just outside of the city, the Nature Center sits on 600 acres of wetland preserve, full of interesting things to see and learn about the environment. For one the Center has over five miles of walking trails, great for families or couples to experience nature as Mr. Audubon thought it should be.
Also, the native tree arboretum, educational gardens, and picnic areas are situated on their grounds. It is a great place to relax, let the kids run wild and know that your admission fee or any donation goes directly to conserving the species on our beautiful planet.
Jamestown Audubon Center
The Center in Jamestown holds a variety of events and programs suitable for everyone. These include educational field trips for children where the young can explore the wild and learn from Audubon members eager to pass on lessons of nature.  There are even day camps for kids to promote education about the environment by getting their hands dirty while getting them off yours.  For adults, there are auctions, dinners, blood drives as well as seasonal events like the winter lights on display now.
Whether conservation is at the forefront of your priorities or not, the Jamestown Nature Center is a wonderful part of the Audubon community.  There is a small fee for admission during the week: $6 for adults, children under 15 enter free.  On Sundays admission is completely free.  While you are there, don't forget to visit Liberty, the resident Bald Eagle who makes an enclosure near the Center her home.  So make the trip!  It's a guarantee you won't regret it.