Hurrican Mathew
Every March, we look forward to a week on Kiawah Island. This has been a tradition of many years.  We usually take a leisurely drive from Western NY to Wytheville, WV for our first night out on the road. This year we were accompanied by updates from Hurricane Mathew, a category 4 that was rolling up the eastern seaboard after a devastating landfall in the Caribbean. The hotel lobby was teeming with travelers who were gathering around the full wall screen television, watching the weather channel coverage. It was evident that going south towards the shore was out.
No Kiawah For You
Once we realized there was to be a full evacuation of S Carolina, and that many were heading up north towards us, we had to make a new plan. At this point, no one knew what the outcome would be, how long the storm would rage, if it would make landfall in Florida? Georgia? South Carolina? We decided to wake up the next day and head over to Asheville,  which is about an hour and a half southwest of Wythville but still in the Smokey Mountain region. We would spend the day exploring the town and wait out the storm. Anyway, Asheville was a town we always wanted to visit. We were still hoping to make it to the beach but the news, which we checked periodically, was gloomier and gloomier.
Welcome to Asheville, North Carolina
The drive through the Smoky Mountains was lush and beautiful.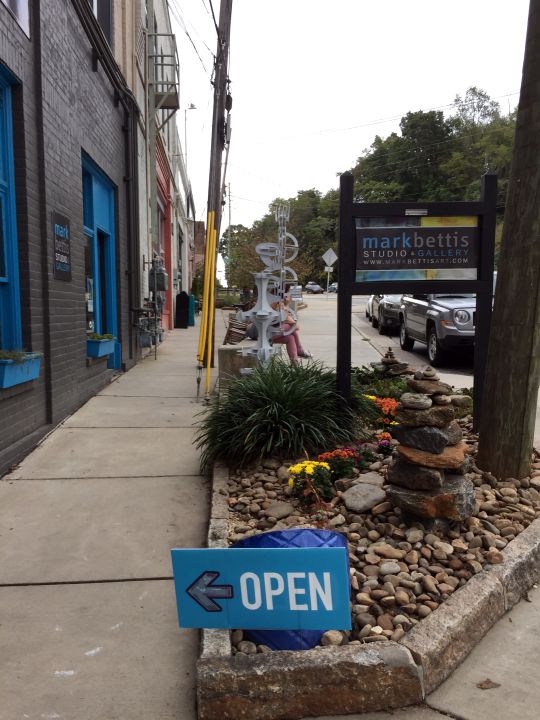 Our first stop was the River Arts District. This is a warehouse area not far from the town center. It has been turned over to artists who have taken the cavernous spaces and turned them into studios. We wove our way through many wonderful reclaimed spaces that included working studios for painters, fiber artists, jewelers, potters, glassblowers and more. It was so interesting to see works in progress and finished pieces for sale while artists described the process or worked on pieces as we watched. Some hands-on techniques were offered as a class. I was tempted by the lamp work bead making class.
Downtown Asheville
Then, the downtown surprised us with its unexpected imposing architecture.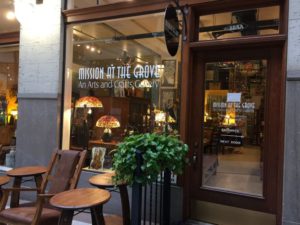 We strolled into the Grove Shopping Mall with its elegant old world character.
We stopped in for a coffee  and a piece of carrot and lemon cake at True Confections. Oh my goodness, it was the real thing with the baker on hand and every morsel was appreciated. We lapped up the cream cheese frosting and the dense richness of the cake that is the hallmark of Southern baking. I think we made audible sounds of approval.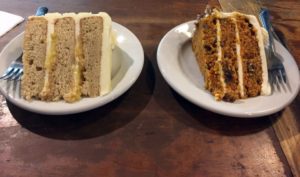 We spent the afternoon strolling the streets and found ourselves wandering into the Battery Park Book Exchange. It was transporting, a Gatsby décor. Books of every sort were shelved floor to tall ceiling. There was a charming vintage wine and coffee bar. They also had champagne or chocolate and pastry.
Scattered through halls and around corners were leather seats and marble top tables. Way up top,books, books and more books. Wait, is that Moose enjoying a smoke from an enormous antique hookah?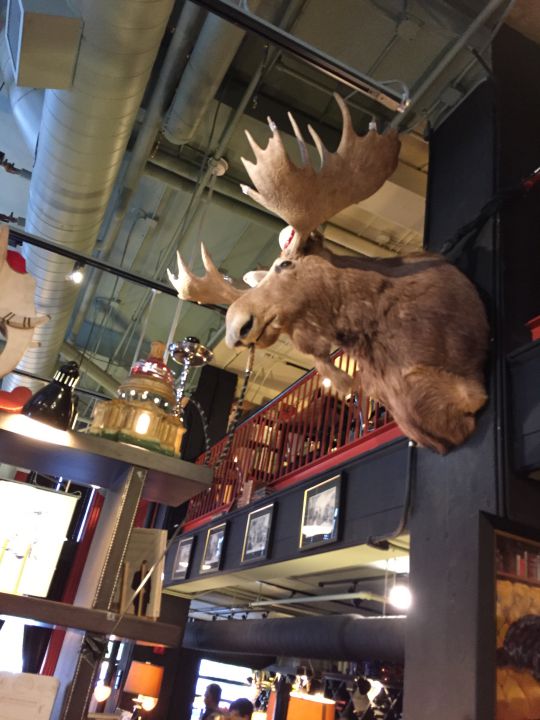 After a coffee and full on book coma, we explored open air stores and were sometimes pulled along with the crowds. It was Saturday, mid afternoon. There were street musicians and clusters of  random students singing as they strolled. We even saw a long, moving open air vehicle which was actually a mobile bar. It had about a dozen drinkers sitting at it on either side of the moving bar. They toasted us. Everyone was singing and waving. After making our way through the throngs, we asked where we might find a place for a late lunch. A nice couple suggested Tupelo Honey Cafe.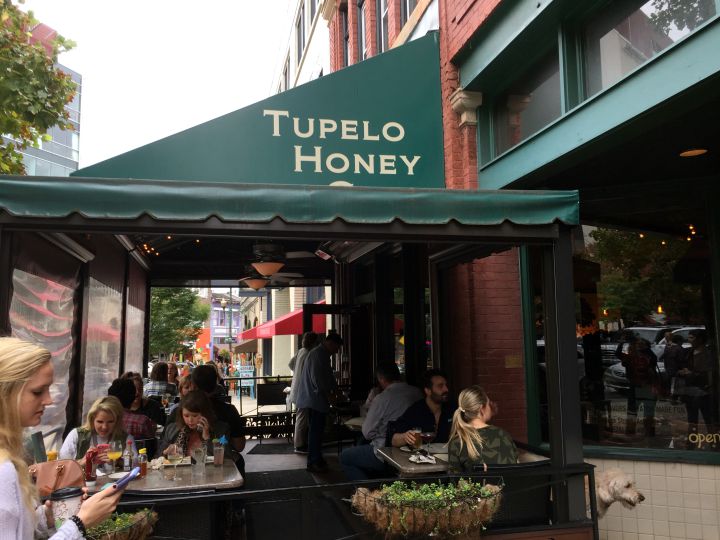 Great place, great vibes.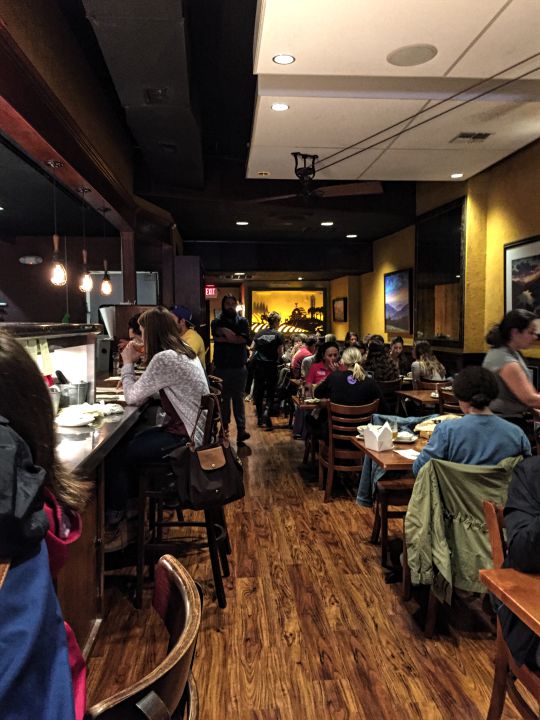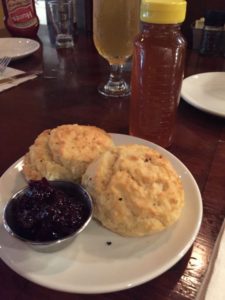 No matter what you order, you get biscuits and honey with your drinks!
I settled on the mega veggie burger topped with goat cheese and avocado. It was memorable.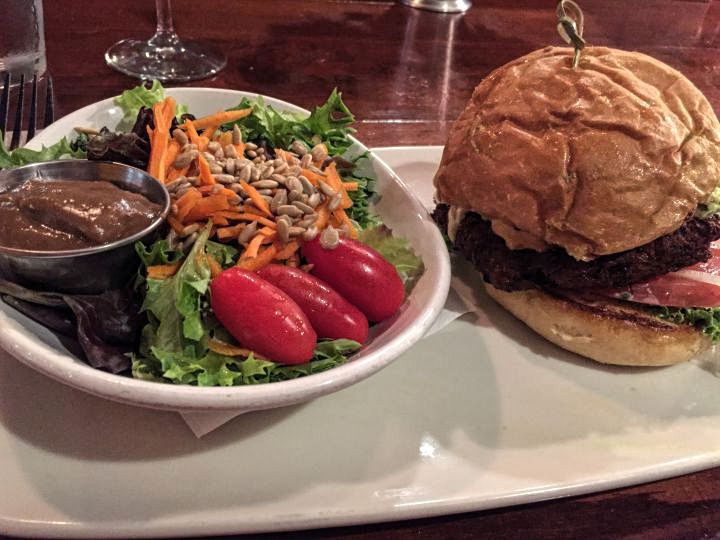 So was the performance from the busy chefs in the open kitchen. There was a lot of passion in their work. It paid off. Great meal.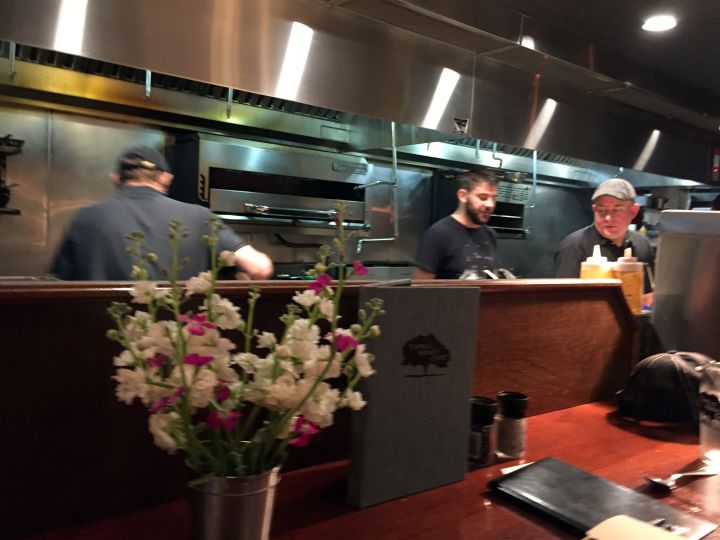 After our lunch, we headed out of the mountains to spend the night and wait out the storm and read our books.