While New York City is located a ways from the equator, this doesn't hold us back from enjoying coconuts in the same fashion as we would in tropical regions. Get ready to kick back and enjoy some coconuts NYC, as we've created a list of some great NYC spots with appetizers, meals, desserts and drinks with the wonderful ingredient.
Coconut Bacon Sandwich at Spreads
For a quick lunch that so happens to be vegan, the Coconut Bacon Sandwich here satisfies the appetite in all the right ways. Do not expect the experience to be a complete swap for bacon, but rather a great alternative for something similar in flavor and texture. Their coconut bacon is applewood smoked, giving the pleasantly burnt flavors that are familiar with bacon. The coconut is also toasted to give the crunchy texture that makes us enjoy a traditional BLT. And of course, the finishing creaminess comes from the avocado to complete the delectable lunch option.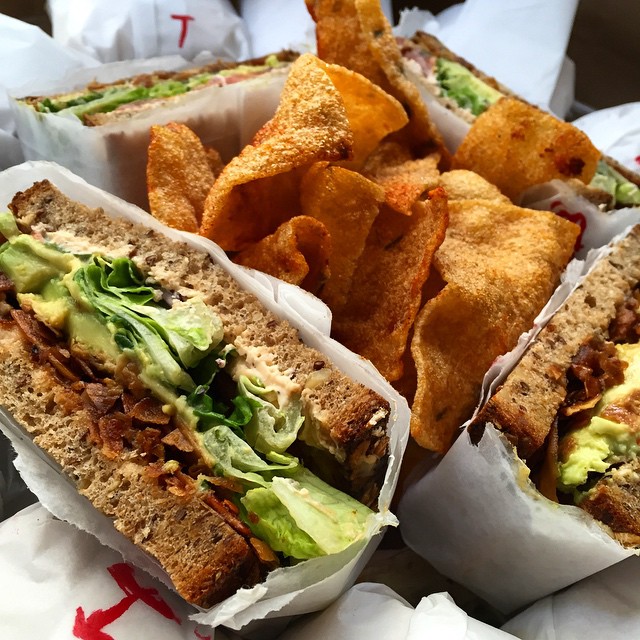 Photo Credit: @spreadny
The Polynesian restaurant has quite a bit of island character to match with its delicious vegan dishes. The decor mixes trendy and tropical, allowing you to enjoy your meals within their whitewashed floors, white and green tiled tables, and touches of warm-weather greenery. Begin by wetting your whistle with Sugar Cane Magik, which will give a tipsy coconut cream and rum jump start to your meal. Or for something alcohol-free with a pleasant tart yet sweet flavor, the Orchard Island will do the trick. For the main event, their Mushroom Pot Stickers and Drunken Fried Rice have touches of coconut in them. Once all is said and done, don't deprive yourself  of ordering dessert, which are all coconut-based.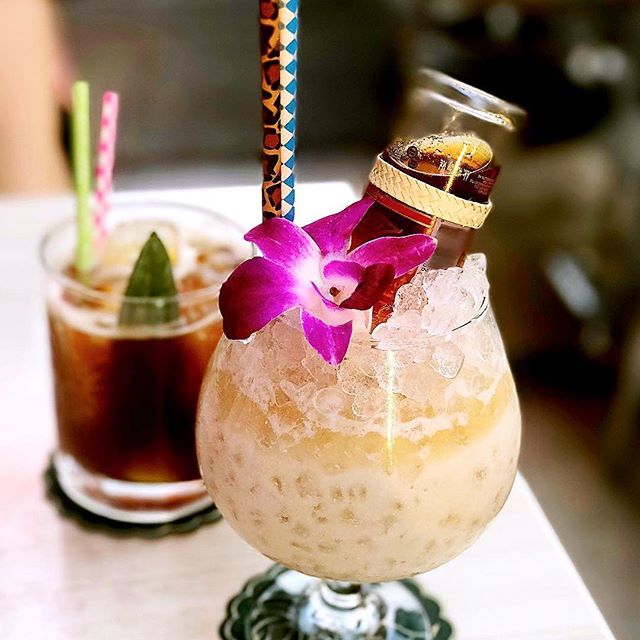 Photo Credit: @motherofpearlny
Drinks and Appetizers at Cienfuegos
It's only natural that we mention Mother of Pearl's sister restaurant, Cienfuegos. Cienfuegos brings fun and flavorful vegan Cuban cuisine to the East Village. Imagine the restaurant as that beautiful, bombastic friend that is full of personality. You'll get that feeling from the moment you walk in, where you'll feel an energetic atmosphere surrounded by green and pink walls and chic white furniture and banquettes. To get your party started, get a punch bowl of Isles of Manhattan Fizz, a strong drink that combines coconut, pineapple pieces, and lime together into a fun and festive cocktail.
For appetizers, the tropical islands know how to do their Coconut Shrimp, and Cienfuegos isn't any different, paired with a sweet mango dip. Another great choice is the Mushroom and Coconut Rice Croquettes, which are also creamy and crunchy with every bite.
Photo Credit: @cienfuegos_nyc
Coconut Chips and Carob Coconut Cake at Divya's Kitchen
Ayurvedic cuisine is about clean eating. However, it doesn't mean it's hard to find appetizing flavors in this kitchen. Divya's Kitchen offers meals that are healthy and delicious, surprisingly satisfying cravings that typically come with sinful eating. For example, one of their small bites on their menu are Spiced Coconut Chips, which tackle the cravings for both texture and flavor that come with regular old potato chips. Have a desire for chocolate? They offer a Carob Coconut Cake which allows you to savor a rich and chocolate-mimicking dessert, all topped off with toasty coconut.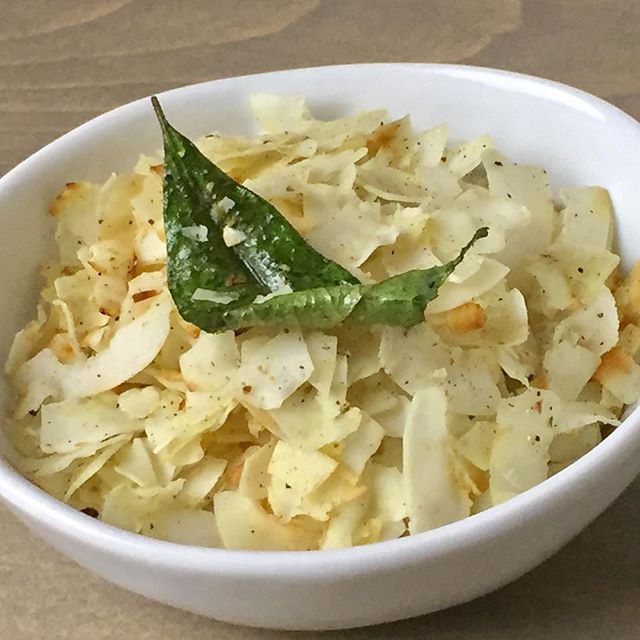 Photo Credit: @divyaskitchennyc
All Things Malaysian at Kopitiam
Malaysia takes a lot of pride in serving up delicious dishes. It so happens that coconut is a well-utilized ingredient in their cuisine. For the lighter appetites, Kaya Toast is a great treat that is reminiscent of a childhood snack (should you have grown up in Malaysia). It's the Malaysian-equivalent of America's peanut butter and jelly, but the innards are kaya jam. Kaya jam is made of coconut, pandan (a sweet almost aromatic vanilla-like ingredient), egg and sugar. Another great treat is the Pulut Inti, a street food snack that consists of sticky rice wrapped in a banana leaf and topped with a slightly crunchy coconut topping.
Last but not least for treats, the Pulut Dadar is a coconut crepe with coconut shavings, in case you can't get enough coconut. For something bite-sized, try the Ondeh-Ondeh, a chewy sweet rice ball treat of palm sugar and coconut shavings. For a fulfilling meal, a lot of their traditional Malaysian plates like Beef Rendang and Nasi Lamek all come with coconut rice.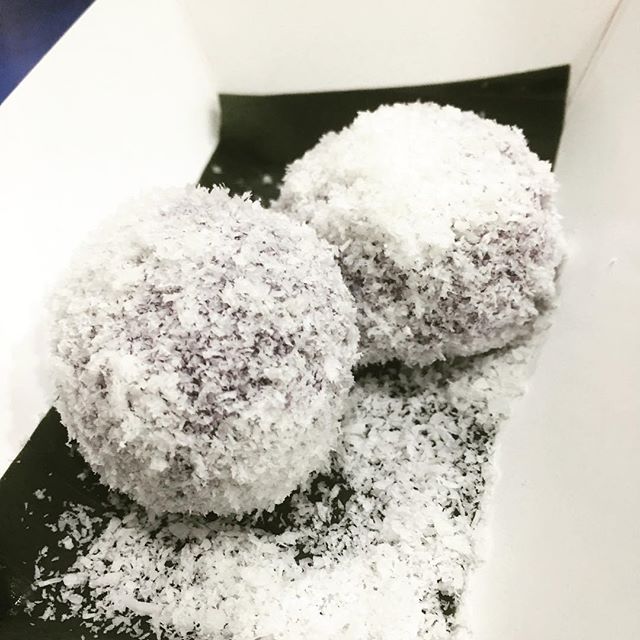 Photo Credit: @kopitiam_nyc
Coconut Eggettes at Wowfulls
Wowfulls gives a trendy spin on a popular Hong Kong street food: Gai Dàn Jai or Hong Kong egg cakes. These are frequently sold from carts on Chinatown corners. Wowfulls adds flavors in different ways to make the traditional snack even tastier, such as coconut. They have ample toppings, some which will evoke childhood memories, like Oreo cookies and Fruity Pebbles cereal. Others will rub the sweet spot of Asian-familiar treats, like matcha drizzle or mochi. For those that want a buzz in their scoop, you can add boozy flavors, such as cake batter vodka. For the final coconutty finish, top off your coconut eggettes with toasted coconut flakes. While you're at it, go ahead and add some condensed milk and Oreo cookies to that, too.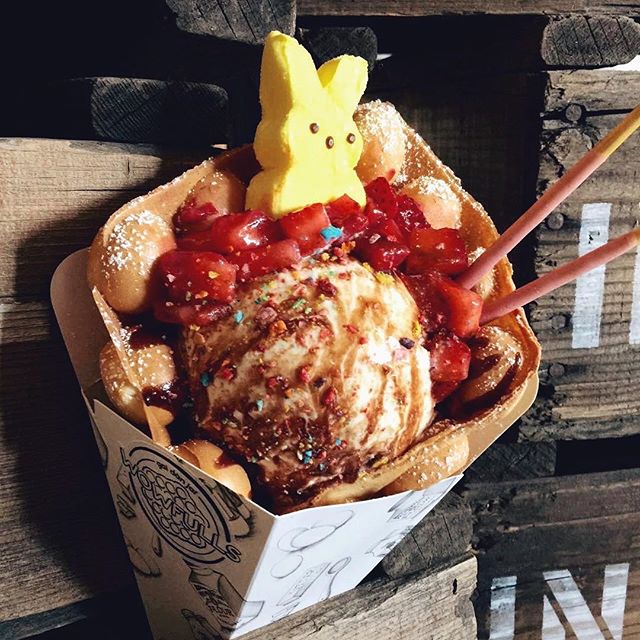 Photo Credit: @wowfulls
While this spot isn't on our article about latte art, it doesn't mean it won't satisfy the cravings for coconuts. The coffee shop brings together the Australian love for coffee and the Argentinian love for sweets under one roof. While you can get your caffeine kick topped with pretty latte art here, let's get straight to the sweet stuff. The coconut-starring item here is the lamington, a jam-filled sponge cake that is topped with coconut flakes. This Aussie cake is moist, delicious and perfectly pairs with a coffee or flat white.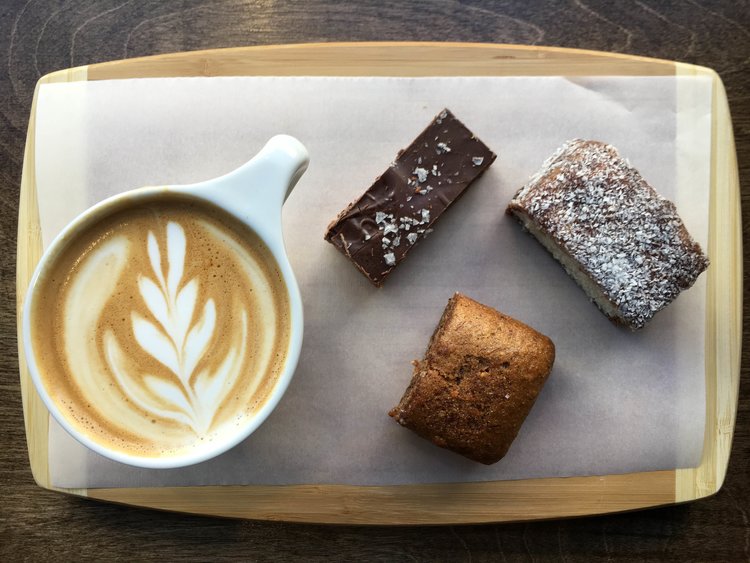 Photo Credit: South Cross Coffee
Iced Young Coconut Matcha Latte at Zenchai
Matcha has become one of the crazes as a great way to get your caffeine fix without the jitters. While matcha is generally known to be bitter, Zenchai's matcha bar happens to be slightly sweet. For the coconut lovers, they also have a flavor fit for the craving. Their coconut matcha latte uses fresh coconut milk and coconut meat to give a delicious latte variation. The ambiance is the perfect oasis to create a zen-like pit stop. You're surrounded by comfortable lounge chairs, a vertical garden, and natural wood tables, which fit perfectly as you relax to every coconut sip.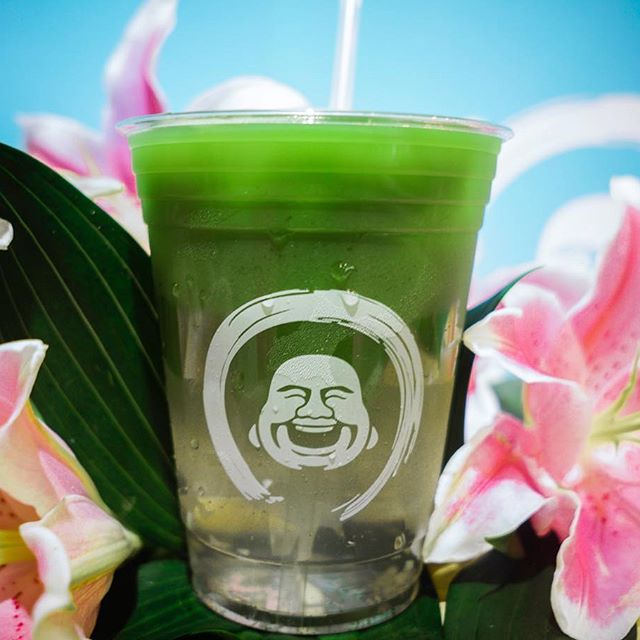 Photo Credit: @zenchainyc
The Coconut Cocktail at Sugar East
Sugar East is a retro-style Upper East Side speakeasy that uses fresh, locally sourced ingredients. The results are refreshing and original concoctions. As for those that love coconuts, the Coconut Cocktail is nothing short of what you'd expect, all the way down to how it's served. Dished up right in a young coconut, the cocktail presents complex flavors. The smooth formula uses lime, rum, cinnamon, and fresh coconut juice. It is even served with some character as it comes with a flaming cinnamon stick to let you know you're in for an explosively tasty drink.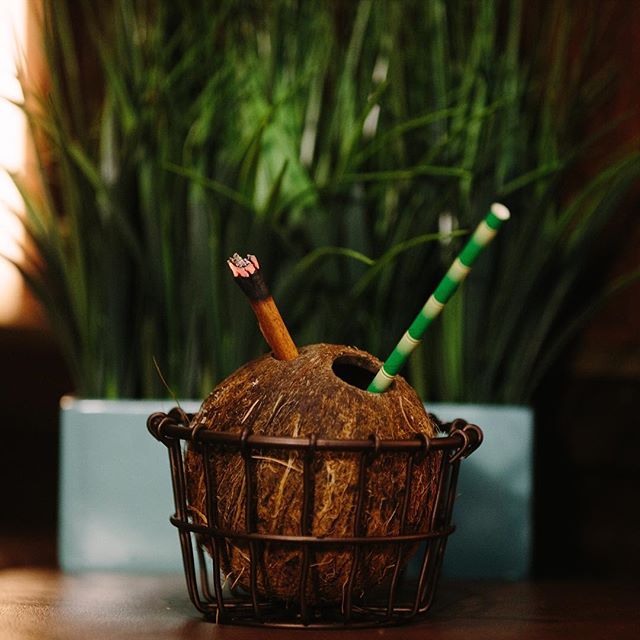 Photo Credit: @SugarEast