New York has quite the soft spot for cheesecake, especially since we have a name coined for the decadent cake specific to our region. It's only so natural that we discuss the best places to grab a rich and smooth slice of heaven. With the diverse culture that NYC has to offer, the variety of cheesecake offered does not fail to please. Here are 9 NYC cheesecake spots to find yourself a delicious slice of cheesecake, from the traditional Italian recipes to the avant garde tastes.
What to Get: Strawberry Cheesecake
It's easy to miss this storefront, with its traditional blue awning and whimsical illustration of Eileen herself presenting a cheesecake. However, with just a single bite of her perfected cakes, you will never forget where to find her. Before there was trendy, there was tried and true, and the mastermind behind the recipe at this store has been praised for her delicious treats for over 40 years. Their cheesecakes have a light and airy consistency without foregoing creamy and flavorful. While the shop is tiny with just a handful of seats, the store is usually full of curious newcomers and loyal long-time customers. The strawberry cheesecake is always a winner here.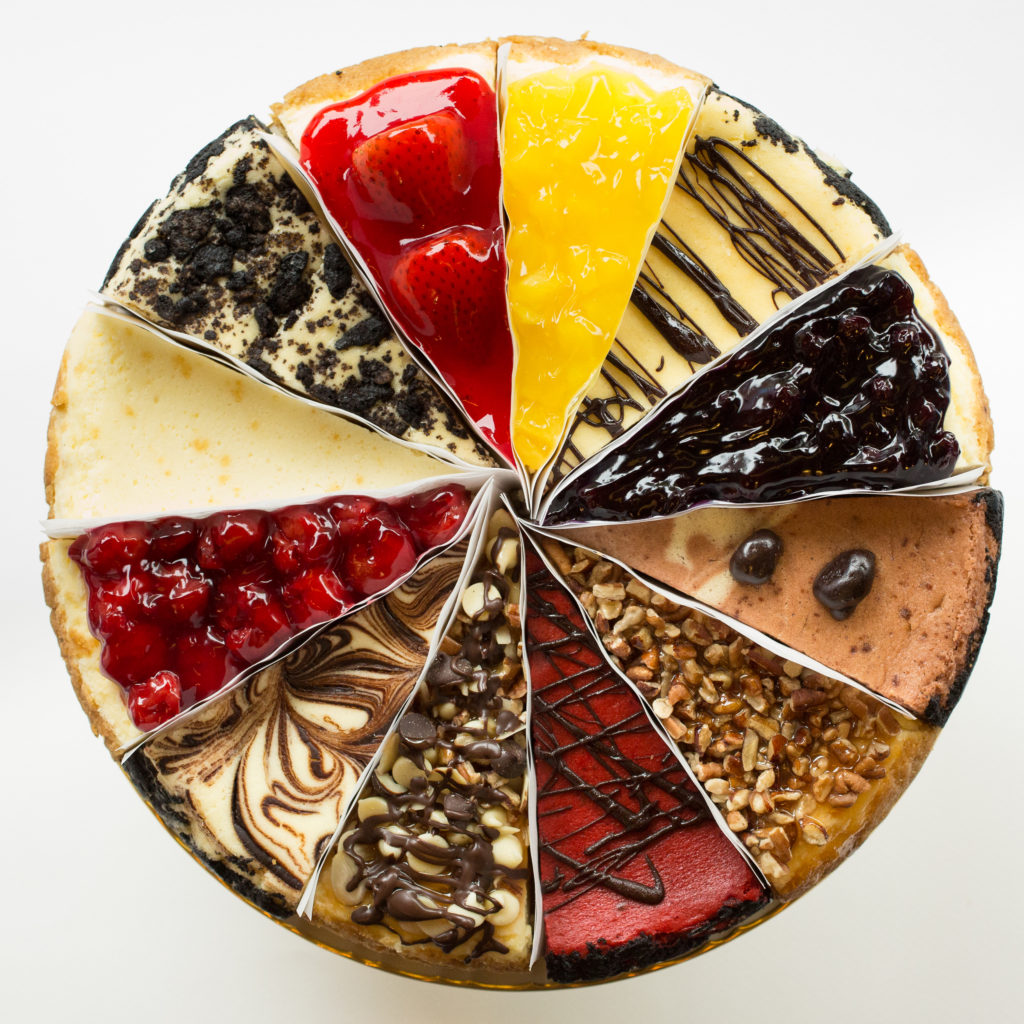 Photo Credit: Vladimir Weinstein at Vladimir Weinstein Photography
What to Get: Cherry Cheesecake
Head uptown to Yorkville for a cute and quaint bakery that's ideal for a quick breakfast or coffee break. While the most famed treat here is the Brooklyn Blackout cake, they are also well-known for their soft and fluffy New York cheesecake. Their fresh fruits make the cherry topping the perfect accompaniment with their cheesecake. The red and white peppermint striped awning is unassuming, but during the holidays, the line that stretches out the door give away its true popularity. If you come during a downtime, you may be able to snag one of the four tables within the intimate space.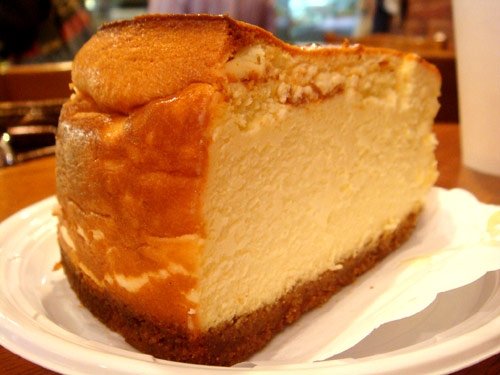 Photo Credit: Two Little Red Hens
What to Get: Oreo Cheesecake and Ricotta Cheesecake (Italian-style)
The East Village landmark didn't officially become a pasticceria until the 1920's, where they actually started off as a social club serving biscottis and espresso in the late 1800's. The Italian stained glass windows adorning the trim of the store displays stay true to the generations of tradition, which you can taste in their cheesecakes, as well. Through many generations of master bakers from Italy, they bring us amazing traditional cheesecakes. Oreo cheesecake (also available as mini-sized poppers) and ricotta cheesecake are in constant demand.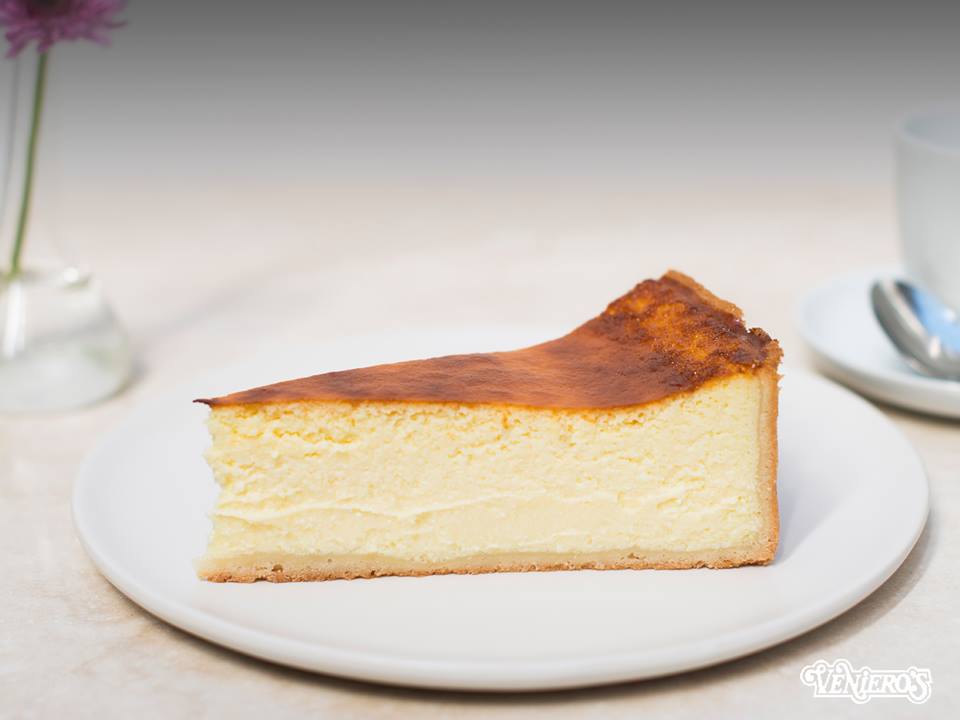 Photo Credit: Veniero's Pastry
Molly's Cupcakes




What to Get: Blueberry Cheesecake Cupcake
While it appears that we may be getting off topic here with cupcakes, we'd be doing an injustice to cheesecake lovers without mention of Molly's Cupcakes. The concept was created to commemorate the maker's memories of their third-grade teacher's birthday cupcakes, which was said to be some of the best cupcakes around. The interior of the store doesn't stray far from warm childhood memories, with the counter welcoming patrons to take a seat on their wooden swings strung from the ceiling.  However, we are indeed here for the cheesecakes and with that, we recommend  their blueberry cheesecake cupcake. It hits a home run in flavor and texture, which offers a graham cracker crust top and a perfect addition of blueberries for a sweet cheesecake concoction.
Photo Credit: @mollyscupcakesny
What to Get: Japanese Cheesecake
Opening its doors in earlier of 2017, the store brings the renowned Japanese cheesecake to NYC. Their cheesecake, or rather "keki" for cake in Japanese, is a recipe coming from Japan as a variation of the cheesecake in ways that are much more bouncy and airy than the original cheesecake. While pulling back on the sweetness, the subtle flavor still melts in your mouth with every fluffy bite. You'll be glad to know that the Keki's executive pastry chef brings their hand in experience from renowned restaurants, Per Se and Nobu.
Photo Credit: Keki Modern Cakes
What to Get: Chocolate Marble Cheesecake
La Cheesecake comes much closer to being a local fixture that sells whole cakes rather than a place to try slices. However, if you have a special occasion to impress guests, their cheesecakes will do the trick. The store goes some ways out into the Queens suburbs of College Point. Opening its doors in 1985, the store is a neighborhood favorite. They are well-known for their seasonal flavors, such as the pumpkin cheesecake during Thanksgiving. One of the raved faves would be the chocolate marble cheesecake, which will please you with every dreamy creamy bite. Some visitor tips to keep in mind: bring plenty of bills as they are cash only and have a driving partner with you, as parking can be limited, especially during the holidays.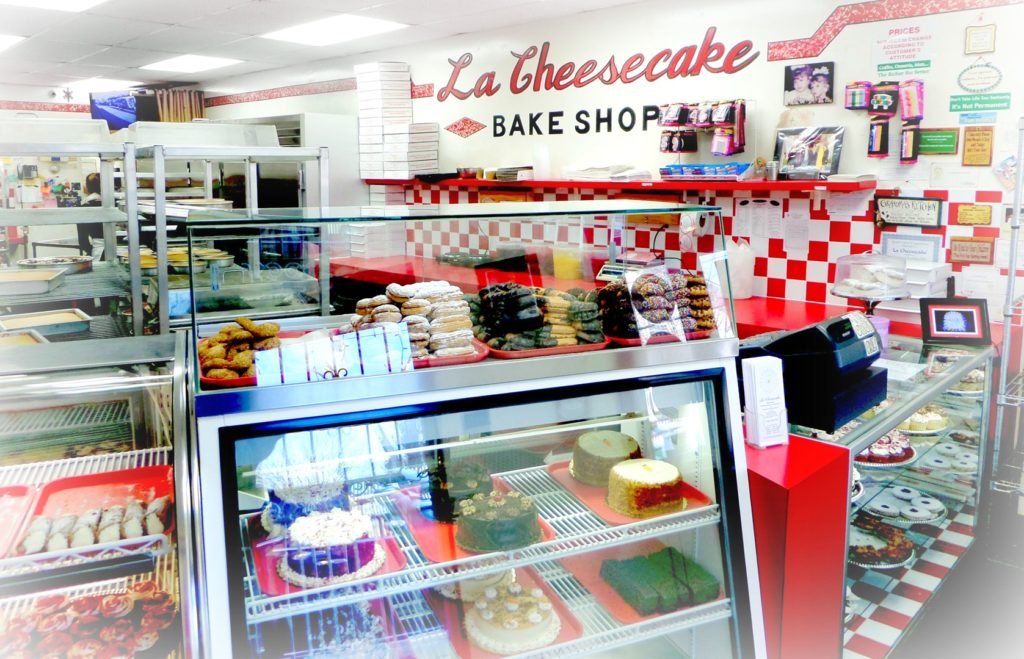 Photo Credit: La Cheesecake
What to Get: Cheesecake Cones
While the summer is full of heat, escape it with the famous frozen treat offered here: the cheesecake cones. A unique creation to this store, the cone is made a caramel and almond brittle with a mascarpone cheesecake filling. The treat has also been mentioned in Oprah's O Magazine.Their Brooklyn shop is intimate with just enough room to peruse around their cakes and pick-up a treat for home, but if you want the full Italian dinner experience, head to their Staten Island restaurant.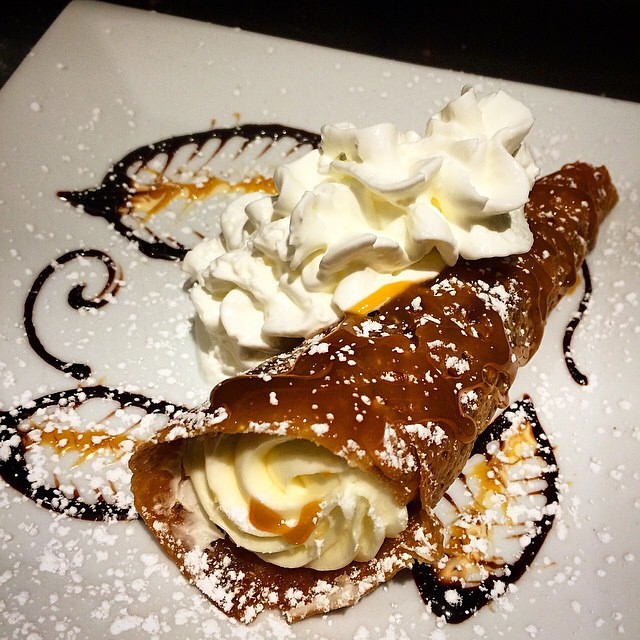 Photo Credit: Aunt Butchies of Brooklyn
What to Get: New York Cheesecake
This popular and well-known bakery has sprung up around Queens and began taking over the trendier parts of Brooklyn. We recommend taking a visit at Martha's to enjoy a good old traditional New York cheesecake at Martha's. Martha's is a full-service sit-down cafe, serving as a perfect spot to meet with friends and family for a sweet treat. While many other bakeries opt for a lighter and airier cheesecake, Martha's cheesecakes go for a richer and denser texture.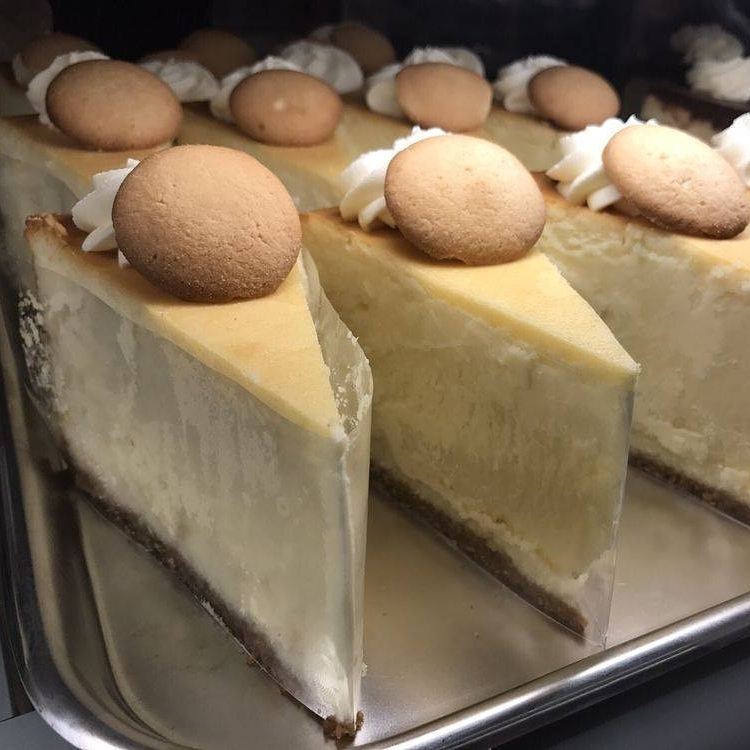 Photo Credit: Martha's Country Bakery
What to Get: Ricotta Cheesecake with Fruit Sorbet
Williamsburg has grown into the heart of many things trendy, and Patisserie Tomoko's menu makes the bakery fit right in. Their menu has many French desserts that offer a touch of Asian influences, such as the matcha green tea cheesecake. It offers a pleasant blend of a slightly sweet texture of cheesecake and a hint of bitter matcha flavors. What we also recommend is their ricotta cheesecake. This can be topped with a sorbet that comes in slightly tart flavors, like raspberry or grape. The subtle sweetness of the cheesecake harmoniously pairs well with the tart icy cold flavors, giving you a surprisingly pleasant twist to something traditional. The pastry chef here takes a nouveau approach on its desserts, and brings her talents from behind the kitchen of Bouley, Le Bernardin and Russian Tea Room.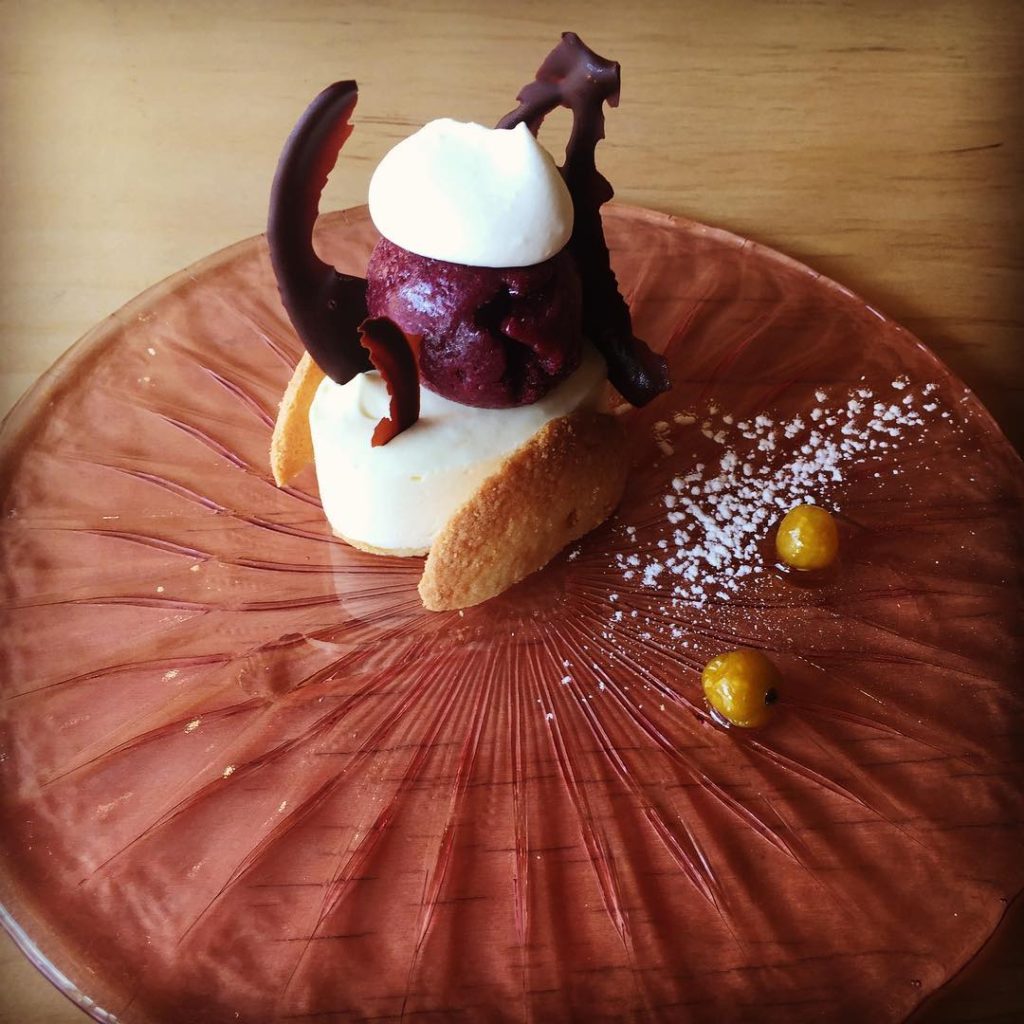 Photo Credit: @patisserietomoko