As the summer brings in hotter days, one of the best solutions to soothe the heat wave is a big, cold scoop of ice cream! New York City has many fantastic options to get your hands on some delicious ice cream, varying from the everyday classic flavors of vanilla or chocolate to the more exotic tastes from abroad. Here are eight great NYC ice cream shops to cool down in the summer heat.
Familiar and Adventurous Favorites
Most famous for their coconut ash ice cream, the unique invention garnered enough attention to bring about lines that stretched down the block. The color is as dark as midnight in the forest and blends all parts coconut, from the flakes to the milk and cream, to give the rich flavors hidden within the deep dark scoop. If that doesn't tickle your fancy, their menu offers many other choices that immerse creative flavors along with traditional ones. Some examples include a scoop, of all things, American with Cinnamon Whiskey, and then Westward to Asia, Durian Banana. All the ice creams are made small-batch with no additives or processing.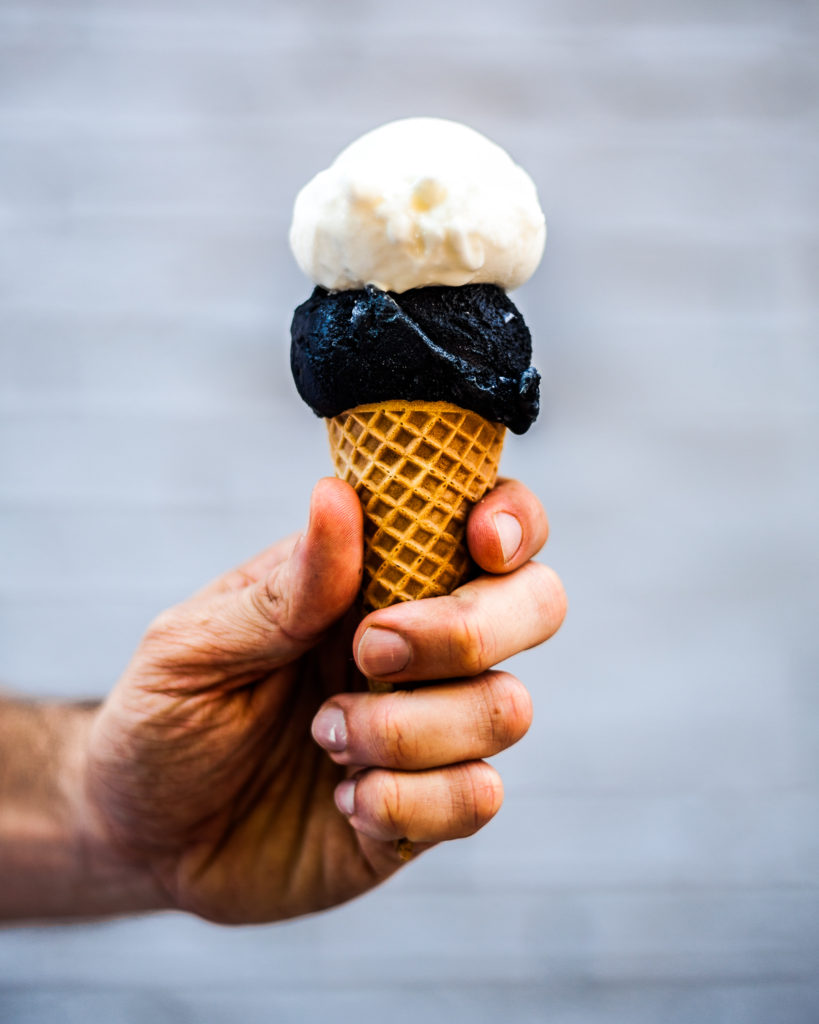 Photo Credit: Morgenstern's
Simple ingredients made with an artisanal touch, Van Leeuwen's ice cream scratches the itch for delicious, high-quality flavors. A success story of truck turned store, their pride and joy lies in the pure ingredients used, creating a recipe of rich flavors to both the lactose-intolerant and tolerant crowd and both the vegan and non-vegan ice cream lovers. The favorites are the Honeycomb, which is actually a caramel sweet flavor made with in-house cracked caramel to give it the all-Australian classic flavor. Second, is the chocolate chip cookie dough, which uses quality ingredients like Tahitian vanilla, Maldon sea salt and Askinosie 72% chocolate chips (Askinosie being a Missouri-based company that sources locally). Both flavors are available as vegan, as well.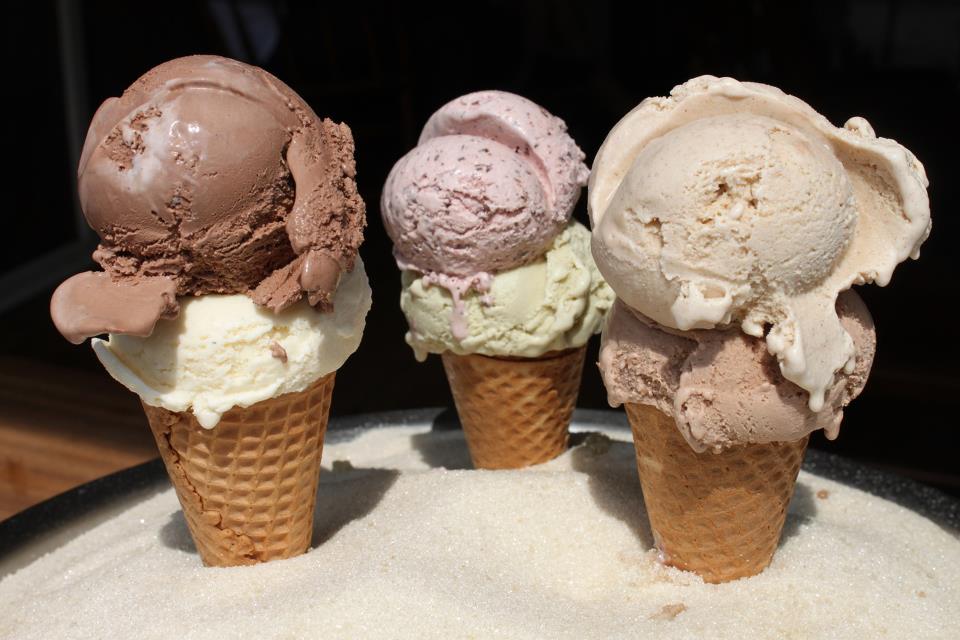 Photo Credit: Van Leeuwen Artisan Ice Cream
The beginning days of this eccentric ice cream shop began from within an ice cream truck in June 2009. Their popularity gave rise to the brick-and-mortar stores in 2011 in none other than the East Village and West Villages. Their flavors combine the sweet sensational flavors of our childhood dreams along with rich ice cream flavors to bring such divine blends. A popular pick here is the Salty Pimp, which offers a blend of salty dark chocolate, salty dulce de leche and creamy vanilla to tickle both sweet and salty needs. Another great choice pays homage to the Golden Girls and is called Bea Arthur. It gives a texture-satisfying crunch with Nilla wafers, along with a creamy blend of salty dulce de leche and vanilla ice cream. Walk into their shop filled with unicorns, rainbows and kittens along their walls and get lost in their addictive sugary madness.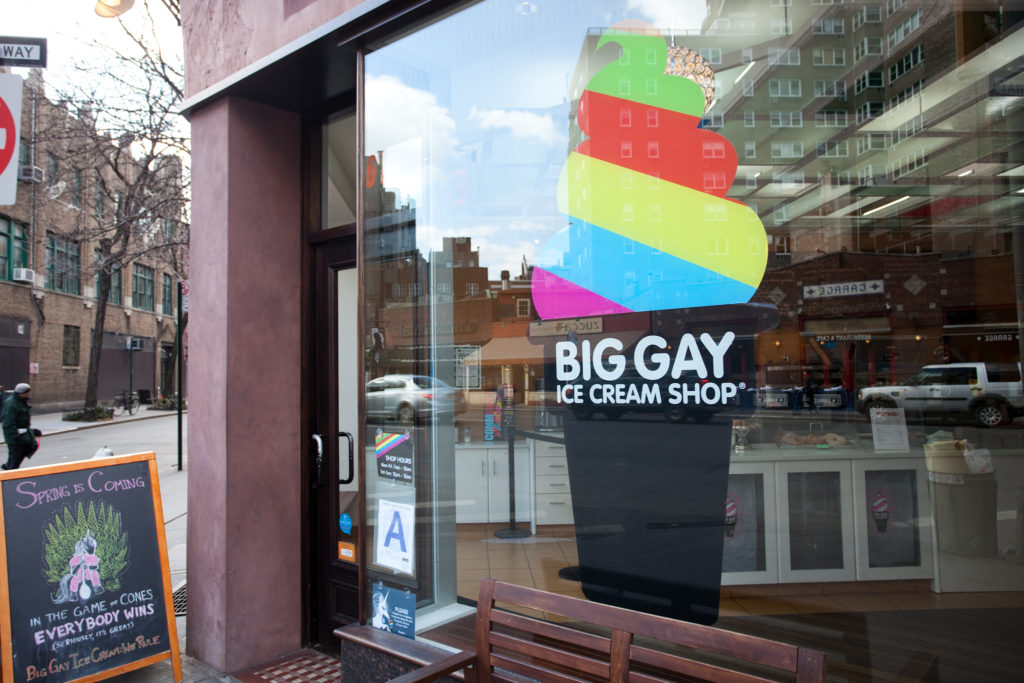 Photo Credit: Donny Tsang
Asian-Inspired Frozen Treats
The specialty at this frozen yogurt spot nestled within Chinatown are their classic Asian favorites. While those unfamiliar with such frozen flavors such as black sesame, matcha green tea and ube (a purple yam used in many things desert-related in the Philippines) may be hesitant to venture through the unknown, we assure there won't be any regret if you do. The ube flavor is almost similar to a fragrant vanilla with a subtle nuttiness. Their soft serve yogurt can be requested as standalone flavors or as a swirl, and finished with toppings that are crunchy (like Fruity Pebbles or Reese's Pieces), chewy (like mochi) or drizzled (like condensed milk or chocolate). There are also specials named after NJ and NY neighborhoods, such as the Woodside, which is a Queens neighborhood that has a large Filipino presence. The Woodside fittingly so offers a combination of ube yogurt, toasted coconut and mochi.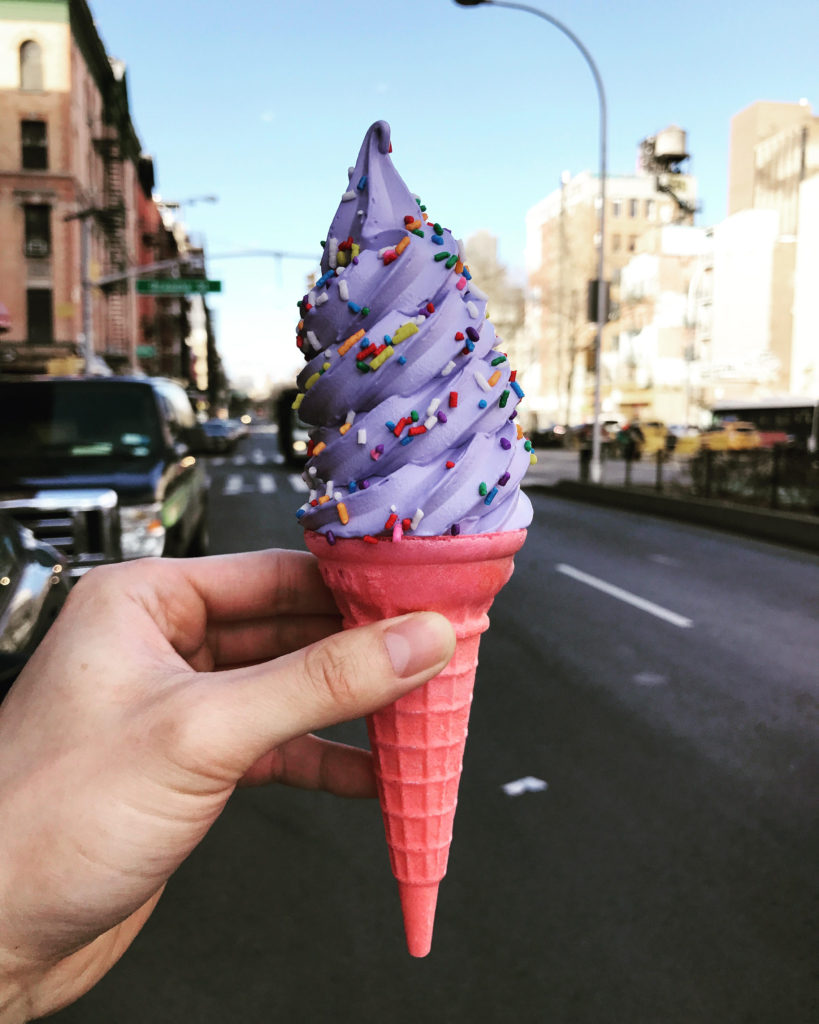 Photo Credit: Soft Swerve
The Chinatown Ice Cream Factory (CICF) has a footprint of over 30 years old in the heart of Chinatown. CICF has mastered homemade ice cream with well-loved Asian fruits and flavors. You'll find such flavors as lychee (a sweet fruit that is covered by a rough pink skin and has an inner grape-like texture) and pandan (another subtle, sweet vanilla-like variant that gives an almost-powdery texture). Other well-known flavors include the infamously spiky and unpleasantly pungent (but creamy and delicious) durian and many more. Head to the famous Chinatown spot to unravel favorites of the Asian palate.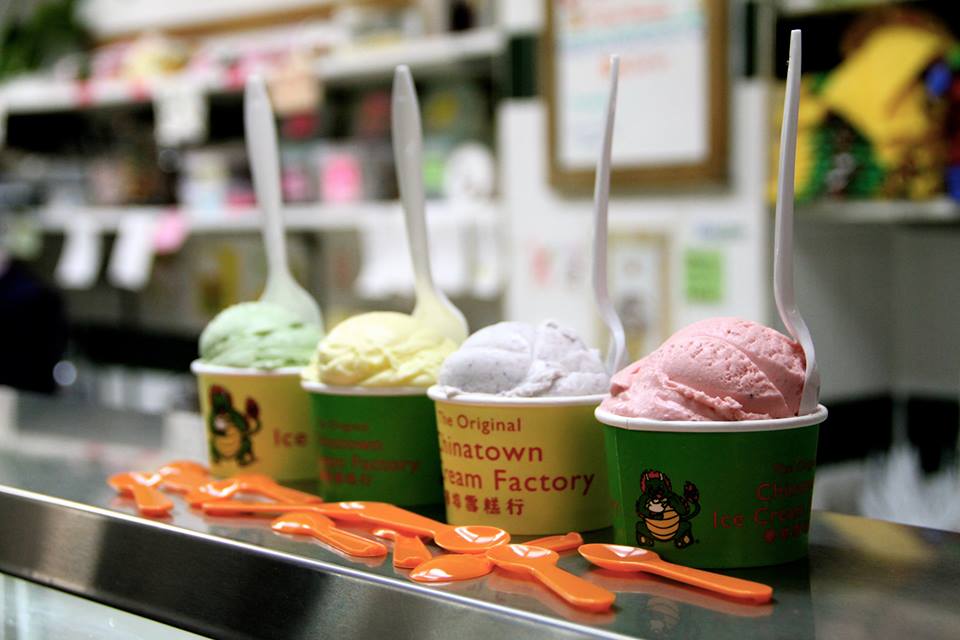 Photo Credit: Chinatown Ice Cream Factory
A famous method of serving ice cream in Thailand, the rolled ice cream has made its mark in NYC. One of the first spots serving rolled ice cream in NYC is I-CE NY, where you get to choose your ice cream flavor, ingredients to add to the ice cream and toppings. Now you get to watch the magic unravel. They pour the creamy liquid base onto a frozen surface that's -15℉ and then pour the mixture ingredients on top, like fruit or cookies. Then, they smash away. They then spread out the well-blended mixture into a thin layer and roll sections into a spirals. They place the curls into a cup and serve it to you with your choice of toppings. You can even order one of their specials, in case you don't want to risk your creativity going awry. A recommendation is the Chocorilla, which is chocolate ice cream with banana and oreo, topped off with Pocky sticks (a sweet cracker stick dipped in chocolate) with nutella sauce.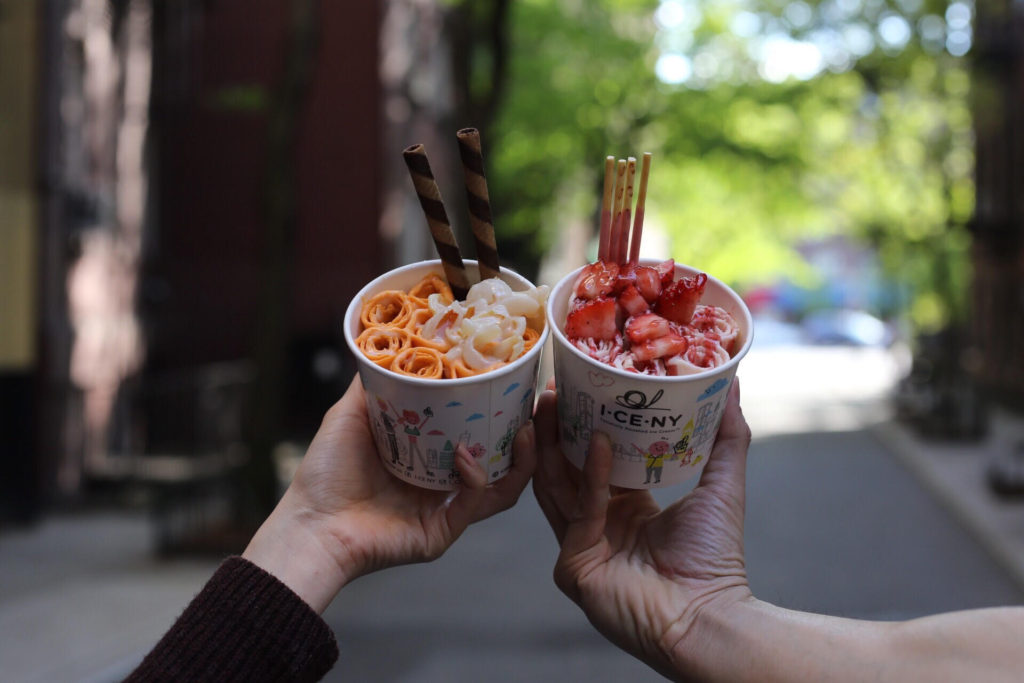 Photo Credit: @i_ce_ny
Creative Takes on Ice Cream
With the thought of having fun through a child's eyes, the makers of Burger Heaven bring you CoolMess. At CoolMess, the ingredients and tools are all in your hands. When you arrive, you get an ice cream-making machine that serves about 3-4 people (about $30). Pick out your base and your ingredients along the wall and mix away! You can also order solo servings at the counter. Should you find yourself getting the munchies, the spot also offers food, such as burgers and sandwiches.  For the boozies, there are alcoholic beverages to help you carry along during the birthday parties full of kids.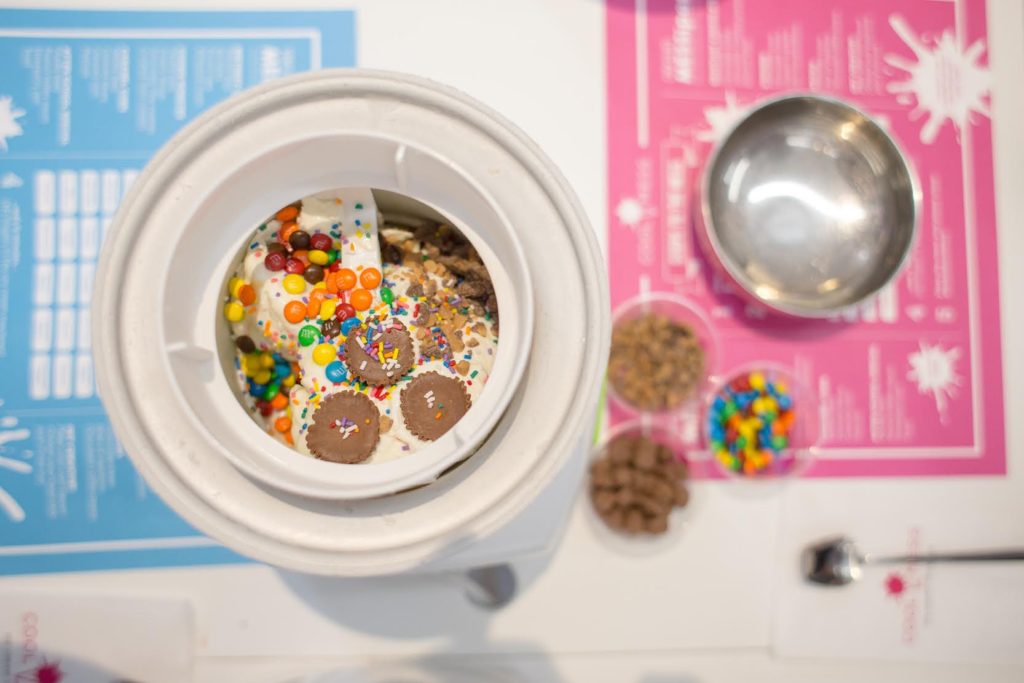 Photo Credit: CoolMess
Now, for the adults-only crowd, Tipsy Scoop gives you liquor-infused ice cream. There is something for everything in between beer and bourbon. If you aren't sure what to try, they also offer a tipsy flight of four samples. If it's been a hot, long day after work, they also have a happy hour special of 2-for-1 between 4-6PM. For those that like a tropical flavor, the mango margarita will surely please. Another unique taste for those with a smokier palate can order a scoop of maple bacon bourbon. This flavor offers bits of bacon to give a salty yet satisfying touch.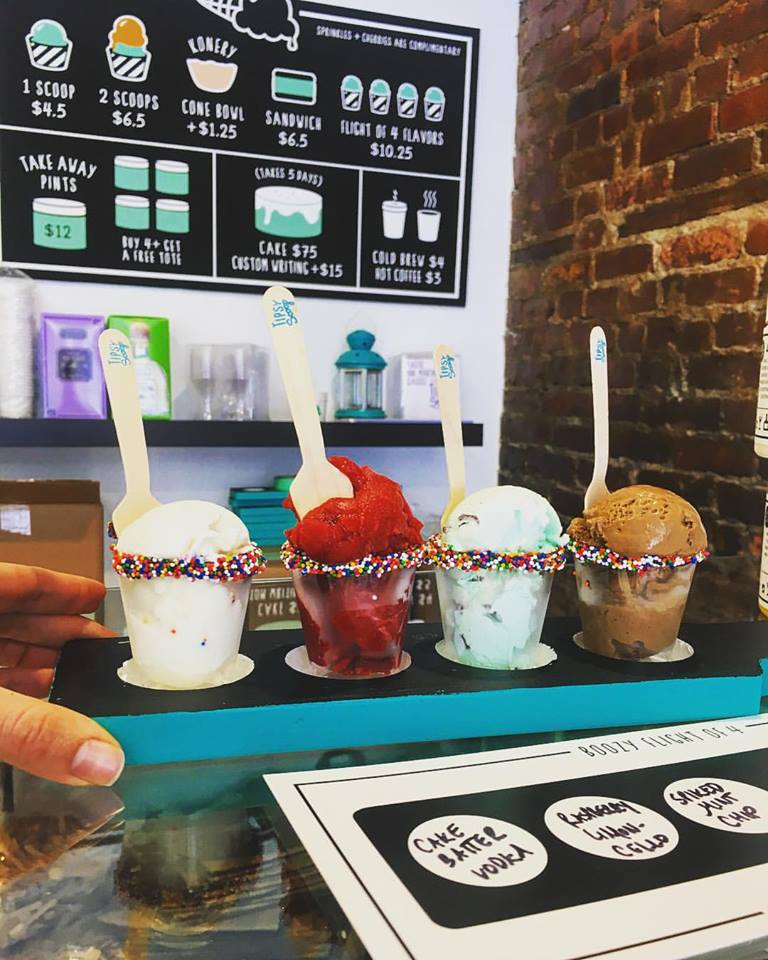 Photo Credit: Tipsy Scoops