Wrapped in Love: 7 NYC Spots for Empanadas, Dumplings and Other Tasty Bites
One of the marvelously delectable ways of enjoying food is by a stuffing doughy shell with delectable meat, vegetables or other tasty mixes. These types of foods are known by many names, but are most famously known as empanadas. In some countries they are called dumplings. Let's venture around the world for the different ways we can enjoy this manner of serving up a bite.
Starting in the Far West of Southeast Asia in Thailand: Karee Bap at Puff Cha
Thailand is well-known for their heavy use of spices and they do not make their version of the empanada an exception. Called a "karipap," the most frequently prepared version of these flaky treats is with a stuffing of curried potatoes and chicken. The stuffing can vary and they are often found as a popular street food in Thailand. You'll recognize them by their repeated circular-patterned shell.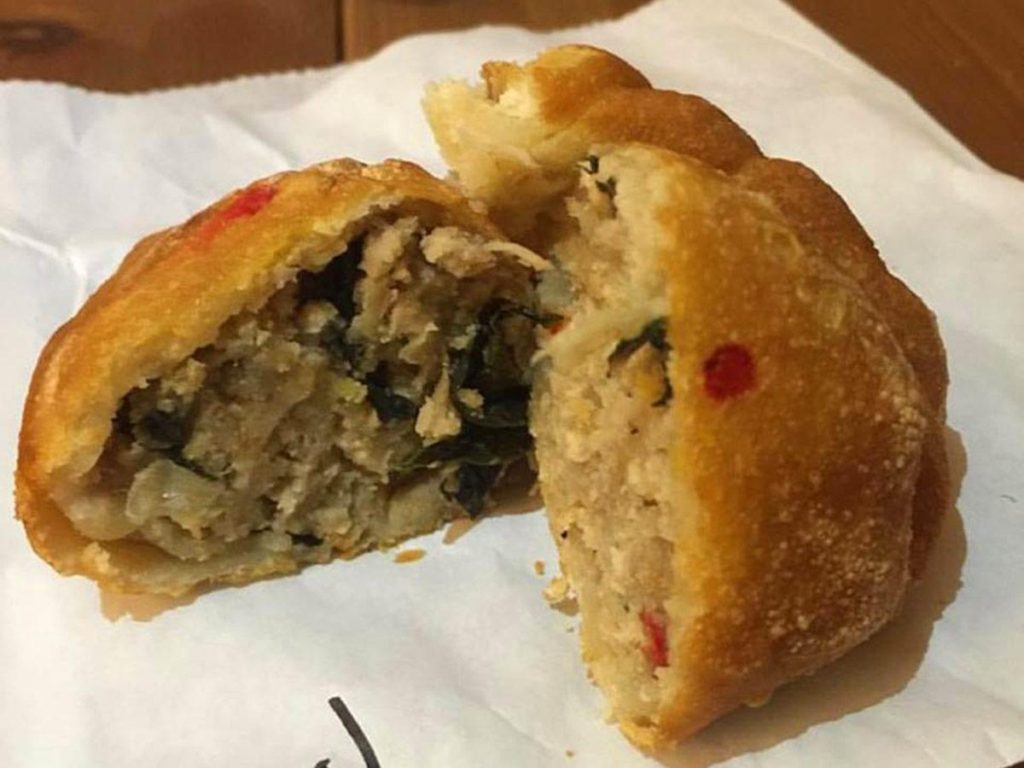 Photo Credit: Puff Cha
One of the places that particularly focuses on this type of treat is Puff Cha, which also serves other traditional Thai meals. For only $2.75, you can get your choice of one of their ten variations. The traditional flavors include classic  curried meat and potatoes, coconut/corn (Thai people love to use corn in their desserts) and red pork. For some fusion with feel-good American flavors, you can enjoy selections like New York cheesecake and apple strudel.
Further Up Northern Asia into China: Soup Dumplings (Xiaolongbao) at Shanghai Cafe
Since dumplings are quite commonplace in every Chinese spot, let's get more specific with a special type of Chinese dumpling: the soup dumpling. Known as "xiaolongbao," these originate from a coastal region called Jiangnan. More closely related to a bun rather than a dumpling, these are made by putting a gelatinous bit of soup with some meat within the dough. Then it is twisted at the top and steamed to produce essentially a meat soup within a dumpling. Mastering eating these can take quite some time.  Approach them by gently picking them by the top and placing them on your soup spoon. Then, you pop them with your chopstick to let the soup flow onto your soup spoon and give a gentle blow (or be punished by the steam). Cover it with the ginger/vinegar/soy sauce provided, sip some soup and pop the entire spoon's content into your mouth.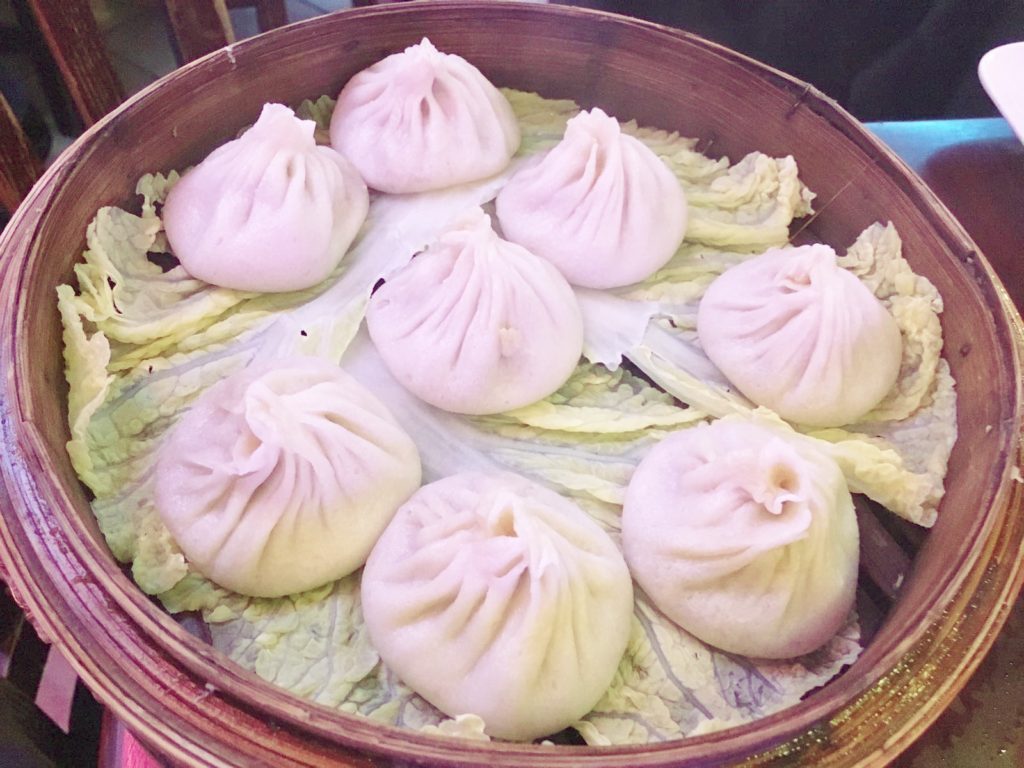 Photo Credit: Frederic Machard
You can enjoy these at Shanghai Cafe, which is known for their no-frills lightning-speed service. They come in variations of pork or crab and pork.

Over to Eastern Europe into Russia: Pierogis and Pelmeni at Love Cafe & Bar
China isn't the only country that prides itself in variations of dumplings. Eastern European countries like Russia and Poland offer at least two types of dumplings that can satisfy our palate: one being pierogis and another being pelmenis. The main difference between the two is the thinness of the skin and the stuffing. Pierogis creamy goodness comes from having a combination of mashed potatoes, meat, vegetables, or fruit in the stuffing with a thicker outer dough. Pelmenis are primarily made with meat stuffing wrapped in a thin, delicate skin.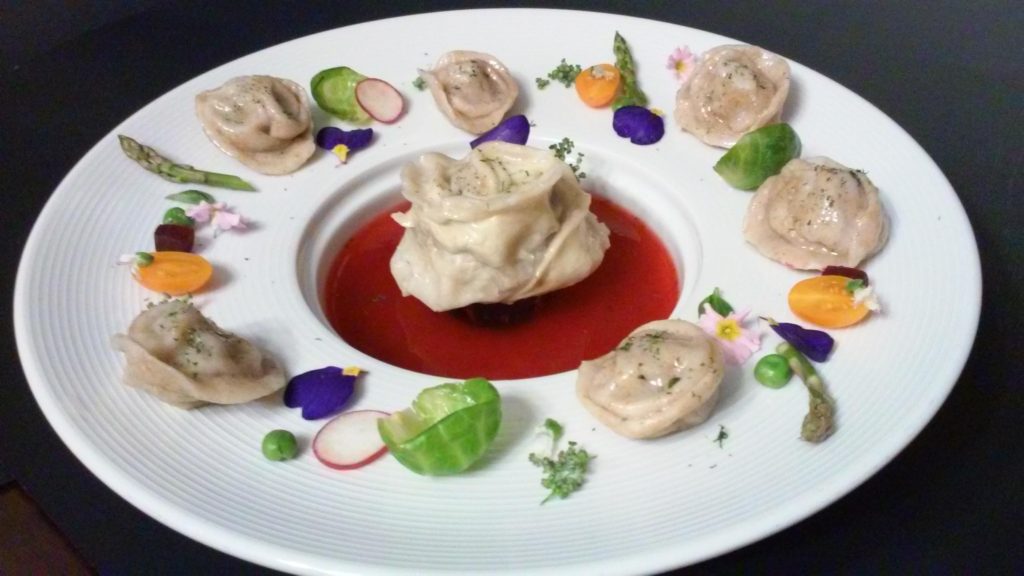 Pelmeni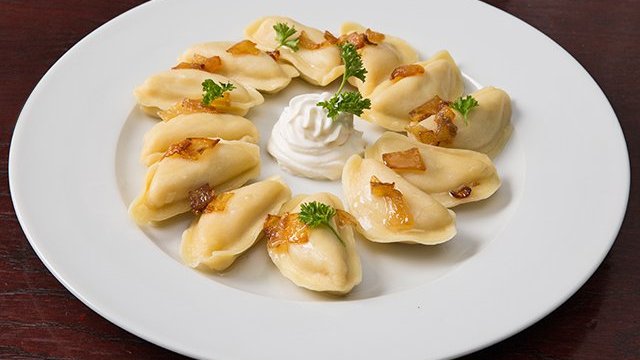 Pierogis
Photo Credit: Farit Dinov of Love Cafe & Bar
Love Cafe & Bar provides delicious comfort foods from Eastern Europe, along with an opportunity to enjoy both dumpling options. The meals will heartily fill you up with traditional flavors presented in mouthwatering ways. Also, you might even be able to enjoy some of their 80's Russian music videos that are played in the background. Embrace the full cultural experience!
Further West in Europe to Great Britain: Pasties at Myers of Keswick
Pasties are decadent meat pies that can be easily found all over London. Historically speaking, these were known to have the initials of the baker on them so that it was easy to identify the origin of the favored flavor. The edges do have quite a significance in their purpose. These were once the quick go-to lunches of tin miners and the handles were simply for holding the pasties, not for eating. While the superstition was believed that the crimped edges were thrown away to satisfy the appetites of ghosts in the mines, they served as a lifesavers for the miners. The toxic substances that they mined simply stayed on the edge that was thrown away, so they did not consume these poisonous substances like arsenic.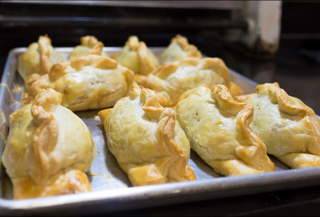 Photo Credit: Luba Grosman
Although hard to find in NYC, there is one spot that can satisfy your London lunch cravings: Myers of Keswick. The store is a British-inspired grocery shop with imported items  from the motherland (the Queen's motherland). They also offer traditional bites, which include cornish pasties, scotch eggs and meat pies.
Down West into Africa to Somalia: Sambuza at Safari
Sambuza are little triangular puffy pockets of meat in the style of Somalia. Often times this street food is enjoyed during Ramadan to break the fast, but also as a mainstay appetizer in Somali cuisine. Although the fillings can vary, the innards are typically spiced beef or lamb which are both juicy and tasty. These are served with the traditional basbaas sauce (or alternatively spelled bisbas sauce), which is made of chile, lime and cilantro.
Photo Credit: Safari
You can enjoy these, alongside many delightfully seasoned Somali dishes, at Safari. While the dishes blend many spices together, the chef here knows how to create appetizing flavors that are not too spicy and well-balanced. Grabbing an entree like their Mango Chicken Curry will be an instant hit to fulfill your appetite.
Across the Ocean to Latin America in Uruguay: Empanadas at Charrua Uruguayan Bistro
The classic empanada comes from the Spanish word "empanar," or "to wrap in bread." It's origin also derives from the need to have a lunch that was easy to grab on the go for the working class of Galicia and Spain. The original stuffing was fish or pork and they are served fried or baked. With the heavy migration of Galicians to Latin America, the recipe doesn't stray far from its original roots. At Charrua Uruguayan Bistro, they are served with three variations for all preferences: with beef, tuna or humita (corn). These are perfect appetizers to go with any meal here. For lunch you can enjoy their traditional sandwiches called "chivitos." For dinner, you can go with their popular churrasco, a juicy grilled skirt steak that comes with their signature green garlic-packed sauce on the side, called chimichurri.
Photo Credit: Federico Racchi
Center of Latin America to Bolivia: Salteñas at Bolivia Llama Party
The saucy distinction specific to this treat from Bolivia makes salteñas notably different from its Latina cousin, the empanada. It's almost like a stew-filled empanada, which should be carefully enjoyed. Start from the top down to avoid staining yourself (and wasting the good stuff). The stewed innards are comprised of meat, potatoes, peas and sometimes an extra surprise such as an egg or an olive.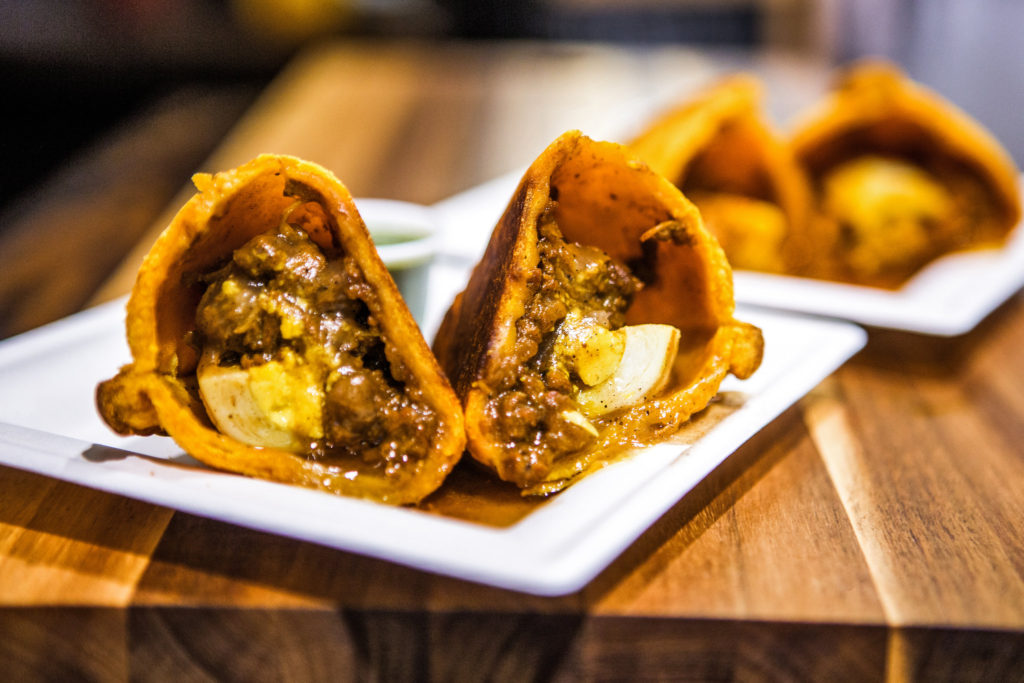 Photo Credit: Bolivia Llama Party
These moist bites can be enjoyed at the Bolivia Llama Party. The spot prides in introducing the 200 year old tradition of salteñas to NYC. Their decor sticks out like a unicorn at an office party. It's vibrant and bold colors are familiar to the culture of their mother country. Try their other tasty dishes, which blend American comfort foods with touches of Bolivian flavors. Dishes like the mac n' cheese with savory brisket or a spiced Arnold Palmer will surely make you smile.