Desserts, Milkshakes and More Sweets: 6 Places to Taste the Rainbow in New York City
California seems to be ahead of the curve when it comes to colorful treats, like the trending unicorn hot chocolate and the rainbow grilled cheese. Well, fear not New Yorkers, you can keep up. We've created a list of New York City dessert spots to relieve the itch for a rainbow sweet or unicorn dessert!
In NYC, rainbow bagels had enthusiasts lining up for blocks. That trend peaked in 2016. But this city isn't slowing down. Here's where you can get your taste of the rainbow and some of the the best desserts NYC can offer.
Rainbow Milkshakes: Black Tap
Another NYC dessert spot is Black Tap. Their milkshakes bring all the girls to the yard. Black Tap had a surge in popularity back in early 2016, when they introduced their out-of-the-world line of milkshakes. If you had an obsession with all things sugar, their shakes made sure to meet your sweetest dreams.
So many beautiful colors to enjoy in their Sour Power shake!
Photo Credit: Black Tap
The Sour Power, makes our list of rainbow desserts because of their eclectic candy collection. It's a colorful concoction of sour gummies, rainbow pops and nerds pack a puckering punch in flavor. If you don't have a tart or sour tooth, there are ample other crazy milkshakes on their menu that will make your sweet tooth hurt just right.
Besfren specializes in tasty Korean sweet rice pastries that masterfully combine the right balance between delicate flavors with sweet undertones. This rainbow cake variation comes from Korean folklore that proclaims adorable bunnies on the moon spend their time pounding away to bring you these decadent desserts for a long and happy life.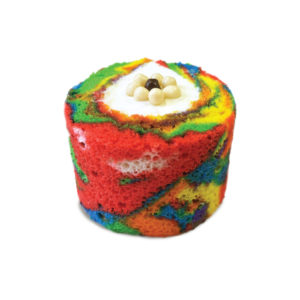 Stop, drop and rainbow roll!
Photo Credit: Besfren
While their most popular tasty treat is the green tea rice cake, these treats, known in Korean as "chapssaltteok," come in other flavors, as well. They've put no limits on the visual creativity of their line of "chaps" and have presented us with a funkadelic rainbow variation of the sweet cake. Head over to the store to get your hands on these tasty tie-dye colored goodies.
Forego the boring one-dimensional snow cones because Bingbox comes to town with a creamy, flavorful Korean version called "bingsu." Bingsu is a  fluffy ice dessert, that's so much more exciting than it sounds. Bingbox offers several flavors, ranging from traditional Asian, like green tea and taro, to original flavors like strawberry and chocolate.

If unicorns lived in the North Pole, this is what they'd eat.
Photo Credit: Bingbox Snowcream
Now comes the fun part that gives a unicorn's blessing to your dessert: the toppings. You can choose fresh fruits, various yummy jellies, various sweet drizzles and crunchy cookies and cereals. The treat that makes our list of yummy rainbow desserts is a bingbox of pastel purple taro, strawberry pink Pocky sticks, colorful Flintstone pebbles and a pop of fresh pineapples.
Rainbow Balls (Or Challenge Yourself and Say "Brigadeiro"):  Brigadeiro Bakery
The folks at the bakery know that the word "Brigadeiro" might be new to you. On their website, they jokingly say that "you'll love it before you can even pronounce it." These soft chocolate treats commonly make their appearance at birthday parties in Brazil, delighting everyone with their condensed milk and cocoa goodness. This bakery takes pride in its Brazilian roots with its authentic sweet and creamy treats. You can taste the magic in their rainbow white brigadeiro. Once you try one, you'll be inspired to say that this can easily become one of your favorite desserts.
When you make little balls of happiness, you get a brigadeiro!
Photo Credit: Brigadeiro Bakery
Rainbow Mille Crepe Cake: Dek Sen
This intricate rainbow layered cake is surely magic to the eyes. Traditionally known as the "mille crepe cake". This specialty usually comes in one color and flavor. The bakers at  Dek Sen knows that it's just not enough to offer a monochrome option, so now they offer a "rainbow mille crepe cake." While the Dek Sen is a local Thai restaurant with authentic flavors, don't be quick to judge. They know how to give a great sweet send-off after a delicious meal. The restaurant's cute picnic style decor and mouth-watering menu is worth the trek to Queens. This neighborhood of Elmhurst is home to little Thailand on Broadway.
This cake is as delicate as clouds but as magnificent as a rainbow.
Photo Credit: Dek Sen
Macarons stray a bit far from the rainbow theme, but we promise that the ambiance is fit for the queen of unicorns. The Upper West Side restaurant welcomes you with a bright glass mosaic wall of ice cream sundaes, lollipops, and candy. The menu offers buckwheat crepes with numerous toppings and a list of desserts that will relieve every sweet craving you've ever had.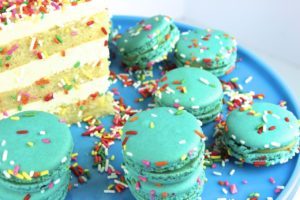 Get those sprinkles, it's your birthday, we're going to eat cake like it's your birthday!
Photo Credit: Sugar & Plumm
With a big crowd, you can go wild and order an Earthquake in a Fishbowl, which literally serves up to four people. It is a fishbowl of cake, pudding, and ice cream. Their macaron display is magical, and they don't stop there. They have an ice cream flavor option of "macaron vanilla," which blends various macaron cookie bits into your vanilla scoop. If that doesn't impress your need for rainbow sweets, we don't know what will.
Colorful Gelato Cones: Amorino @ University Place
Amorino comes to NYC offering delicious gelato that would make Italy beam with pride. All of their gelati and sorbets are artisanal. They are free of any fake flavors or colors. The natural colors already lure you in with their bold hues and the flavor that comes with every bite is undeniably tasty. If you wanted to impress a unicorn with the perfect gelato in colors of the rainbow, this is where you'd find it. Your treat is presented in a cone arranged like a rose petal, delicately shaped with the bold flavors of your choosing. You can even make it extra special by asking for a macaroon centerpiece. Buon Appetito!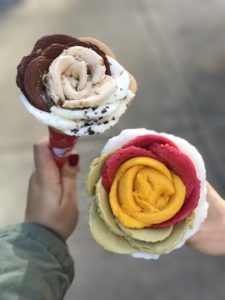 Mango, rose, pistachio and more!
Photo Credit: Amorino USA