Don't take the recession out on the one pouring your drink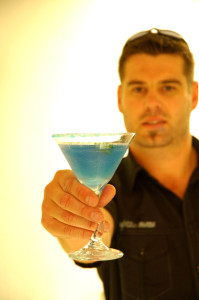 The recession has left its mark and our sluggish recovery is slowly crawling along. Unlike the carefree days of prosperity, we have to be increasingly conscious of where our nickels are going. However, we still want to have fun and for many of us that means meeting friends out at the local haunt for some food and drink after a long day taking flack at the old J-O-B.  We have a few of our favorite ales, or a well-crafted Sidecar, and maybe even indulge in some light fare.
Before long, the laughs are rolling. Craft brews are downed alongside Thai Honey Barbecue Wings, which are delicious and worth an extra hour at the gym.  Of course the check comes, which means it's time to compensate our server for a job well done.  As I appraise the check, I think: Should I double the tax?  Should I have Steve from accounting chip in because he had six beers when I only had two?  He never throws down enough when we go out.
Are you employing proper tipping etiquette? The answer is: It depends. You should tip proportionately to the service you've received — just as you would have before the economic crisis.  Generally, waitstaff members work hard to see that you enjoy your leisure time. What you don't see is that they endure a lot from management, moody cooks, and impatient customers — they should be rewarded.  Although there is now a movement to compensate restaurant workers more fairly, with higher hourly wages and the elimination of tips, many workers are still grossly underpaid. This is the result of owners who expect their clients to make up the balance in lost wages with gratuity. Without tips, many of those in the service industry simply cannot pay their bills.  For many servers, the tips they walk away with is essentially their living. Many restaurants and bars do not offer an hourly wage and if they do, it is well below minimum wage. The stagnant economy has hurt restaurant workers as much as patrons.
Tipping Etiquette while out to Dinner
If you are out to dinner, the general rule is that your tips should be set on a scale where, unless the server forgets your entrée, she should get 18 percent.  If their service is above satisfactory, they should be paid at least 20 percent. And if someone does something above and beyond the call of duty that server deserves to be handsomely rewarded. Some industry vets are known to throw down fifty percent if someone really lights it up.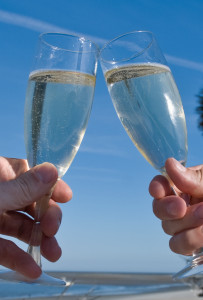 Occasionally, when you're out at the bar buying rounds things have a way of getting a little hazy. Do not fret — here are some simple rules to make sure you keep the person who controls the booze happy:
Plan to give a minimum of a buck on any beer or glass of wine (a 20% tip on $5 is $1).
The old rule of thumb is to simply double the tax and leave that amount as your tip. In many states the tax hovers around 7%. However, a 14% tip should only be the base rate for adequate service. Anything above and beyond the minimum deserves more. In the same vein, less than this amount should be reserved only for markedly poor service.
Fancy drinks like a mojito should get at least a couple of bucks because it requires added labor which, in the long run, may inhibit the bartender from doing other tasks. This ultimately takes more time, when she could be serving other drinks for which she will get more tips, due to volume.
If the bartender does something stellar, like introducing you to the beautiful stranger at the end of the bar or calling you a cab when you thought you could drive, that is when to send some thanks with a large tip.
As in other aspects of your life, you are a considerate individual; you remember to take care of those who have taken care of you. When considering how much of a tip, summon the Golden Rule. By being generous with those who make our nights fun, everyone walks away happy.  Downturns in the economy have hurt many, so remember, if you can afford to go out for meals and entertainment as in the past, before economic times tightened, then you can still afford to pay the same gratuity for the same job.
Loren Mayshark is the award-winning author of Death: An Exploration and Academic Betrayal. For more, you can visit his website lorenmayshark.com and you can keep up with him on Twitter at @LorenMayshark. Sign up for his newsletter and receive regular updates and a free gift.