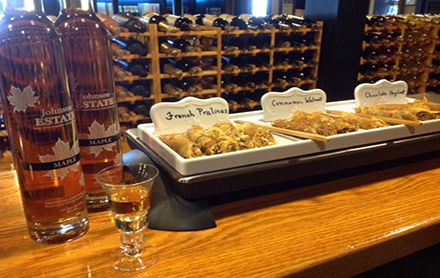 New York has a deep tradition of wine making. Crushed grapes are grown, sniffed, and swirled from east-most Southold, Long Island to the west-most Ripley, NY. Johnson Estate Winery, just west of the town of Westfield, NY in the middle of the region's grape belt, is one of the oldest estate wineries in all of New York State. The winery was founded 1961 and the family has been growing wine grapes for more than a century.
Johnson Estate makes a wide array of wine ranging from their semi-sweet Liebestropfchen (popularly known as "Little Love Drops") to my personal favorite their 2015 Freelings Creek Reserve Founders' Red. They have also been producing gold-medal-winning ice wines since the year 2000, and Rieslings since 2006.  They are well respected in the region as a producer of interesting wines, which reflect the unique terroir of Lake Erie Wine Country.
One of their most popular new products falls outside the realm of conventional wine creations: "Maple," a maple syrup Infused fortified wine or aperitif. This golden gem is an extraordinary blend of Vidal Blanc and neutral grape spirits. The taste is reminiscent of sherry and some elite ice wines, but the sweetness gives way to a smooth dry finish. The result is a soft maple flavor without an over-the-top sweetness. The wine has rightfully received its share of acclaim, including a 93 point rating from the beverage rating agency, Tastings.com. As a result, they sold out the Maple Liqueur so quickly last year that they have produced a second larger batch in an attempt to keep up with the demand.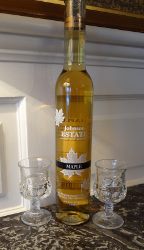 Maple sugar season in western New York generally kicks off in early March and Johnson Estate honors this regional tradition with their Maple liqueur which uses 100% locally-sourced maple syrup. This is important not only to our local heritage, but to entire the United States. As winemaker Johnson Estate's Jeff Murphy reflects, "Maple syrup is America's own unique natural sweetener and it was first made by indigenous Americans and then later produced by early American colonists."
The NYS Maple Association members annually celebrate the maple season by sponsoring Maple Weekends and Johnson Estate will, for the third year, join in them. The winery will be offering freshly-made French crêpes paired with their Maple Liqueur on March 18 & 19 and 25 & 26 in their tasting room from 1 to 4 PM. But the excitement at Johnson Estate extends far beyond Maple Sugar season.
They also feature exciting wine pairings that highlight cuisines from around the world, including their April 29th dinner that will celebrate German wine. The event will celebrate the release of their limited vintage of white Vidal flavored with sweet woodruff (or "Waldmeister" as it is known in Germany). For a full list of upcoming experiences at Johnson Estate, check out their Event Calendar.
This post was sponsored by Johnson Estate.
Loren Mayshark is the award-winning author of Death: An Exploration and Academic Betrayal. For more, you can visit his website lorenmayshark.com and you can keep up with him on Twitter at @LorenMayshark. Sign up for his newsletter and receive regular updates and a free gift.